'Rick and Morty' Season 5 Episode 7: The Power Rangers Mafia
Family came first in Season 5 Episode 7 of Rick and Morty as the Smith Family, and their many parallel selves, bonded over robotic ferrets.
The parodies and meta references came thick and fast throughout "GoTron Jerrysis Rickvangelion" as Rick obsessed over the collection of the coveted GoTron machines.
An episode that looks like it's going to be a Power Rangers spinoff turns into an anime Scarface showdown. There's also a surprising continuation of one of Season 5's more confusing story lines when Summer confirms she's been in contact with her and Morty's incest baby.
What Happened in Season 5 Episode 7 of 'Rick and Morty'?
The episode opens with a premise that is quickly dropped as Rick, Morty and Summer head out on their way to Boob World, "a world for you but it's actually two." Unfortunately for Morty, Rick gets distracted when he comes across a shiny item on a stray moon. Upon closer inspection it turns out to be a GoTron ferret, the fifth of its kind that he needs to complete his collection.
Morty and Summer clash leading Rick to back his granddaughter, and via some handy voice over narration, we see that Morty is relegated to secondary companion in the eyes of Rick.
The trio, now suited up in matching color-coordinated outfits, recruit Beth and Jerry to join them on an adventure. Now they all have their own GoTron ferret, they can control one each to stop giant insect monsters from attacking cities. Individually the ferrets are futile but when the family unite and form one giant robot, no monster can stand in their way.
The episode "GoTron Jerrysis Rickvangelion" takes an incredibly sharp tonal turn from here as it becomes a mob parody with Rick taking the de facto role of godfather. The Smith family recruit more versions of Rick, Morty, Summer, Beth and Jerry from other dimensions to collect more GoTron ferrets and build their empire. Included in the alternate versions are Big Fat Rick, Rickardo Montoya, Hot Head Rick and Lil' Ricky Wrap It Up who is great at the end of a meeting.
As the family gets bigger and the operation gets larger, Rick gets more out of control as he gets addicted to the power. They also develop enemies in the form of anime characters, who claim to be the rightful owners of the GoTron ferrets. They're all drawn like classic anime figures, with big eyes, plus signs on their teeth, and they even make strange noises at the end of their sentences.
After Rick goes too far and fires the family from their own operation, it's up to Summer, Morty, Beth and Jerry to save him from the anime operatives who are going to double cross and kill Rick.
Luckily, Summer reveals that she's been in contact with the incest baby, the culmination of Morty's killer sperm and Summer's giant egg in Season 5 Episode 4 "Rickdependence Spray." With the help of the U.S. government, Summer taught the huge child to kill, to love and to escape.
The family ride the giant incest baby into space to defeat a super giant GoTron ferret and save Rick. All pretty standard for an episode of Rick and Morty.
The post-credit scene presents a plot twist when it highlights the motivation of the giant insect monsters that attack worlds. It turns out on their world, they're civilized beings who travel to our reality to spread the cure for aids. Unfortunately for them, they're always attacked and killed on arrival.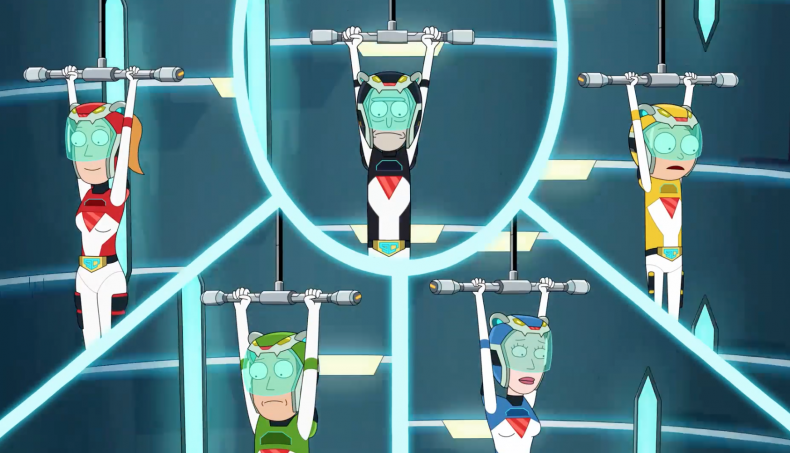 All the Movies Referenced in "GoTron Jerrysis Rickvangelion"
The title of the episode is a reference to the classic anime series Neon Genesis Evangelion which sees a group of pilots use giant machines to try to save the earth from invading violent monsters.
There are many more references, Easter Eggs and cultural nods to note throughout "GoTron Jerrysis Rickvangelion." Those unfamiliar with the Neon Genesis Evangelion series may see the classic kids TV show Power Rangers as a more recognizable reference point.
Although it forms the core part of the episode, the GoTron ferrets and the fighting actually takes a backseat as crime films and mobster movies inspire much of the storyline. The character Big Fat Rick looks very similar to Marlon Brando's Don Corleone from The Godfather while the final showdown between Rick and the anime characters is very reminiscent of Tony Montana's last stand in Scarface.
Viewers will lose count of the number of times family is mentioned within this episode, which is surely mocking its use throughout the Fast and Furious franchise.
When Is the Next Episode of 'Rick and Morty' On?
There are just three episodes left of Rick and Morty Season 5.
Episode 8, "Rickternal Friendshine of the Spotless Mort" airs next Sunday, August 8 at 11 p.m. ET on Adult Swim.