'Rick and Morty' Season 5 Finale Delayed: When the Feature Length Episode Will Air
Rick and Morty fans may tune into Adult Swim on Sunday, August 15, expecting to see a new episode but they'll be left bitterly disappointed.
Episode 9 was expected to air but instead the creators, Dan Harmon and Justin Roiland, have decided to end Season 5 with a feature-length finale on September 5.
It marks the first time the series has aired new episodes in an hour long slot. Although there's a long wait ahead, let's take a look at everything we know about the Season 5 finale of Rick and Morty.
What happens in the Season 5 Finale of Rick and Morty?
It's unclear whether the season finale of Rick and Morty will be one long episode or two individual episodes shown back to back on Adult Swim.
It was previously thought that Episodes 9 and 10 would be different, with one called "Forgetting Sarick Mortshall" and another titled "Rickmurai Jack." These were clear references to the pop culture terms Forgetting Sarah Marshall and the animated series Samurai Jack.
Despite the almost month-long gap between Episode 8 and the next installments, the episode trailer has already dropped. It shows Morty attempting to make his own portal formula using lime soda to avoid getting in trouble for using the portal gun without Rick's permission.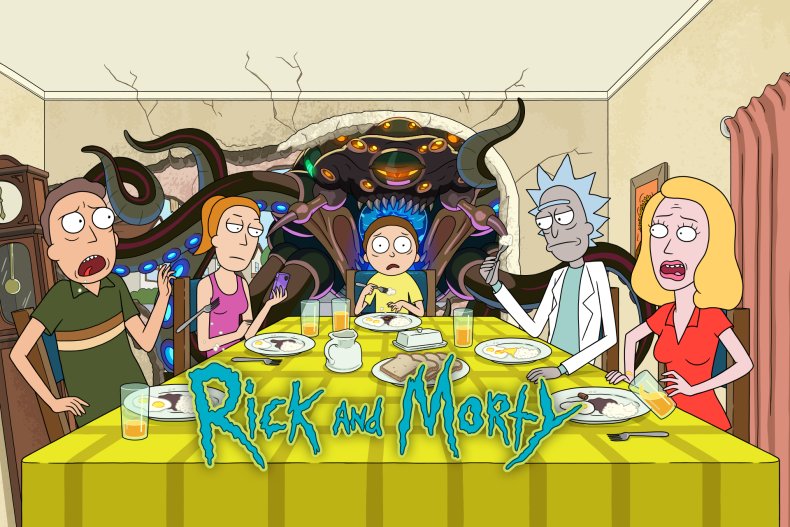 His result goes disastrously wrong and Rick proceeds to mock Morty by suggesting he could replace him with a number of useless things. Rick spins a custom wheel to find out what he'll replace Morty with, with the options including a bag of meat, sentient "s#!t", Kyle 2.0, garbage goober, half a Paul Giamatti, gene with donkey brains and Jerry— though that requires you to spin again.
Eventually the wheel lands on two crows and Rick then fires Morty. The voice-over of the trailer then asks, "Who is Rick without Morty? Find out on the one-hour season finale of Rick and Morty, returning September 5th at 11pm on Adult Swim."
What we know about Rick and Morty Season 6
Even though Rick and Morty Season 5 isn't finished yet, Season 6 is already in development. Dan Harmon confirmed the news in an Instagram post when discussing the Community reunion table read in 2020. In May 2020, he said that writer Alex Rubens is back writing on Season 6. Rubens is known for writing episodes for sitcoms like Community, Key & Peele and Big Mouth.
In 2018, when there had been just three seasons of Rick and Morty, Adult Swim announced they had ordered 70 new episodes of the show over an unspecified number of seasons. Now that Season 4 has passed and Season 5 is coming to an end, there's still 50 episodes to come.
After the deal was signed, Roiland told Polygon that he hopes the security they now have means there won't be any big gaps between seasons. This could imply that Season 6 will arrive before the summer of 2022.