'Rick and Morty' Season 5 Release Date Announced With New Trailer
Almost a year since Rick and Morty Season 4 ended, Adult Swim has confirmed when fans can enjoy new episodes of the crazy, dimension-bending animated series.
Rick and Morty Season 5 will debut June 20 at 11 p.m. EDT, and Adult Swim has also released a snazzy new trailer to get fans hyped for the upcoming episodes. In the trailer, we meet ocean people, see the Smith family control a Voltron-esque robot, and get a brief glimpse at a dimension where Rick and Morty are both versions of the vampire hunter Blade from Marvel Comics.
Check the Season 5 trailer of Rick and Morty below.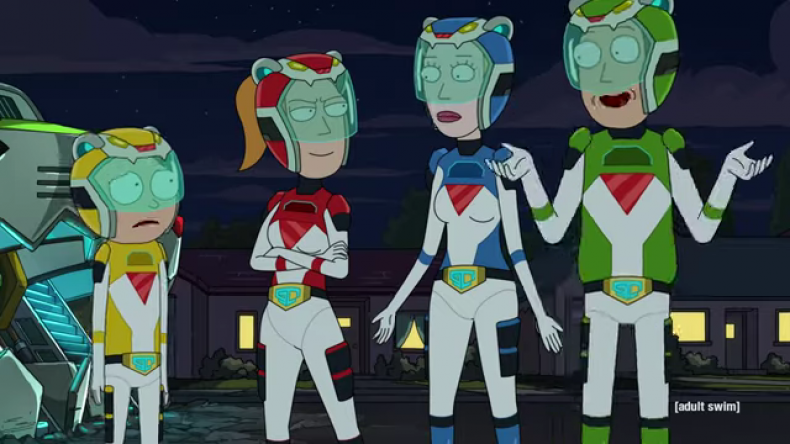 Along with the release date reveal, Adult Swim announced that June 20 will be known as "Rick and Morty Day," which, according to the official press release, is an "out of this world celebration with sneak peeks, behind the scenes footage and special surprises across TV, digital and social, kicking off the global premieres of the new season."
If you don't recall what happened at the end of Season 4, we can help with a brief recap. Space Beth leads a rebellion against the new Galactic Federation, and it's discovered that she has a neck implant that makes her believe she's a clone.
The Federation arrives on Earth and demands that Rick hand over Space Beth now that they've discovered the Beth they have isn't the clone. The Federation takes both Beths, and Rick and the Smith family go into the Federation ship to save them. On the ship, Phoenixperson fights Rick, but before Phoenixperson can deliver a final blow, the Beths save Rick.
Rick and the Smith family save the Beths and Earth, but in the aftermath Rick finds a memory tube that holds his memory of the "ABCs of Beth" episode from Season 3—the one where we discover that Beth left the decision whether she leaves or stays with her father up to him. While the family doesn't want to know the truth, viewers see that Rick did in fact clone his daughter, but swapped them so he wouldn't know which was which. Rick finally admits that he's a terrible father and then tries to resurrect Phoenixperson to become their friend. However, Phoenixperson rejects Rick and the season ends with the main character alone.
So, how will the knowledge about the identity of the Beths affect Rick and the family in Season 5? Fans will just have to wait and see.
Of course, while fans wait for Rick and Morty Season 5 to premiere on Adult Swim, they can watch all four seasons of the Emmy Award-winning animated series on HBO Max.
Are you excited for the fifth season of Rick and Morty? Which season is your favorite so far? Let us know in the comments section.