Season 6 of Rick and Morty is returning to Adult Swim and HBO Max on Sunday September 4, 2022, and the creators of the show are dropping hints about what will be in the new season.
Dan Harmon and Justin Roiland's wildly popular interdimensional TV show is returning for 10 brand-new episodes, and the team behind Rick and Morty has been filtering out information about Season 6 on the official social media pages. So far we know that Rick and Morty get six-packs, and that there's a countdown to something called "Wormaggedon."
As well as the teaser information, Adult Swim has revealed all 10 episode titles from Season 6. The majority of the episode titles in the past have featured famous pop culture references with Rick or Morty's name shoehorned in to make a bad pun—and Season 6 looks set to be no different.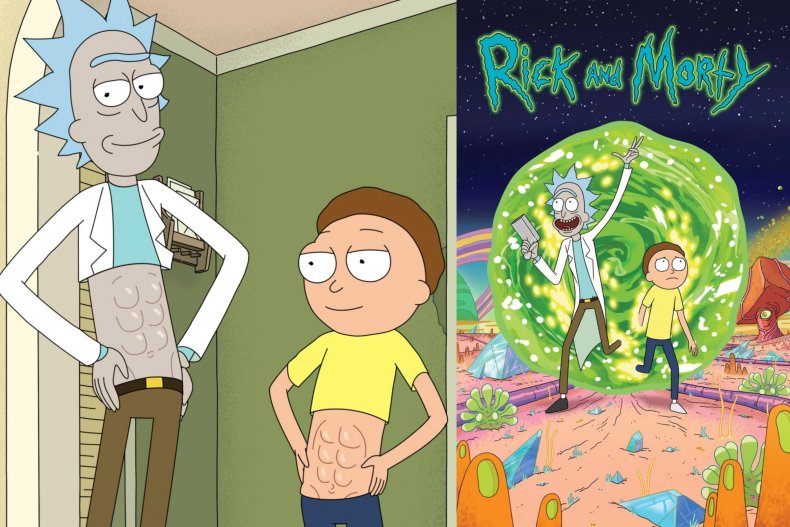 While the titles may just be a pun on the surface, they can also give key information as to the details of the episode's storyline. Here are the 10 episode titles from Season 6, and the original source of the reference.
Season 6 Episode 1: "Bethic Twinstinct"
The first episode from Season 6, which debuts on Sunday September 4, 2022, looks set to be a Beth-centric episode.
The title appears to be a play on the movie title Basic Instinct, with the added twist of a "twin" too. This could throw back to Clone Beth who appeared again during Season 5.
Season 6 Episode 2: "Ricktional Mortpoon's Rickmas Mortcation"
The second episode of the season could be a festive one with this title seemingly being a spin on the Chevy Chase movie National Lampoon's Christmas Vacation.
Fans of Harmon's previous show Community will know there is a link between Harmon and Chase, though their relationship was often the subject of public controversy.
Season 6 Episode 3: "Full Meta Jackrick"
Stanley Kubrick's '80s Vietnam movie Full Metal Jacket provides the inspiration for Episode 3's title. The addition of the word "Meta" seems in keeping with the show's themes as Rick and Morty regularly breaks the fourth wall and makes self-referential jokes.
Season 6 Episode 4: "Final Destination"
Often an episode title will forgo a pun, and this seems to be the case with Episode 4, "Final Destination."
This movie franchise is made up of five movies in total, and usually features a character who sees an impending disaster in a vision and then must stave off death as survivors are killed in increasingly imaginative ways.
Season 6 Episode 5: "Rick: A Mort Well Lived"
Ardent Rick and Morty fans may see the reference to this title as a reference to the video game "Roy: A Life Well Lived" which features in Season 2 Episode 2 "Mortynight Run."
Season 6 Episode 6: "Night Family"
This episode title may be a little more obscure for some, but it's likely a nod to the 1970s American anthology series Night Gallery.
Night Gallery was a horror show that was similar to The Twilight Zone and featured supernatural horrors on NBC.
Season 6 Episode 7: "A Rick in King Mortur's Mort"
Another obscure reference for an episode title, how many viewers would be familiar with the 1995 family movie A Kid in King Arthur's Court?
The movie was a box office bomb for Disney, but featured a young Daniel Craig and Kate Winslet. It's about a young modern-day kid who loves baseball and who finds himself transported back to sixth-century England. It's based on the 1889 novel A Connecticut Yankee in King Arthur's Court.
Season 6 Episode 8: "Solaricks"
A little easier to decipher, "Solaricks" is a reference to Solaris. Russian director Andrei Tarkovsky's renowned 1972 sci-fi movie was remade by Stephen Soderbergh 30 years later. Both are based on Polish writer Stanislaw Lem's book of the same name.
The plot mostly centers on a space station that orbits the fictional planet Solaris.
Season 6 Episode 9: "Analyze Piss"
An episode title that may get censored in some quarters, it's a reference to the 1999 mafia comedy movie Analyze This starring Robert De Niro and Billy Crystal.
The plot follows a mob member who seeks the assistance of a reluctant psychiatrist.
Season 6 Episode 10: "Juricksic Mort"
While "Juricksic Mort" seems to be a clear reference to the Jurassic Park franchise, this actually marks the second time an episode title has made this reference. In season 1, Episode 3, "Anatomy Park" sees multiple Jurassic Park references made as Morty travels to a theme park that is built inside of a human body.
Rick and Morty Season 6 starts on September 4, 2022.