Rick Perry Expected to Resign Next Month After Dems Raise Questions About Frequent Trips to Ukraine
Energy Secretary Rick Perry is expected to resign from the Donald Trump's administration in November, according to Politico on Thursday night.
Perry, 69, who was the longest-tenured governor in Texas and a two-time presidential candidate, is under the microscope for his travels to Ukraine. Perry has avoided any scandals regarding inquiries that led the House to announce last week it will launch impeachment proceedings against President Trump.
As more details between the U.S. and Ukraine surface during impeachment investigations, lawmakers have begun questioning Perry's travels to Ukraine in May for the inauguration of Volodymyr Zelensky as the country's new democratically-elected leader.
Even though no tangible evidence has risen of Perry's involvement with Ukraine and how it can be tied back to the Trump administration, political opponents from the Democratic Party have requested further information into Perry's trip to Ukraine, particularly Sen. Bob Menendez of New Jersey. Menendez reportedly sent a letter to Perry's office wanting more information to the trip and subsequent activities.
Although the White House did not make comments on Perry's future, the Energy Department spokesperson Shaylyn Hynes said Perry is still serving the country.
"While the Beltway media has breathlessly reported on rumors of Secretary Perry's departure for months, he is still the Secretary of Energy and a proud member of President Trump's Cabinet. One day the media will be right. Today is not that day," Hynes said.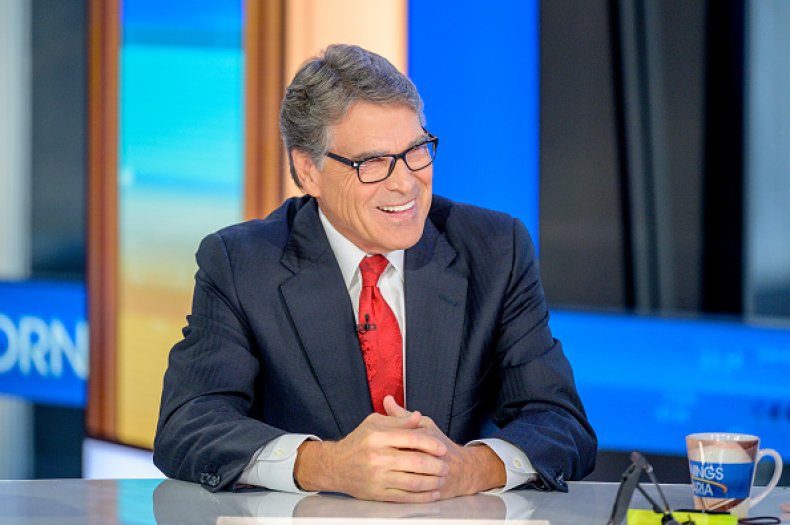 Deputy Energy Secretary Dan Brouillette is expected to replace Perry if he leaves, and he has already filled in for Perry at Cabinet meetings in the Perry's absence. Several Perry staffers have already fled, including chief of staff Brian McCormack, according to Politico.
Perry's expected abrupt resignation has nothing to do with running for the White House again, as he has repeatedly said.
"I'm done. Quote me on that," Perry said last year when asked if he would make another bid.
Perry bowed out of the 2012 Republican primary race after his "Oops" moment during one Republican debate, and he stepped away from a crowded field in 2016 as Trump became the frontrunner.
Trump nominated Perry as the Energy Secretary in 2017. Perry often traveled to Eastern Europe to promote U.S. energy exports. During recent subpoenas served to Trump's personal lawyer Rudy Giuliani by House Democrats, Perry's journeys have come under question. Questions include Perry and Giuliani's conversations and documents in dealings with Ukraine.
Perry, an energy champion in the oil and gas-heavy state of Texas, was brought into the Trump administration to bring that same fervor on a national level to promote Trump's guarantee that America will continue relying on coal power plants and fossil fuels.
His travels overseas, including the Ukraine, are what's under most scrutiny under his tenure.