Rick Perry Deletes Instagram Privacy Policy Hoax After Widespread Mockery
United States Secretary of Energy Rick Perry joined several celebrities and other gullible social media figures in sharing a hoax "Instagram privacy policy" change that harkens back to bogus AOL-era chain emails.
The Trump administration Energy Secretary and former Republican governor of Texas was widely ridiculed Wednesday after sharing the latest chainmeme hoax on Instagram. Perry told his nearly 25,000 followers they should "feel free to repost!!" the fake "Channel 13 News" message which claims Instagram is instituting a new privacy policy which would allow the Facebook-owned company to publicly share users' photographs and messages.
The bogus message features spacing errors and intermittent usage of bold letters, but somehow still managed to fool dozens of social media celebrities as well as Perry. Many Trump administration critics and Instagram onlookers noted Perry handles the country's nuclear energy.
The hoax message reads in part: "Everything you've ever posted becomes public from tomorrow. Even messages that have been deleted or the photos not allowed. It costs nothing for a simple copy and paste, better safe than sorry. Channel 13 News talked about the change in Facebook's privacy policy. I do not give Facebook or any entities associated with Facebook permission to use my pictures, information, messages or posts, both past and future."
A portion of the chainmeme hoax cites the "Rome Statute" and a separate piece of Uniform Commercial Code (UCC) legal jargon which has no bearing on the private or public usage of Instagram posts. The Rome Statute in actuality is a treaty regarding genocide, war crimes, crime of aggression and crimes against humanity which are clearly unrelated to modern day social media usage.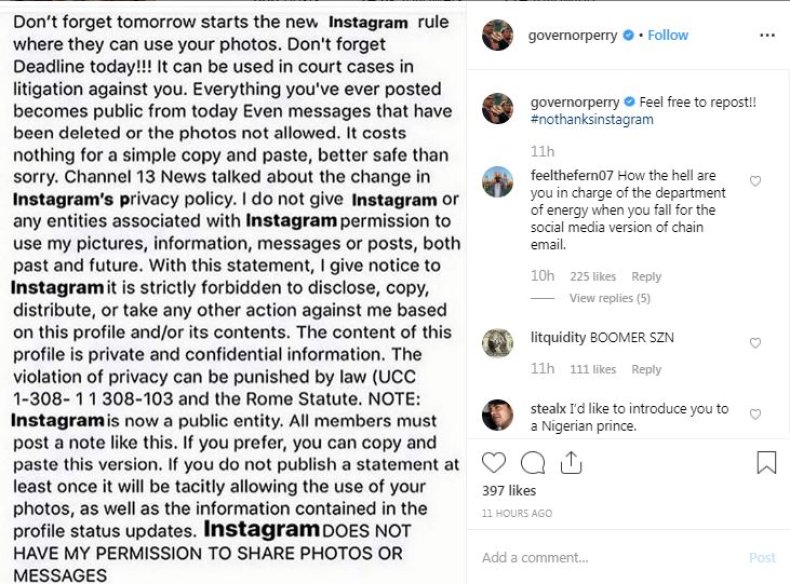 "the guy who handles US nukes got took by an aol-era instagram chainmeme," tweeted Mike Isaac, tech journalist at The New York Times.
"How the hell are you in charge of the department of energy when you fall for the social media version of chain email," wrote one of Perry's Instagram followers.
Many Instagram responses took shots at Baby Boomer generation social media users or referenced other typical internet hoax messages from "Nigerian princes" or the "Facebook security team." Perry responded to the criticism in his own comment section, appearing to play off his mistake as intentional despite calls from dozens of people for him to delete the confusing fake message.
"I'll be darned!! First time I've seen anything fake on the internet!!" Perry wrote to followers. "OMG....seriously, you mean this is fake!!" he added.
"Perhaps the person who explained to you what the Department of Energy does could also go over some copyright basics?" wrote another critic of the Energy Secretary.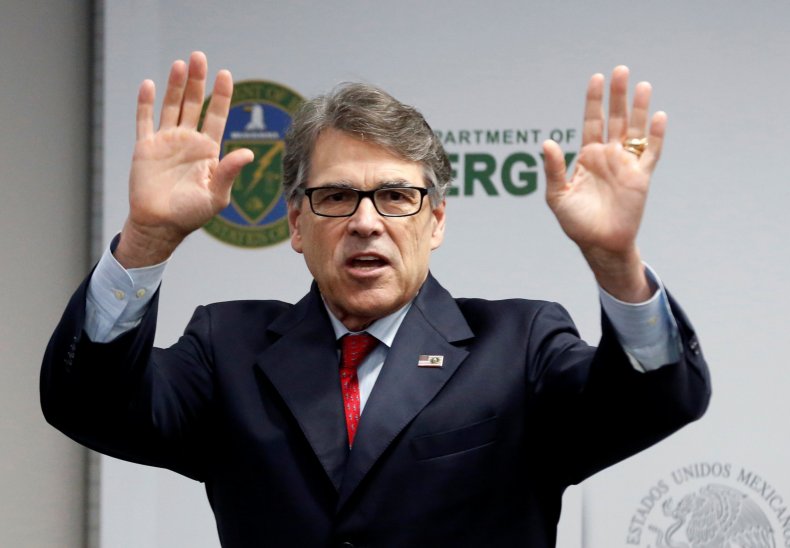 Rick Perry Deletes Instagram Privacy Policy Hoax After Widespread Mockery | U.S.