Rick Pitino Criticizes Brazil Coach Over Giannis Antetokounmpo Comments
Rick Pitino has a message for Brazil coach Aleksandar Petrovic: Stay humble, even as a winner.
Pitino tweeted about Petrovic on Wednesday over comments Petrovic made about NBA MVP Giannis Antetokounmpo following Brazil's 79-78 victory over Greece at the FIBA World Cup in Nanjing, China, on Tuesday.
"Why this sport is wonderful," Petrovic said, according to ESPN. "You have a guy who won MVP, he's 23 years old, and who stops him tonight? The guy who is 40 years old and kicks his ass."
Pitino replied on Twitter, writing "Brazil beats Greece by one at the buzzer and the Coach boasts they kicked the ass of one of the best players on the planet. One of my favorite things about [Giannis] is he would never make a comment like that. He carries himself with great humility. Bring it vs NZ big fella!"
Before the tweet, Petrovic went even further in his critique of Antetokounmpo when he suggested that the Greek native—who is actually 24 years old—wasn't so difficult to subdue, which experts attribute in part to Alex Garcia's solid defensive work against one of the world's best players.
"When I was preparing this game, a lot of people talked and joked about how to stop Antetokounmpo," added Petrovic. "I had for six months in my head, since the semifinals between Toronto and Milwaukee, how to stop Antetokounmpo. The problem tonight for us was [Kostas] Sloukas and [Georgios] Printezis."
Antetokounmpo, a power forward for the Milwaukee Bucks, scored with 13 points but fouled out late in the fourth quarter for Greece, according to reports. He has, by all appearances, stayed mum over the comments by both coaches.
Brazil was down by 17 at one point in the first half of the game but managed to cut Greece's lead to 10 around halftime.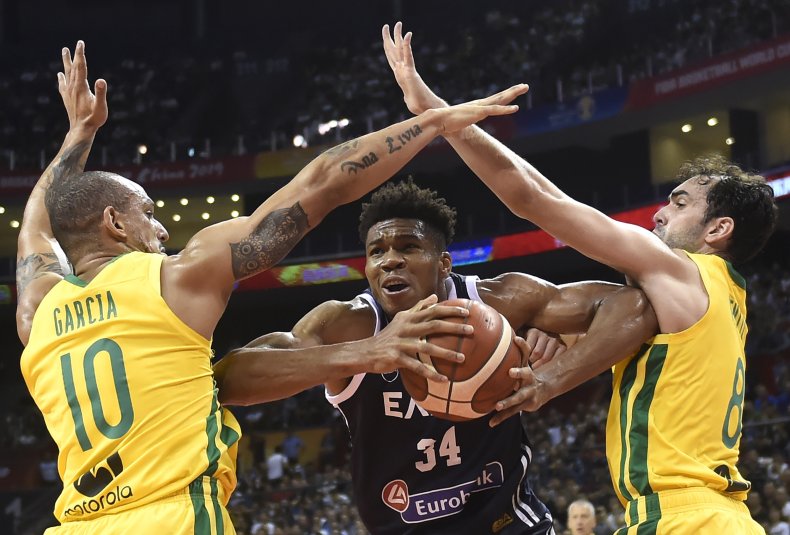 Both coaches have a vast amount of experience coaching major teams. Petrovic, 60, is a Croatian native with nearly three decades of coaching experience on top of an extensive playing career—which included a stint at the 1984 Olympics—in Europe.
Pitino, on the other hand, took over at Panathinaikos B.C. of the EuroLeague in late 2018 and led the team to victory over PAOK in the Greek Cup Championship in 2019. The 66-year-old took the position in Athens after leaving the University of Louisville.
Before Louisville, he served as the head coach and director of basketball operations for the Boston Celtics.
Greece will play New Zealand on Thursday, as Pitino indicated in his tweet, while Brazil will take on Montenegro.