Among those who lost their lives on 9/11 and will never be forgotten is Rick Rescorla, who was announced as a Presidential Citizen Medal honoree by President Donald Trump during a ceremony Wednesday morning marking the 18th anniversary of the terrorist attacks.
The late Rescorla ensured that early 2,700 people evacuated the South Tower of the World Trade Center on September 11, 2001, as the building collapsed, putting others before himself and dying in the act.
Speaking at the Pentagon, Trump honored the retired Army colonel who served as vice president of security for Morgan Stanley in the WTC's South Tower on the day of the deadliest terrorist attack in American history.
"Rick died while leading countless others to safety. His selfless actions saved approximately 2,700 lives," Trump said.
"Today I am honored to announce that we will soon be awarding the late Rick Rescorla the Presidential Citizen's Medal for his extraordinary sacrifice," Trump continued. "Though Rick has left this earth, we will ensure that the memory of his deeds will never ever be forgotten. His memory will forever endure."
From his office in the South Tower, Rescorla heard an explosion and saw the North Tower of the World Trade Center burning after American Airlines Flight 11 struck it. While the P.A. system told people to stay at their desks, Rescorla used a bullhorn and directed Morgan Stanley employees to evacuate via a stairwell from the 44th floor, even as United Airlines Flight 175 crashed into the tower several dozen floors above.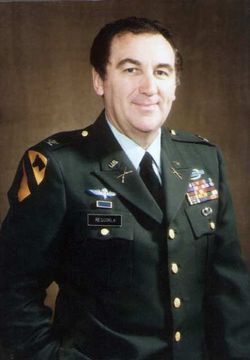 Rick Rescorla, who died on September 11, 2001 after leading almost 2,700 people to safety from the South Tower, is being awarded the Presidential Citizen's Medal. President Donald Trump announced the honor during a speech at the Pentagon on September 11, 2019.
U.S. Army
While encouraging the employees to get out of the tower, Rescorla sang songs to boost morale. He later called his wife, Susan Rescorla, telling her that he had to help people evacuate from the building, even though it put his life in danger.
"I have to get these people out safely," Rescorla told her. "If something should happen to me, I want you to know I've never been happier. You made my life."
After getting most of the Morgan Stanely employees out of the building, Rescorla reentered to "make sure everyone else is out." The South Tower collapsed shortly after he was seen going back up.
Rescorla was born in Cornwall, England, and was a U.S.-commissioned officer during Vietnam. He earned the Purple Heart and the Silver Star, among other honors, for serving in that war. He died at age 62.
The Presidential Citizens Medal is the second-highest civilian award in the U.S., after the Presidential Medal of Freedom, and recognizes an individual "who has performed exemplary deeds or services for his or her country or fellow citizens."
A monument honor Rescorla is located at the National Infantry Museum's Memorial Walk of Honor in Fort Benning, Georgia.