Rick Santorum Argues Mike Pence Didn't Interrupt Kamala Harris During VP Debate by Interrupting Female Panelist
Former Republican Senator Rick Santorum interrupted a female co-panelist, who was describing the gender dynamics of interruption during a post-debate analysis, to argue that Vice President Mike Pence didn't interrupt Democratic nominee Kamala Harris onstage Wednesday night.
CNN chief political analyst Gloria Borger, who was also the only woman on the panel, had been criticizing Pence for cutting off Harris, and explaining how female viewers might interpret the debate, when Santorum stopped Borger short to make a counterargument.
Borger had applauded Harris' composure, saying, "That's hard when you're getting interrupted constantly."
"She would say—and maybe she did create a meme—'Mr. Vice President, I'm speaking.' She kept saying that to him, as if to say 'I'm not finished,' and then he would sort of plow ahead," Borger said.
As Borger went on to explain what the optics would signal to American women watching the debate, Santorum interjected to make a different point.
"Women watching that are going to say, 'Wait a minute,'" Borger said before Santorum started speaking.
"Don't make the claim that he interrupted her repeatedly, because he didn't," Santorum said.
Using the same phrase Harris repeated during Wednesday's debate, Borger said, "Mr. Santorum, I'm speaking," while Santorum continued to talk over his co-panelist as she responded.
The irony of the situation was caught by a number of viewers, who said Santorum's action and lack of self-awareness only helped bolster Borger's argument about the ways men interrupt women.
Patrick Keefe, a staff writer at The New Yorker, tweeted, "Amazing moment just now on CNN where Gloria Borger, the sole woman on a panel with 4 men, starts to explain what it was like for women to watch Kamala get repeatedly interrupted but can't finish because the men on the panel interrupt her. And she says 'Mr. Santorum, I'm talking."
According to CBS News, Pence interrupted Harris twice as many times throughout the debate, the only one between the vice presidential candidates. Pence interrupted Harris 10 times, while Harris interrupted him five times.
When Pence tried to weigh in during Harris' critique of the Trump administration's handling of the coronavirus pandemic, the California senator told him, "Mr. Vice President, I'm speaking."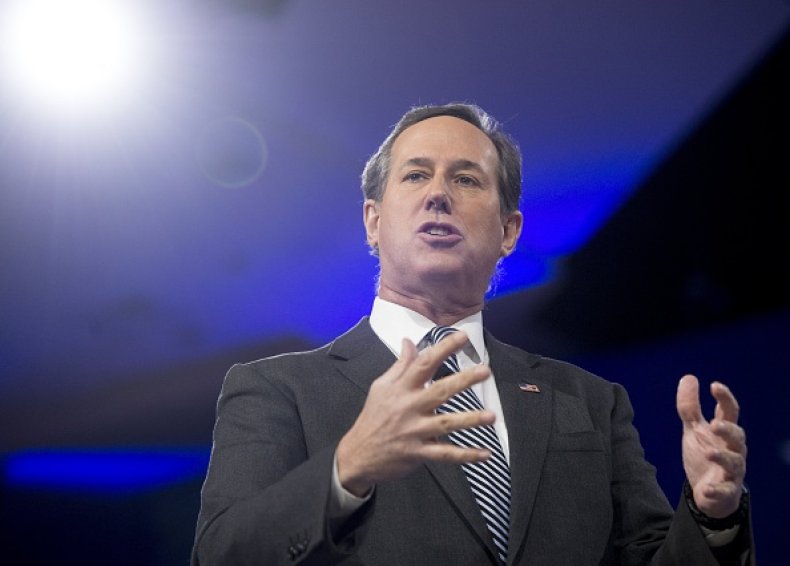 The move caught the attention of many viewers at home, who were quick to praise Harris on social media.
"How many women are getting flashbacks of being in meetings with men who interrupt them?" gender advocate Farrah Khan asked on Twitter.
Former American diplomat Dana Shell Smith tweeted, "Perhaps Pence's debate prep team should have helped him understand how triggering it is for all women to hear a man interrupt, condescend, mansplain and lecture."
"The gendered dynamics of interruption and the power to interrupt is always so in your face in these settings. My God," MSNBC host Chris Hayes added.
Newsweek reached out to both Santorum and Borger for comment but did not hear back before publication.