Conservative commentator Rick Santorum was challenged over comments made during a CNN post-presidential debate show when he claimed "nobody called Donald Trump a racist before he was president of the United States—other than the Central Park thing."
Several panelists on the show, including the host Anderson Cooper, jumped in, telling Santorum "that's not true" when the former GOP senator suggested the president had only attracted criticism for his approach to issues of race since occupying the White House.
Santorum was referring to the Central Park Five, a group of Black and Latino men who as teenagers were wrongly convicted of raping a female jogger in New York City.
In the wake of the case, Trump bought newspaper advertisements calling for the state to adopt the death penalty. His signature featured on the pages. Since becoming president, he has refused to apologize for the move.
Santorum's comments came after Trump claimed during the second and final presidential debate in Tennessee that he was the "least racist person in the room."
Trump's remarks triggered a heated exchange during CNN's post-debate discussion show.
After Santorum claimed Trump had not been painted as a racist until becoming president, Van Jones, a political commentator for the network, interjected: "This is a complicated thing here. First of all, the right wing always says nobody called him a racist before he was president. It's just not true. Once he started on the birther thing, that shocked a lot.
"Donald Trump did have allies in the Black community, Donald Trump had been a supporter of civil rights causes. In fact, Donald Trump has been a supporter of Kamala Harris, believe it or not. But when he went down the road of the birther thing, that changed his relationship with the Black community."
Racism was one of a number of issues raised during the 90-minute event, chaired by Kristen Welker.
During the debate, Joe Biden highlighted Trump's previous refusals to condemn white supremacists as well as his attacks on the Black Lives Matter movement.
The Democratic challenger accused the president of pouring "fuel on every single racist fire" and said Trump "started off his campaign coming down the escalator saying he's going to get rid of those Mexican rapists.
"He's banned Muslims because they are Muslims. He's made everything worse across the board. He said about the poor boys [Proud Boys], last time we were on stage, stand down and stand ready. Come on. This guy is a dog whistle about as big as a foghorn."
Biden added: "You know who I am, you know who he is, you know his character, you know my character. You know our reputations for honor and telling the truth. I'm anxious to have this race. The character of the country is on the ballot."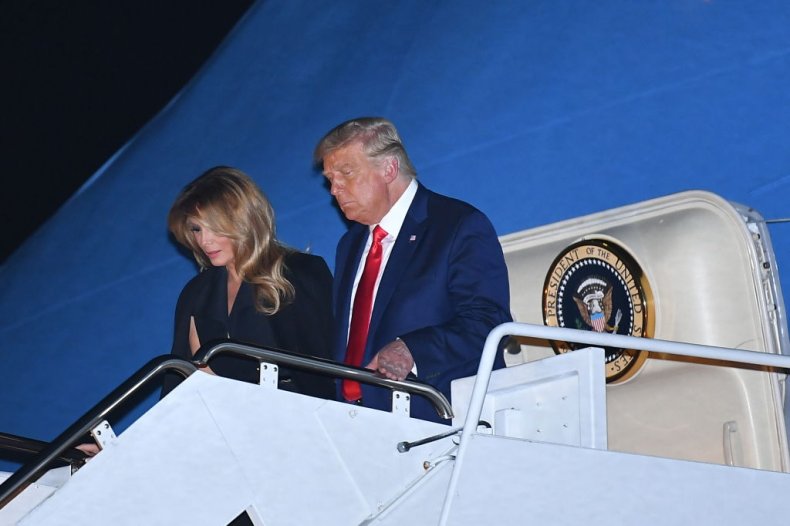 Trump countered by criticizing Biden's support of a 1990s Crime Bill accused of disproportionately affecting Black men.
The president responded: "The first time I ever heard of Black Lives Matter, they were chanting pigs in a blanket, talking about police. Pigs in a blanket, fry them like bacon. I said that is a horrible thing. And they were marching down the street. And that was my first glimpse of the Black Lives Matter. I thought it was a terrible thing. As far as my relationships with all people, I think I have great relationships with all people. I am the least racist person in this room.
He added: "I got criminal justice reform and prison reform and opportunity zones. I don't know what to say. They can say anything. They can say anything. It makes me sad because I am the least racist person. I can't even see the audience because it is so dark, but I don't care who is in the audience. I'm the least racist person in this room."
Trump was one of the most vocal proponents of the discredited conspiracy theory that Barack Obama was not eligible to serve as president because he was born outside the U.S.
Trump first referenced the debunked theory in 2011. That same year, Obama produced a copy of his birth certificate proving he was born in Hawaii. Trump countered without evidence that the document was a "fraud."
He has stoked similar theories about his 2016 Republican rival Ted Cruz and Democratic vice presidential candidate Kamala Harris.