Trump Isn't Racist For Attacking Black Women Reporters Because He 'Treats Everybody Poorly," Rick Santorum Says
Rick Santorum believes that minorities "should be voting" for Donald Trump, although he also thinks the president should "recognize the problem" in publicly attacking black female journalists.
Speaking on CNN's "State of the Union" program on Sunday, the former Republican presidential candidate and ex-senator from Pennsylvania, said that Trump's record on the economy should encourage minority voters to back him. At the same time, he admitted that the president has not been "appealing" to these communities.
"I think [minorities] should be voting for him based upon his record of the economy and what he's doing to create employment opportunities and better well-being for them," Santorum argued.
Following the politician's remarks, host Jake Tapper pointed out that Trump had attacked three black women reporters just in the past week. Ohio state Senator Nina Turner, who also appeared on the program, classified the president as "a bully" in the attacks.
"Some people will say he's an equal opportunity bully. But we understand that in this country when you level those kinds of comments against African-Americans — 'you're a loser, you're stupid' — he knows exactly what he's doing," she argued.
Stuttering to respond, Santorum pushed back by saying that Trump "treats everybody" he sees as confrontational "poorly."
"But having said that, he needs to be aware of what he's doing. He can't see this as not in a vacuum that it is," he admitted. "He went after people, specifically African-American women."
"He has to recognize that's a problem," the former senator added. "He shouldn't do it."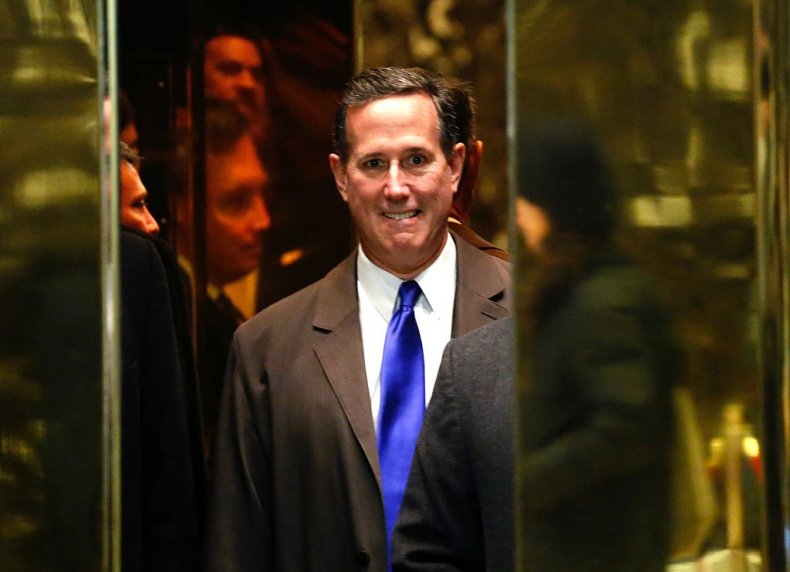 Journalists Abby Phillip, April Ryan and Yamiche Alcindor, all black women, were the targets of Trump after asking questions of the president last week. He classified Phillip's questions as "stupid," Ryan as a "loser" and bizarrely dismissed a question from Alcindor as "racist."
Although Trump has often been dubbed as "racist" by his critics, an August poll by Rasmussen showed that he has actually increased his popularity among black Americans since 2017. According to the polling company, the president's support had nearly doubled over one year previously, jumping from just 19 percent to reach 36 percent. But that poll still showed that the majority of the black community did not support the Trump administration.
The poll was released the same month that Omarosa Manigault Newman, an ex White House staffer who formerly competed on Trump's reality television show "The Apprentice" and is black, alleged in her memoir that the president is "racist" and has used the "N-word." She further claimed that she had tapes to back-up her accusations. Manigault Newman also claimed that she witnessed the president call George Conway – his counselor Kellyanne Conway 's husband – a "f***ing FLIP! Disloyal! Fucking Goo-goo." Conway's husband is a half Filipino and a "flip" and "goo-goo" are both ethnic slurs.