Rick Santorum Says if GOP Was 'Into Voter Suppression,' Republicans Did 'a Lousy Job'
Former Republican Senator Rick Santorum said during a CNN election coverage panel that if the Republican Party was "into voter suppression, we did a lousy job."
Santorum pointed to the record voter turnout in this year's presidential election as proof that the GOP has not attempted to suppress votes.
Although ballots are still being calculated, total turnout has already surpassed 2016's level and is on pace to hold the highest since 1900, according to The Washington Post.
However, Santorum's remarks insinuate that voter suppression is not a problem for today's voters.
Voter suppression has been cited as a problem by many voter rights activists and has emerged as a key issue in this year's election amid the coronavirus pandemic.
The use of mail-in ballots to expand voting access over health concerns has been highly contested by Republicans and Democrats. President Donald Trump and the GOP have argued that expanded absentee voting will lead to widespread voter fraud—a claim disputed by many election officials.
Democrats have largely pushed to provide mail-in ballots to more voters in this election.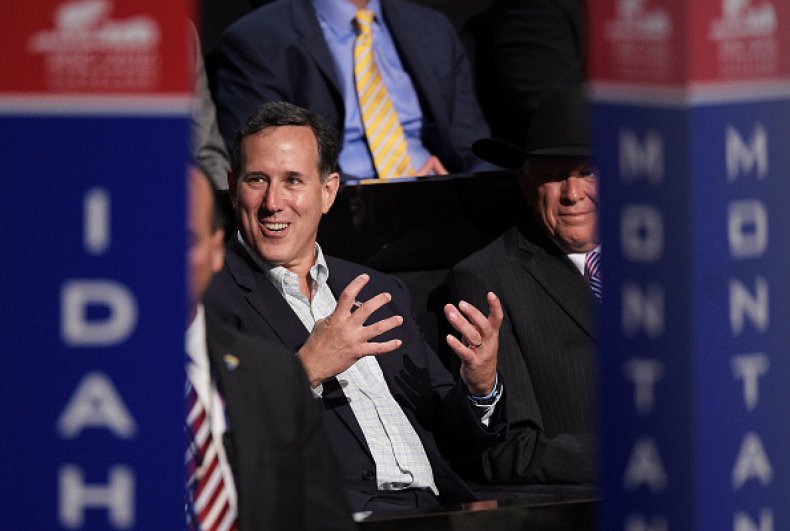 Voters in states like Georgia, Texas and Florida stood in hours-long lines to cast their ballots ahead of Election Day. Several key swing states also extended voting hours after locations in Georgia, Texas and North Carolina faced technical glitches.
Activists have argued that long waits at polling stations and broken voting machines help to suppress voters from participating in democracy.
Florida voters also saw armed citizens at polling locations, while voters in Tennessee and Georgia were turned away for wearing clothing that read "Black Lives Matter."
Texas, notably, faced a number of legal battles against voter suppression ahead of the election.
On the eve of Election Day, a Supreme Court hearing rejected Republican efforts to have 127,000 drive-thru votes cast in Harris County, the state's most populous and largely Democratic county, thrown out.
However, courts in the state also upheld Governor Greg Abbott's order that each county would only be allowed one mail-in ballot drop off location—a move which forced Harris County to remove 11 other drop-off boxes.
On Sunday, the Post published an op-ed from Ben Ginsberg, an election lawyer known for representing the Republican Party. Ginsberg accused the Trump campaign for attempting to suppress votes under the illusion of voter fraud.
"The Trump campaign and Republican entities engaged in more than 40 voting and ballot court cases around the country this year. In exactly none—zero—are they trying to make it easier for citizens to vote. In many, they are seeking to erect barriers," he wrote.
"This attempted disenfranchisement of voters cannot be justified by the unproven Republican dogma about widespread fraud. Challenging voters at the polls or disputing the legitimacy of mail-in ballots isn't about fraud," Ginsberg added. "Rather than producing conservative policies that appeal to suburban women, young voters or racial minorities, Republicans are trying to exclude their votes."
Newsweek reached out to Santorum for comment but did not hear back before publication.