Former Pennsylvania Senator Rick Santorum told Jake Tapper and Wolf Blitzer on CNN Tuesday that any allegations tendered in former National Security Adviser John Bolton's upcoming memoir won't make a difference in President Donald Trump's impeachment trial because, even if proven true, because "Republicans don't care."
In Bolton's unreleased manuscript, he reportedly claims that Trump told him during a conversation that he did not want to release approximately $400 million in military aid to Ukraine until it announced criminal investigations into the activities of both former Vice President Joe Biden, who is currently seeking the Democratic Party's presidential nominantion, and Biden's son Hunter. Joe Biden was instrumental in forming policy toward Ukraine during the Obama administration while Hunter joined the board of Ukrainian natural gas company Burisma Holdings.
Trump has denied having that conversation with Bolton in a tweet saying, "I NEVER told John Bolton that the aid to Ukraine was tied to investigations into Democrats, including the Bidens. In fact, he never complained about this at the time of his very public termination. If John Bolton said this, it was only to sell a book."
"I tend to believe that the president probably said this to John Bolton," Santorum said. "And it goes back to the things we talk about all the time—the president says lots of different things on both sides of the issues. I hear it all the time here, 'Well, the president is so chaotic, he says things he doesn't mean.' And so it's not surprising to me that he would maybe in a fit say something like this to John Bolton."
Santorum also reiterated his belief in the innocence of the president and his administration.
"They didn't do it," Santorum said. "Ultimately the money was released and everything with the relationship with the Ukraine has actually been very positive for Ukraine under this president. And even if he did do it, Republicans don't care."
"The steam is out of the kettle here," Santorum said. "I think there's likely to be a reading of this manuscript here. Everybody can feel comfortable. There's no smoking gun there that hasn't been talked about and then they're going to vote [on witnesses testifying during the Senate impeachment trial]."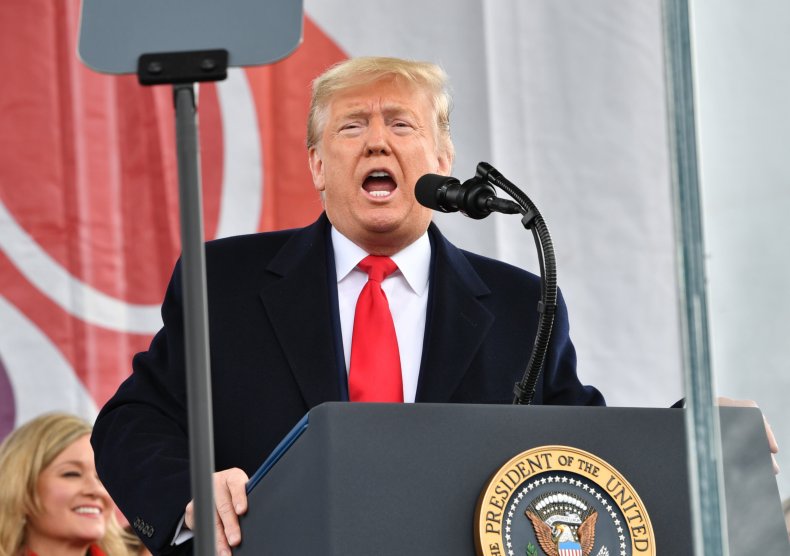 President Trump's penchant for colorful use of the English language also made an impression on Ohio Democratic Senator Sherrod Brown, who told MSNBC host Nicolle Wallace Tuesday that some Republican senators were afraid of President Trump.
"Fear now kind of does the business," Brown said. "Republicans like the tax cuts and the young extremist judges. They're afraid of this president."
"They're afraid of being called out as 'Lyin' Ted' or 'Low Energy Jeb,'" Brown continued. "They have that fear the president will come into their states and campaign against them. When fear does the business, we don't act well as human beings and that's what you've seen taking over the Senate Republican conference."
"A fair trial includes witnesses and documents and Republicans are afraid to have them," Senator Brown's office told Newsweek. "If President Trump and his lawyers claim the call was perfect, there shouldn't be any reason for Republicans to fear hearing from the people in the room."
Trump has become known for using derogatory nicknames for political opponents both during campaign speeches and on Twitter. During the 2016 campaign, Trump referred to Texas Republican Senator Ted Cruz as "Lyin' Ted," implying in a Fox News interview that Cruz's father was involved in the assassination of President John F. Kennedy.
"His father was with Lee Harvey Oswald prior to Oswald's being, you know, shot," Trump said in May 2016. "What was he doing with Lee Harvey Oswald shortly before the death?"
Trump also said in a January 2016 press release that Cruz was a "total hypocrite and, until recently, a Canadian citizen who may not even have a legal right to run for president."
While Cruz and Trump appear to have buried the hatchet, with Trump calling Cruz "beautiful Ted" in front of reporters in October 2018, Trump is still using nicknames for his rivals.
Trump has repeatedly called Speaker of the House Nancy Pelosi "Nervous Nancy" and House Intelligence Chairman Adam Schiff "Shifty Schiff."
Updated 9:00 p.m. EST 1/28/2020: This story has been updated to include a statement from Senator Sherrod Brown's office.