Climate Scientists Slam Rick Santorum's 'Conspiracy Theory' That They're in It for the Money
Former Republican senator and conservative political commentator Rick Santorum has been slammed for claiming that climate scientists are only in it for the money on CNN's State of the Union panel show Sunday.
"If there was no climate change, we'd have a lot of scientists looking for work," he said. "The reality is that a lot of these scientists are driven by the money that they receive.
"And of course, they don't receive money from corporations and Exxon and the like. Why? Because they're not allowed to, because it's tainted. But they can receive it from people who support their agenda. And that, I believe, is what's really going on here."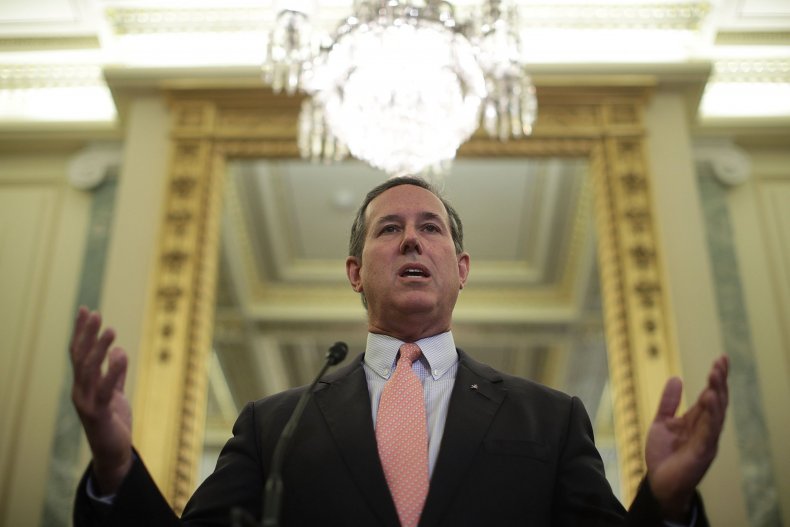 Santorum said he doubted that climate change was caused by people, despite multiple peer-reviewed studies showing that 97 percent or more of actively publishing climate scientists agreed that warming trends over the past century were extremely likely to be a result of human activities.
"No one doubts that the climate is changing," he said. "No one doubts that. The question is how much does man contribute, No. 1, and No. 2, how much can man do to change it?"
Another panelist on the show, Symone Sanders—former press secretary to Bernie Sanders (no relation)—immediately called Santorum out on his points.
"Let me just say that if we look at it from a global level, scientist after scientist after scientist is now sounding the alarm that if we do not do something to protect our planet now, 20-30 years from now, our life will be very different," she said. "So, this is not some ploy by the lobby of the climate elite. I don't even know if that exists. This is happening. California was literally burning last week. That is not normal. Increased flooding. That is not normal."
Santorum responded by saying: "Man's policy had a lot to do with that, because of the forestry policies of the state of California."
"OK, so we just need to rake the floor," Sanders joked.
The former senator then said: "The reality is that there's lots of disagreement out there about what is causing this. The climate always is changing and that the people who said we have to do something right now, 25 years ago they said the same thing and here we are 25 years later."
Santorum's latest comments came after the government published a report warning of the potentially devastating effects of climate change over the next few decades. The Trump administration has already tried to downplay the findings of the Fourth National Climate Assesment, which is required by Congress.
Santorum said that the report was created by people "who are in the bureaucracy. These are not Trump appointees."
The 60-year-old's remarks were criticized by several figures on social media.
Michael Mann, a climate scientist from Penn State, tweeted: "Hey @RickSantorum. That disingenuous talking point about climate scientists is almost as stale as the empty home you maintained in Pennsylvania to falsely claim residency in our state."
Josh Whitehouse, news director at media watchdog Media Matters for America, said: "This Santorum clip is COMPLETELY nuts even by the standards of the intro Trump clips. It's unbelievable that CNN pays for this conspiracy theory nonsense."
David Frum, a reporter for The Atlantic, wrote: "Rick Santorum is co-chair of an advocacy group for biofuels, which emit even more greenhouse gases than conventional petroleum fuels. Probably I missed the moment in the broadcast when this was disclosed. And perhaps he is working pro bono."
Katherine Hayhoe, a climate scientist from Texas Tech University, said: "Apparently @RickSantorum thinks we climate scientists who were paid ZERO DOLLARS to write the #NationalClimateAssessment are "driven by money." Rick needs to watch this Global Weirding episode."
Surgeon and scientist David Gorski said: "Climate science denialists sure do project, don't they? Hey, @cnn, why do you give airtime to scientific ignoramuses like @RickSantorum?"