Rick Santorum Slams Trump for Pitching His Own Miami Resort as Next G-7 Venue: 'Hell No… Put an End to It'
Former GOP Senator Rick Santorum and ex-White House Ethics lawyer Richard Painter appeared on CNN this week to condemn President Donald Trump for pitching his own Miami resort as the next G-7 summit venue.
Trump confirmed for the first time on Monday that the Trump National Doral Miami resort has been floated to be the location for next year's G-7 summit during a joint press conference with French President Emmanuel Macron at the end of this year's G-7 in Biarritz.
"Doral happens to be... only five minutes from the airport, the airport's right next door," the president told reporters. "By the way, my people looked at 12 sites, all good, but some were two hours from the airport, some four hours."
"We have a series of magnificent buildings, we call them bungalows, they each hold from 50 to 70 rooms, they have magnificent views. And what we have also is Miami," Trump added.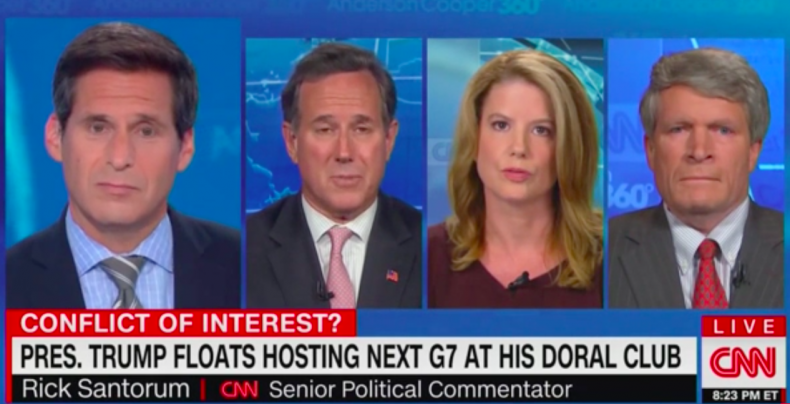 Hours later, Santorum and Painter appeared on Anderson Cooper 360 to criticize the president's idea to hold the 2020 G-7 summit at his own struggling resort.
"Two district courts have cases brought against Donald Trump to pivot exactly this type of thing... it would be a clear violation of the United States Constitution," said Painter, a former White House lawyer under the Bush administration. "He's using his presidency to promote his own business. That's a conflict of interest entirely apart from the Emoluments Clause of the Constitution."
Santorum agreed with Painter, noting that his concerns were "legitimate points," before arguing that such a move could be in "violation of the law."
"The fact is that the president should not be doing this," Santorum said. "It would be a violation of the law as far as I understand it. I hope this is the last time he mentions it."
"I hope if anybody who did suggests to him, I mean, it's just remarkable that someone would suggest that it would be held at his — at Doral," he continued. "Again, I hope that's not true and if it is true, I hope they put an end to it very quickly."
Host John Berman then asked Santorum what he would do if he were a White House staffer and the president suggested holding the G-7 at his Florida resort. "Hell no," Santorum said quickly.
"There is a good and bad that comes with everybody," Santorum elaborated. "This is one of the things I scratch my head and wonder why the president doesn't see the obvious, not just conflict of interest, but how it could be used by opponents to undermine some of the good things that he's trying to accomplish there."
He added: "I'm disappointed that he even brought it up and I hope that it's the last we hear of it."
The hashtag #TrumpBedBugs began trending on Monday afternoon as thousands of Americans ridiculed the president on Twitter over a resurfaced 2017 article about the resort settling lawsuit from a man who said he was bitten by bed bugs during his stay at the resort.