Republican Rick Scott Beats Bill Nelson In Florida Senate Recount
Florida's manual midterm election recount conformed Republican Governor Rick Scott won the Senate seat over Democratic Senator Bill Nelson. Scott won by 10,033 votes, according to CNN. Before the recount, Scott lead the election win with 12,603 votes.
Nelson is expected to make a statement at 3 p.m. EST Sunday. There were 8.19 million votes cast in the Florida election. This leaves Scott with a 0.12 percent lead, according to the Orlando Sentinel.
The former Senator conceded to Scott formally on Sunday. "I just spoke with Senator Bill Nelson, who graciously conceded, and I thanked him for his years of public service," Scott said in a statement to NBC. "Now the campaign truly is behind us, and that's where we need to leave it. We must do what Americans have always done: come together for the good of our state and our country."
It was Nelson's team that asked for a recount. Nelson refused to concede to Scott on election night, and spearheaded the recount. The count was first done electronically, but the machine recount deadline was missed. It was the completed by hand and the deadline was met at noon Sunday by all 67 counties in Florida.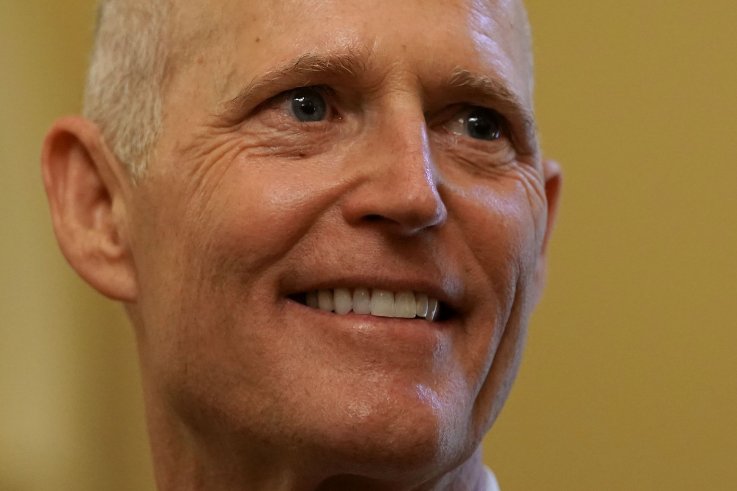 Some Democrats believed Nelson's fight was over when Mayor Andrew Gillum conceded to Republican Ron DeSantis on Saturday.
Scott contributed over $50 million of his own funding to his campaign. He targeted Nelson with ad campaigns bashing Nelson for "refusing to meet" with Supreme Court Justice Brett Kavanaugh. Nelson claimed they couldn't meet due to scheduling conflicts. Nelson did vote against instating Kavanaugh to the position.
Scott's platform rested heavily on his accomplishments as Governor. His website noted he was able to provide over $10 billion in tax cuts as well as provide 1.5 million new jobs. He claimed this change heavily impacted the Florida unemployment rate, bringing it to lower numbers than in the past. He also noted his aid in hurricane recovery.
In 2010, Scott voted in support of a measure that added an amendment opposing same sex marriage, according to On The Issues. He also opposed adding restrictions to gun purchasing rights in 2010.
As of 2014 and 2015, Scott openly opposed immigration and heavily denounced relocating Syrian immigrants.
In the past, Nelson has voted in support of abortion rights, modifying bankruptcy rules, supporting women's rights legally and legalizing same sex marriage. Nelson has been active in politics since he began in 1972, and it is unclear what path he will take out of the political arena. He is now 76 years old.
Republican Rick Scott Beats Bill Nelson In Florida Senate Recount | U.S.