Rick Scott Ripped After Saying He Gave Trump 'Freedom' Trophy Because 'He Worked Hard'
Florida Republican Senator Rick Scott was criticized on social media Sunday after he said he gave former President Donald Trump the National Republican Senatorial Committee's (NRSC) Champion of Freedom award because he "worked hard."
Scott, chairman of the NRSC, bestowed Trump with the inaugural award during a GOP donor retreat at Mar-a-Lago in Palm Beach earlier this month. In a statement, the NRSC said the "award is presented to conservative leaders who have worked tirelessly to create good jobs, protect the values that make our country great, and stop the Democrats' socialist agenda."
At the time, Democrats and critics of the divisive former president quickly took to Twitter to slam Republicans for giving Trump the award, with some calling it a "participation trophy."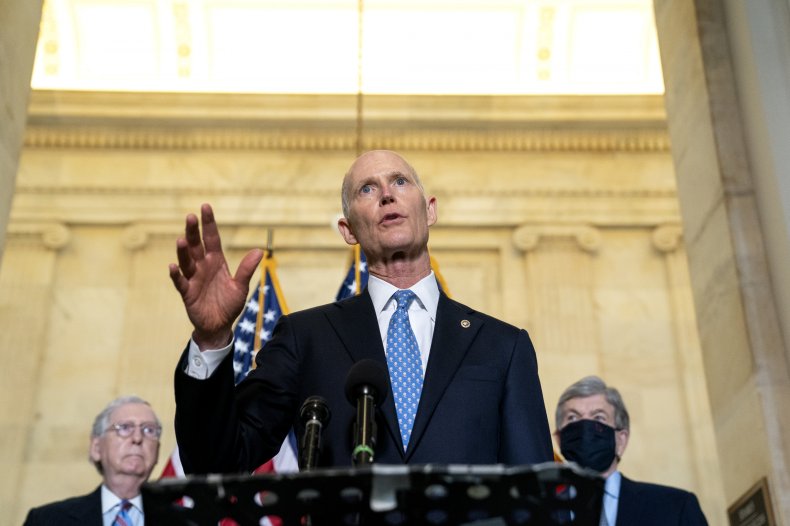 In an ABC News' This Week interview on Sunday, host George Stephanopoulos grilled Scott about the award.
"You recently gave Trump a 'Champion of Freedom' award, despite the fact he continues to spread lies about the election and insurrection. Doesn't that endorse that kind of behavior?" Stephanopoulos asked.
"I gave him the award for the right reasons," Scott responded. "He worked on border security ... he worked on holding Xi [Jinping] in China accountable, the Castro regime accountable, [Nicolás] Maduro accountable, helping Israel, got the Abraham accords done, he worked hard. Every president I know would like to get more things accomplished, but he did some things that prior presidents have not gotten done."
"You gave the award after he spread the lies about the election," Stephanopoulos said.
Meanwhile, "Rick Scott" began trending on Twitter after the interview aired as critics opposed his remarks. Some people also slammed ABC for giving the Florida senator a platform.
Joseph Robertson, executive director of Citizens' Climate International, tweeted: "1) Rick Scott gave an award to the terrorist insurrectionist Trump. 2) He has used language coddling white nationalist extremists in response to the Chauvin verdict. 3) He should never be welcome on your air."
"Trump worked hard to overthrow the government while golfing. Rick Scott gave Trump a 'Participation Trophy' for trying. Scott, is one of the 8 Republican Senators who voted against the certification of Joe Biden's election victory after the pro-Trump Capitol Riot on 6 January," commented @myweiredworld.
Jesse Lehrich, former foreign policy spokesperson for Hillary Clinton's presidential campaign, posted: "Rick Scott voted to toss election results hours after the deadly Capitol siege, but sure, give him a platform to feign interest in bipartisanship."
@suechitown wrote: "Rick Scott is a Trump lackey. I could also ask what has Rick Scott worked hard at besides sucking up to the Mango Mongoose?"
Screenwriter Matt Negrin tweeted: "Rick Scott voted to overturn the election after the Jan. 6 insurrection he incited. He lied and said Trump won. Today @ThisWeekABC invited Rick Scott on and deliberately ignored his role in spreading the Big Lie, not mentioning it once @ABC is helping Republicans erase history."
In a statement to Newsweek, a spokesperson for Scott dismissed the criticism, saying "there is literally nothing less important to us than the fake outrage of liberal activists on Twitter."
04/25/21 5:38 p.m. ET: This story has been updated with a statement from Scott's representatives.