Rick Scott Wants to Name New Border Wall After Donald Trump
Florida Senator Rick Scott on Tuesday unveiled an 11-point plan describing what the GOP should do if they retake control of Congress in upcoming midterm elections, and it includes naming the Southern border wall after former President Donald Trump.
Scott, who serves as the chair of the National Republican Senatorial Committee, released the "Rescue America" plan to reveal conservative ideas on topics such as education, immigration, crime, the economy and elections.
In the fourth step, marked immigration, Scott wrote in his plan that "We will secure our border, finish building the wall, and name it after President Donald Trump."
"President Trump's plan to build a wall was right. We welcome those who want to join us in building the American dream, immigrants who want to be Americans, not change America," a portion of the plan reads. "We are a stronger nation because we are a nation of immigrants; but immigration without assimilation makes us weaker. Politicians from both parties talk big about border security and do nothing. We are done with that."
The plan also calls for employing "military assets to the border as needed," as well as stripping funding from immigration sanctuary cities and prosecuting elected officials who "flout our immigration laws."
Scott's decision to release the plan was met with some praise from fellow conservative lawmakers, but marked a significant break from Senate Minority Leader Mitch McConnell who has chosen not to release a party agenda ahead of the midterms.
"Hopefully, by doing this, we'll have more of a conversation about what Republicans are going to get done. Because when we get the majority, I want to get something done," Scott said in an interview with Politico. "There's things that people would rather not talk about. I'm willing to say exactly what I'm going to do. I think it's fair to the voter."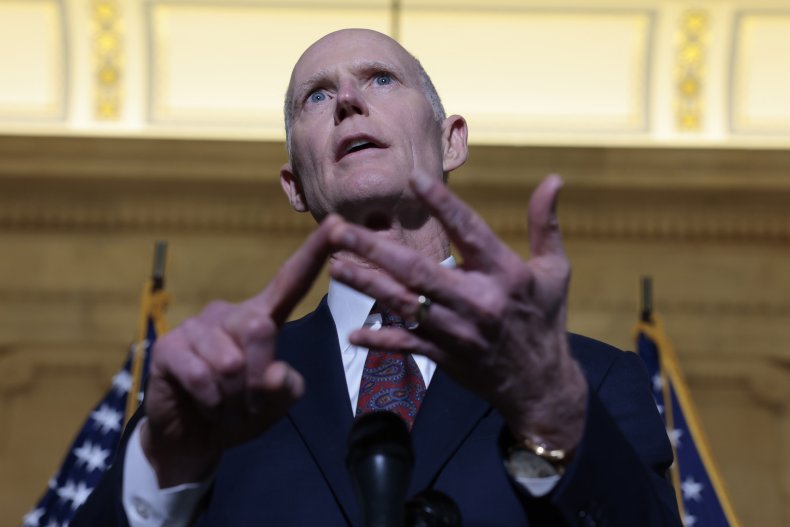 A known Trump supporter, Scott has worked to develop a message for the Republican party with help from fellow lawmakers and insight from the former president. Other aspects of his new plan include controversial measures such as declaring that there are just "two genders," and that "unborn babies are babies," along with ending any reference to ethnicity on government forms.
In the economic section of his plan, Scott also proposed that "all Americans should pay some income tax to have skin in the game, even if a small amount"—a point Democrats zeroed in on as a threat to increase taxes on the lowest-income Americans and working class.
"Scott's plan for the economy: Raise taxes on half of Americans, including seniors and working families. Literally nothing on how to lower prices for working families," White House Rapid Response Director Mike Gwin tweeted Tuesday.
Alternately, Republican National Committee (RNC) Chair Ronna McDaniel praised Scott for putting the GOP "back on track," after "Joe Biden and Democrats have made life more expensive and less safe for families across America."
That message prompted Democratic National Committee Chair Jaime Harrison to retort by tweeting: "It's clear that @GOPChairwoman didn't read @SenRickScott's 'plan' since it says nothing about how Republicans will lower costs for families—it's just a mess of unpopular and toxic ideas."