Rick Warren Retires From Saddleback Megachurch as Changes, Rifts Rock Southern Baptists
After more than four decades, Rick Warren is stepping down as lead pastor of the evangelical Saddleback Church. He announced the decision during a sermon on Sunday to members of the megachurch in person as well as on YouTube.
"For 42 years, Kay and I have known this day would eventually arrive and we've been waiting for God's perfect timing," Warren in the message to his followers.
Warren, 67, founded Saddleback Church with his wife Kay in 1980. It is affiliated with the Southern Baptist Convention (SBC), and the home church in Lake Forest, California, is said to be the largest church in California and one of the largest in the country. Saddleback has many additional churches, including more than a dozen locations in California, as well as sites in Berlin, Buenos Aires, and Hong Kong.
During normal operations, Saddleback's Lake Forest site is said to have a weekly attendance of often more than 30,000 congregants. The church celebrated its 50,000th baptism in 2018.
Warren has long been one of the country's most well-known religious leaders. His stance against same-sex marriage has frequently been brought up when he speaks to mainstream media outlets, though he also divided some conservative evangelicals by reaching out to Muslims and for giving the invocation when Barack Obama was sworn into presidential office in 2008.
The pastor has more than eight million social media followers and has written eight books, including The Purpose Driven Life, which has sold around 40 million copies in English, according to Publisher's Weekly.
In the video announcement on Sunday, which was entitled "How to Discern the Best Time to Make a Major Change," Warren noted that it has always "been my goal, to serve God's Purpose in my generation. God has given me the privilege to serve multiple generations."
Warren shared the video on his YouTube channel today.
He also noted that he will continue on as lead pastor until his successor is named. A search is beginning this week for the successor, a move Warren said is not an ending but the "beginning of the beginning."
Warren spoke with the Orange County Register on Monday, saying he would still be involved with Saddleback Church as the founding pastor, but that "it is time for a new chapter for a younger leader with a new vision."
Warren told his followers on Sunday during his sermon: "God has already blessed me more than I could ever possibly imagine. I don't deserve any of it, and so this next transition in my life is something I am anticipating with zero regrets, zero fears, zero worries."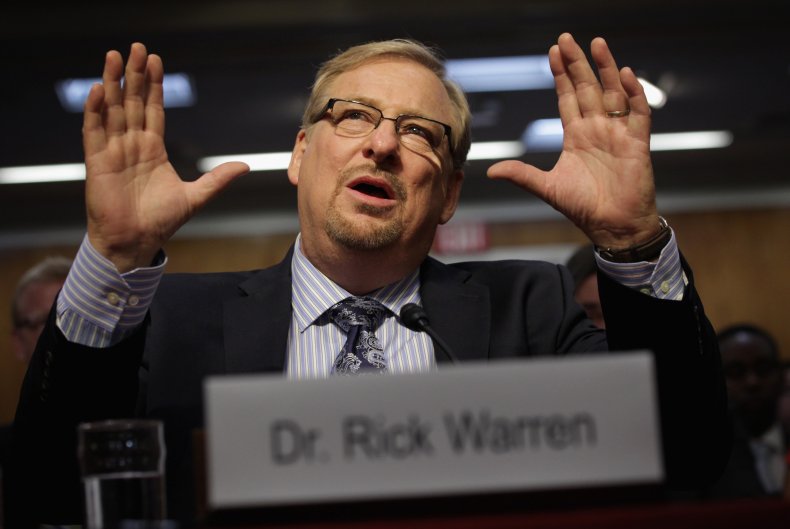 Newsweek contacted Saddleback Church for comment but did not hear back in time for publication.