A Taxonomy of Ricky Gervais's Offensive Golden Globes Jokes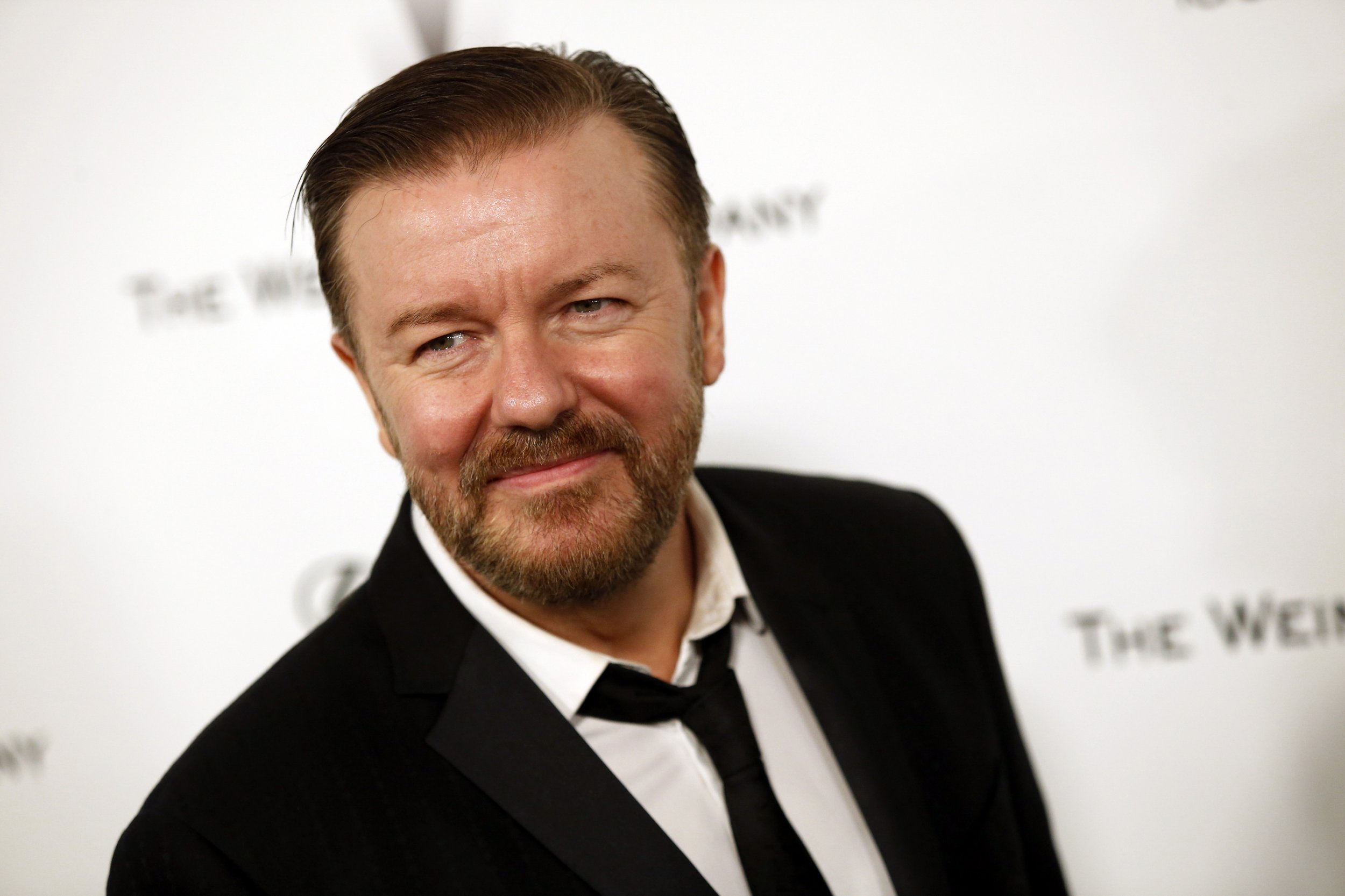 After three years of Tina Fey and Amy Poehler, the Hollywood Foreign Press decided to invite Ricky Gervais to return as host of the 73rd annual Golden Globe Awards, which air this Sunday on NBC. Gervais, of course, hosted the event for the three consecutive years prior to Fey and Poehler's run behind the podium. From 2010 to 2012, the British comedian lambasted Hollywood with an incisiveness that was atypical for an awards show host. No one was off-limits, not even HFPA President Philip Berk, who took exception to Gervais's boundary-pushing hosting style.
But boundary-pushing is what gets ratings, and Gervais will be the star paid the most attention on Sunday night. He knows it too, and after a three-year hiatus it's clear that he's going to take the stage with guns blazing. He was even kind enough to warn us:
For a clue as to what we might be in for, let's look at how Gervais stirred up controversy during his first three go-rounds as Golden Globes host by reviewing the topics that were decidedly not off-limits.
-----------
NBC
"Let's get on with it before NBC replaces me with Jay Leno." (2010)
"I will be making the most of this opportunity. I'm not used to these sort of viewing figures. Let's face it, nor is NBC." (2010)
"Tonight you get Britain's biggest comedian, hosting the world's second-biggest award show, on America's third-biggest network. Is it fourth? It's fourth." (2012)
Sexuality
"Also not nominated: I Love You, Philip Morris. Jim Carrey and Ewan McGregor—two heterosexual actors pretending to be gay. So the complete opposite of some famous Scientologist then. Probably? My lawyers helped me with the wording of that joke." (2011)
"I mustn't mention Mel Gibson this year. Not his private life, his politics, his recent films and especially not Jodie Foster's beaver. I haven't seen it myself. I've spoken to a lot of guys here. They haven't seen it either. But that doesn't mean it's not any good." (2012)
Physical Appearance
"On a serious note, just looking at all the faces here reminds me of some of the great work that's been done this year...by cosmetic surgeons." (2010)
"One of the biggest events in TV this year was the finale of Lost, one of my favorites. All the questions were answered. I have to say, though, it was quite a complicated finale. I'm not sure I totally understood it all. But from what I can make out, I'm pretty sure the fat one ate them all." (2011)
"There were a lot of big films that didn't get nominated this year. Nothing for Sex and the City 2? I was sure the Golden Globe for special effects would go to the team that airbrushed that poster. Girls, we know how old you are. I saw one of you in an episode of Bonanza." (2011)
Hollywood
"Actors are loved the world over. They are recognizable. You could be in the Third World, and you get a glimpse of a Hollywood star, and it makes you feel better. You could be a little child, a little Asian child with no possessions and no money, but you see a picture of Angelina Jolie, and you think, Mommy!" (2010)
"It's an honor to be here in a room of what I consider to be the most important people on the planet. Actors. They're just better than ordinary people, aren't they? We all know that. Imagine a world without actors. It doesn't bear thinking about. Imagine if they ever went on strike. You couldn't replace them. You couldn't replace them with any other profession—lawyers or doctors. Could you imagine a real surgeon doing what Hugh Laurie does on House? It'd be pathetic. He'd be all over they place. Where do I stand? How is my American accent? What's my lines? Hugh, with the aid of coaches and stuff, could eventually learn his lines while saving lives. He's a genius." (2010)
"This next category is a bit of a downer, to be honest. It's for writing. We all know writers get way too much credit in Hollywood. And that's due to the generosity of actors sometimes mentioning them. What would writers do without actors? I don't want to keep going on about actors, but they're the most important ones. It's not the words you say, it's how good you look when you're saying them. Everyone knows that." (2010)
"What's with all the divorces? What's going on? Arnold and Maria. J. Lo and Marc Anthony. Ashton and Demi. Kim Kardashian and…some guy no one will ever remember. He wasn't around long. 72 days. A marriage that lasted 72 days. I've sat through longer James Cameron acceptance speeches than that." (2012)
Actors in the Tabloids
"Welcome to the 68th annual Golden Globes awards, live from the Beverly Hilton Hotel in Los Angeles. It's going to be a night of partying and heavy drinking. Or as Charlie Sheen calls it, breakfast." (2011)
"I love this next presenter. He's so cool. He's the star of Iron Man, Two Girls and a Guy, Wonder Boys... I'm sorry, are these porn films? Kiss Kiss Bang Bang? Bowfinger? Really? Up the Academy? C'mon. He has done all those films, but many of you in this room know him best from such facilities as the Betty Ford Clinic and Los Angeles County Jail. Please welcome, Robert Downy Jr.!" (2011)
"Our next presenter from such films as Hudson Hawk, Look Who's Talking, Mercury Rising, Color of Night, Fifth Element, Hart's War. Please welcome, Ashton Kutcher's dad, Bruce Willis!" (2011)
[While holding a beer] "I've had a couple. I'm not going to lie to you. Now listen up. I hope I haven't offended anyone. It's not my fault. I like a drink as much as the next man. Unless the next man is Mel Gibson." (2010)
"Our first presenter is beautiful, talented...and Jewish, apparently. Mel Gibson told me that. He's obsessed." (2011)
"A serious bit now. The Golden Globes is shown all over the world. It is oblivious to color or creed. It doesn't just celebrate talent. It celebrates difference. It crushes prejudice and stereotype. One stereotype I hate is that all Irishmen are just drunk, swearing hell-raisers. Please welcome Colin Farrell!" (2010)
Paul McCartney and Heather Mills
"The creator of Facebook, Mark Zuckerberg, is reportedly worth $7 billion. Heather Mills calls him the one that got away." (2011)
"Sir Paul McCartney, fellow Brit, good luck to him. We actually came over on the same flight. I didn't get to speak to him because I was up at the front in first class and he was behind me in coach. Saving money. He spent an awful lot last year." (2010)
The Hollywood Foreign Press
"Next up, Eva Longoria has the daunting task of introducing the president of the Hollywood Foreign Press. That's nothing. I just had to help him off the toilet and pop his teeth in. It was messy." (2011)
"One thing that can't be bought is a Golden Globe...officially. I'm not going to do this again, anyway. But if you were to buy one, the man to see would be Philip Berk." (2010)
"The Golden Globes are just like the Oscars, but without all that esteem. The Golden Globes are to the Oscars what Kim Kardashian is to Kate Middleton, basically. A bit louder, a bit trashier, a bit drunker...and more easily bought. Allegedly. Nothing's been proved." (2012)
...Gross
"Bridesmaids, one of my favorite comedies of the year. The girls finally proved they can be as raunchy as the men. Farting, burping, cursing, performing wild sex acts, even pooping in the sink. I heard for research the cast spent the week with Dame Helen Mirren. She's dreadful. Honestly. You don't see a lot of it because she's got good PR, but she's off the rails." (2012)
"Talking of The Walking Dead, congratulations to Hugh Hefner, who is getting married at the age of 84 to 24-year-old beauty Crystal Harris. When she was asked why she was marrying him, she said it was because he lied about his age. He said he was 94. Don't worry. Hold out. Just don't look at it when you touch it [mimes masturbating an elderly man and gagging simultaneously]. (2011)
Two Birds, One Stone
"It was a big year for 3-D movies. Toy Story, Despicable Me, Tron, it seems like everything this year was three-dimensional...except the characters in The Tourist. I feel bad about that joke. I'll tell you what: I'm jumping on the bandwagon, because I haven't even seen The Tourist. Who has? It must be good, because it's nominated, so shut up. And I'd like to quash this ridiculous rumor going around that the only reason The Tourist was nominated was so the Hollywood Foreign Press could hang out with Johnny Depp and Angelina Jolie. That is rubbish. That is not the only reason... They also accepted bribes." (2011)
"Boardwalk Empire. I love that show. It's about a load of immigrants who came to America about a hundred years ago, and they got involved in bribery and corruption, and they worked their way up into high society...but enough about the Hollywood Foreign Press. I'm joking! I love them, and they're good sports for inviting me back. What I didn't know is they do an awful lot for charity, and they're a nonprofit organization, just like NBC." (2012)