Ricky Martin Incest Allegations Evoke Disgust on Twitter: 'Still in Shock'
Allegations that singer Ricky Martin had an incestuous sexual relationship with his own nephew have led Twitter users to express shock and disgust on social media.
Martin, who first came to fame as a member of the Puerto Rican boy band Menudo and may be best known for his 1999 solo hit "Livin' la Vida Loca," was recently issued a restraining order following allegations of domestic violence. Earlier this week, Mexican newspaper El Universal reported that the allegation was made by Martin's 21-year-old nephew, who claimed that the entertainer made unwanted visits to his home following an alleged seven-month affair.
Martin said that the restraining order was "based on completely false allegations" in a statement shared to Twitter earlier this month. Marty Singer, Martin's attorney, said in a statement obtained by Newsweek on Friday that "the person who made this claim is struggling with deep mental health challenges."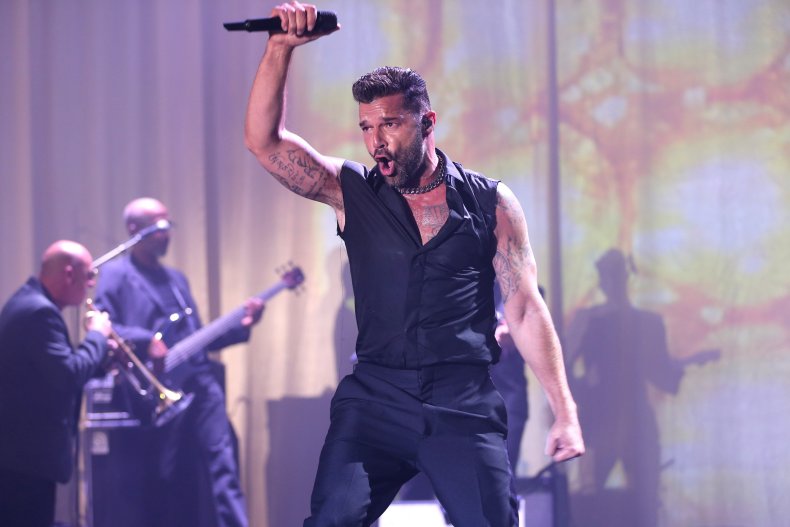 "Ricky Martin has, of course, never been — and would never be– involved in any kind of sexual or romantic relationship with his nephew," Singer said. "The idea is not only untrue, it is disgusting."
"We all hope that this man gets the help he so urgently needs," he added. "But, most of all, we look forward to this awful case being dismissed as soon as a judge gets to look at the facts."
Under Puerto Rican law, Martin could be sentenced to 50 years in prison if he is found guilty of having a sexual relationship with a family member, although he has not been charged. A court hearing on the allegations is set for July 21. Regardless of the denials from Martin and his attorney, Twitter was awash with disgusted reactions when Martin's name trended on Friday over the incest claim.
"Ricky Martin did WHAT to his NEPHEW?!" influencer Jessie Woo tweeted alongside a video of a woman loading an ammunition clip into a handgun.
"Yeah if you don't know why Ricky Martin in trending, don't check," tweeted educator Rafranz Davis. "Just don't."
"Do not look at why Ricky Martin is trending. You're happier not knowing," video game developer and journalist Brianna Wu tweeted. "Now, some of you are thinking, 'I can handle it. I'll look it up, and I'll be fine.' You won't be fine. Don't do it. Close Twitter, log off and enjoy life. I'm begging you."
"Should not have looked at the Ricky Martin trend," tweeted journalist Steve Topple alongside an animated gif of an elderly woman covering her face in horror.
"Ricky Martin having sex with his 21 year old nephew like he's a member of the royal family," writer and comedian Phillip Henry tweeted. "I've had enough news for the day."
"ME: 'Wonder why Ricky Martin trending? ' *Reads into it* ME: yikes👀! * Moonwalks back to where I came from*," rapper Flynt Flossy tweeted with an animated gif of a person doing the "moonwalk" dance move popularized by Michael Jackson.
Some compared the incest allegations made against Martin to Errol Musk, the father of tech billionaire Elon Musk, who this week was in the news after fathering a second child with his own stepdaughter.
"Hours later and I'm still in shock about the Ricky Martin situation with his nephew," journalist Nola Marianna tweeted. "And this comes the day after I was already grossed out by Elon Musk's dad and his stepdaughter. Start the rapture, frfr."
"Elon Musk to Ricky Martin. Hold my beer," Mad Dog PAC founder Claude Taylor tweeted.