Ricky Martin Issues Statement After Accuser Drops Harassment Allegations
Attorneys for pop singer Ricky Martin issued a statement on Thursday after their client's accuser decided to drop the harassment allegations that were previously made against him.
"Just as we had anticipated, the temporary protection order was not extended by the Court. The accuser confirmed to the court that his decision to dismiss the matter was his alone, without any outside influence or pressure, and the accuser confirmed he was satisfied with his legal representation in the matter," Martin's lawyers said in a statement sent to Newsweek.
The statement continued: "The request came from the accuser asking to dismiss the case. This was never anything more than a troubled individual making false allegations with absolutely nothing to substantiate them. We are glad that our client saw justice done and can now move forward with his life and his career."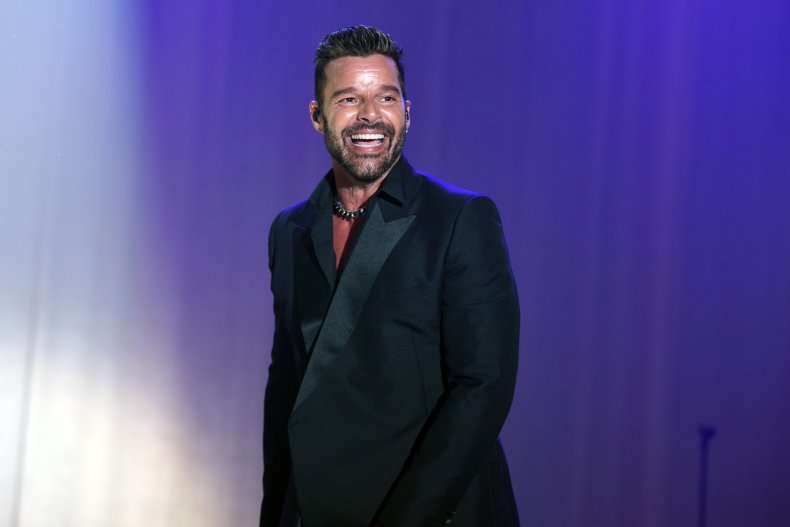 The announcement by Martin's lawyers on Thursday comes shortly after it was reported by a number of Mexican and Puerto Rican media outlets that the singer was accused of having a relationship with his nephew.
Earlier this month, the Associated Press reported that an unnamed individual filed a restraining order against Martin, after the two had an alleged relationship for several months. The Puerto Rican newspaper El Vocero reported that the restraining order accused Martin of wanting to continue the relationship with the individual after the two broke up.
However, it was later reported by the Mexican newspaper El Universal that Martin's nephew was the individual who initially filed for the restraining order.
In response to the recent allegations, Martin's lawyers told Newsweek in a statement: "Unfortunately, the person who made this claim is struggling with deep mental health challenges. Ricky Martin has, of course, never been - and would never be - involved in any kind of sexual or romantic relationship with his nephew."
Shortly after it was reported that Martin was hit with a restraining order, the singer issued a similar statement on Twitter, which read: "The protection order entered against me is based on completely false allegations, so I will respond through the judicial process with the facts and dignity that characterize me."
"Because it is an ongoing legal matter, I cannot make detailed statements at this time. I am grateful for the countless messages of solidarity, and I receive them with all my heart," Martin added.
Last week, El Vocero reported that Martin's brother, Eric, alleged in a Facebook live video that the singer's nephew was the one who filed the restraining order.
Update 7/21/22, 1:09 PM ET: This story has been updated with additional information.