President Trump's NFL Criticism Is 'Un-American,' Says National Anthem Singer Rico Lavelle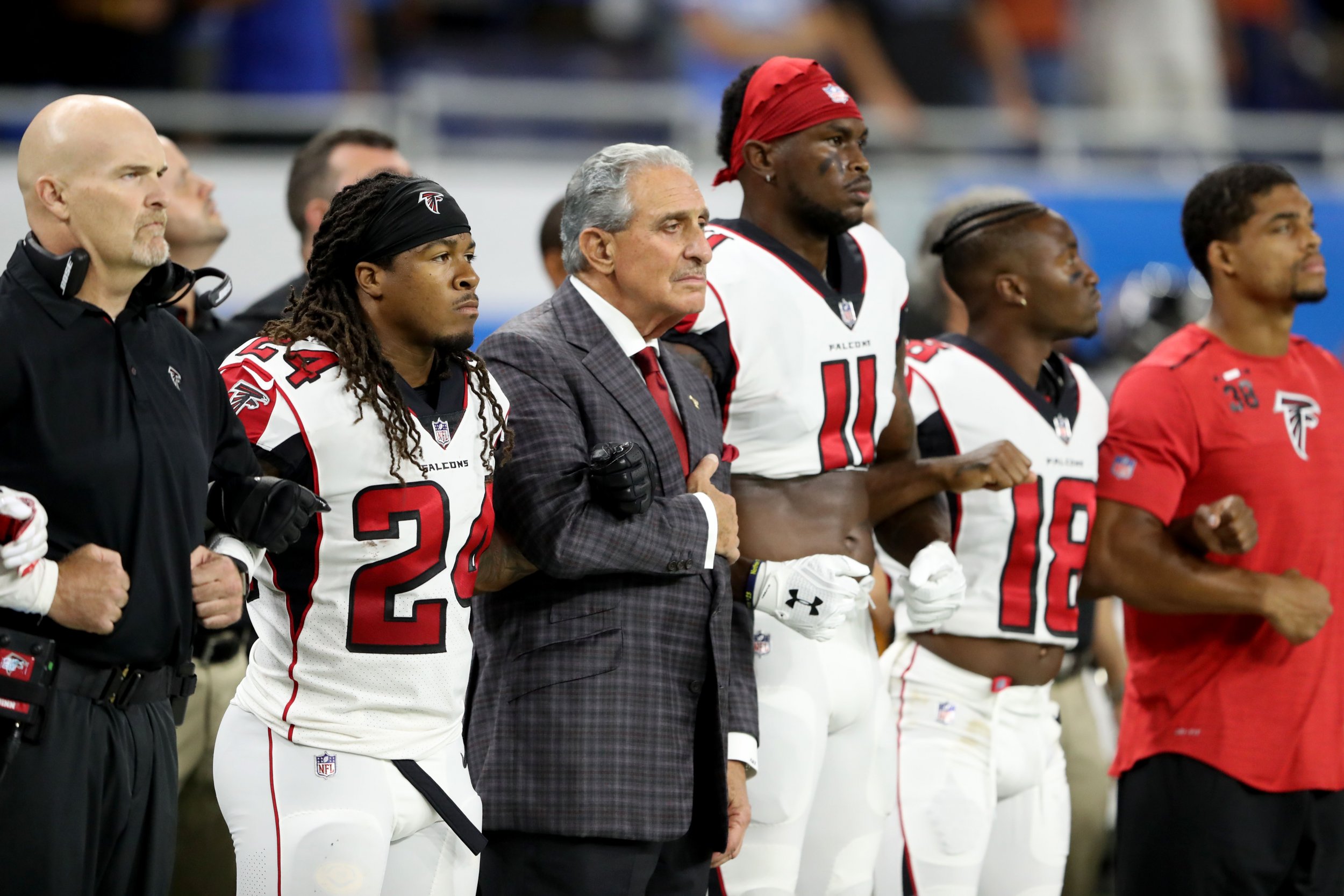 President Donald Trump's profane criticism of NFL players is "un-American," says a performer who took a knee and raised his fist in protest after singing the national anthem on Sunday in Detroit.
Rico Lavelle tells Newsweek that he made his own protest after his rendition of "The Star-Spangled Banner" because it was "his duty" to support the athletes in the midst of Trump's attack on players who peacefully protest. The president said NFL owners who are dealing with a protesting player should "get that son of a bitch off the field."
"To hear our president call them 'sons of bitches' was outrageous," Lavelle says. "I think what he said was very un-American. We have a right to express our rights and beliefs."
Lavelle, an R&B artist from Detroit, says the Detroit Lions and Atlanta Falcons players were appreciative of his support. In Detroit especially, Lavelle says, the local athletes are active volunteers who give back to the city—something he believes should be celebrated.
"They stand up for us, the average civilian and average American," he says. "They take out so much time in the day to give back to the community. I just wanted to show support for the players and use my right of expression to do that."
On Monday morning, Trump tweeted, "Many people booed the players who kneeled yesterday (which was a small percentage of total). These are fans who demand respect for our Flag!"
The president also claimed that the issue of kneeling "has nothing to do with race. It is about respect for our Country, Flag and National Anthem. NFL must respect this!"
Country star Meghan Linsey angered some fans when she took a knee after her rendition of the national anthem in Nashville. But she stands by her action, saying her one-woman protest against Trump was "the right thing to do."
Lavelle says he will continue to defend American rights alongside other activists, and he believes this is a fight that Trump will lose.
"The battle is right now, but I believe in America," he says. "We have rights in place for this to be a great country, and I refuse to believe we won't overcome this. We will reach equality, we will make positive change. This is a great country when everyone comes together."