Rifle-Toting GOP Candidate Says He'll 'Do Whatever It Takes' Against Dems
Republican U.S. House candidate J.R. Majewski has created a campaign ad in which he carries a rifle and says he'll "do whatever it takes" to stop Democrats and "return this country back to its former glory."
The ad has received criticism for seemingly advocating political gun violence against political opponents. Similar criticisms have been directed in the past towards current Georgia Representative Marjorie Taylor Greene and former Alaska governor and vice-presidential candidate Sarah Palin, both of whom are also Republicans.
"Democrats are pushing unsustainable environmental 'solutions' that waste taxpayer dollars on useless government subsidies that are killing our jobs," Majewski, who is running to represent Ohio, says in his ad. "The working class takes the hit, not these limousine liberals. It's simple. Their reckless mission will undoubtedly destroy our economy."
The ad then shows images of Democratic New York Representative Alexandria Ocasio-Cortez, Democratic President Joe Biden and former pro-football player and racial justice activist Colin Kaepernick.
"We are losing our country in every classroom, every county, every police station, every company and with every illegal vote. Their agenda is bringing America to its knees," Majewski says in a voiceover.
"I'm willing to do whatever it takes to return this country back to its former glory," the voiceover says as Majewski is shown holding a rifle.
Newsweek contacted Majewski's campaign for comment.
Majewski isn't the first politician to be criticized for featuring firearms in his political ads.
After Democratic former Arizona U.S. Representative Gabrielle Giffords was shot in the head on January 8, 2011, media outlets reported that Sarah Palin's political action committee had circulated a 2010 flier showing Giffords' political district as one of 20 Democratic districts with rifle crosshairs printed on them.
"We're on Sarah Palin's targeted list," Giffords said in an interview after the map's release. "The thing is that the way that she has it depicted has the crosshairs of a gun sight over our district, and when people do that, they've got to realize there are consequences to that action."
However, investigators found that the man who shot Giffords had begun focusing on her as early as 2007. He also had no clear political affiliation, The Washington Post reported at the time.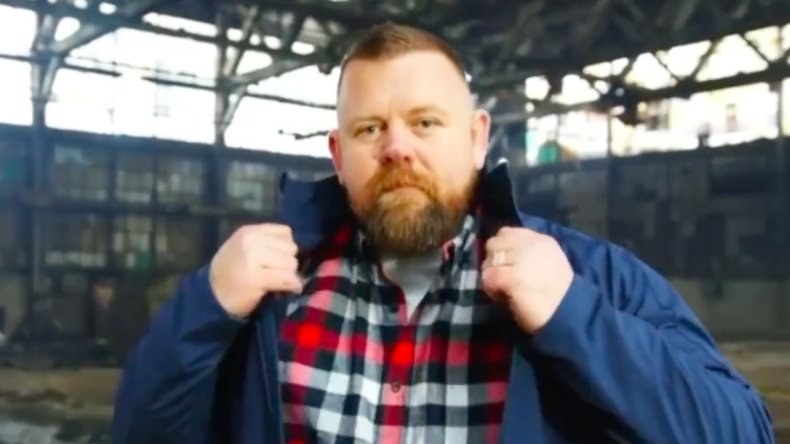 In a September 2020 Facebook post, Greene shared an image of herself holding a gun next to a picture of four Democratic congresswomen of color who made up the House's progressive group known as "the Squad"—Ocasio-Cortez of New York, Ilhan Omar of Minnesota, Ayanna Pressley of Massachusetts and Rashida Tlaib of Michigan
Facebook removed Greene's post for violating its policy against violent threats after "Squad" member Omar tweeted, "Posting a photo with an assault rifle next to the faces of three women of color is not advertising. It's incitement. There are already death threats in response to this post."