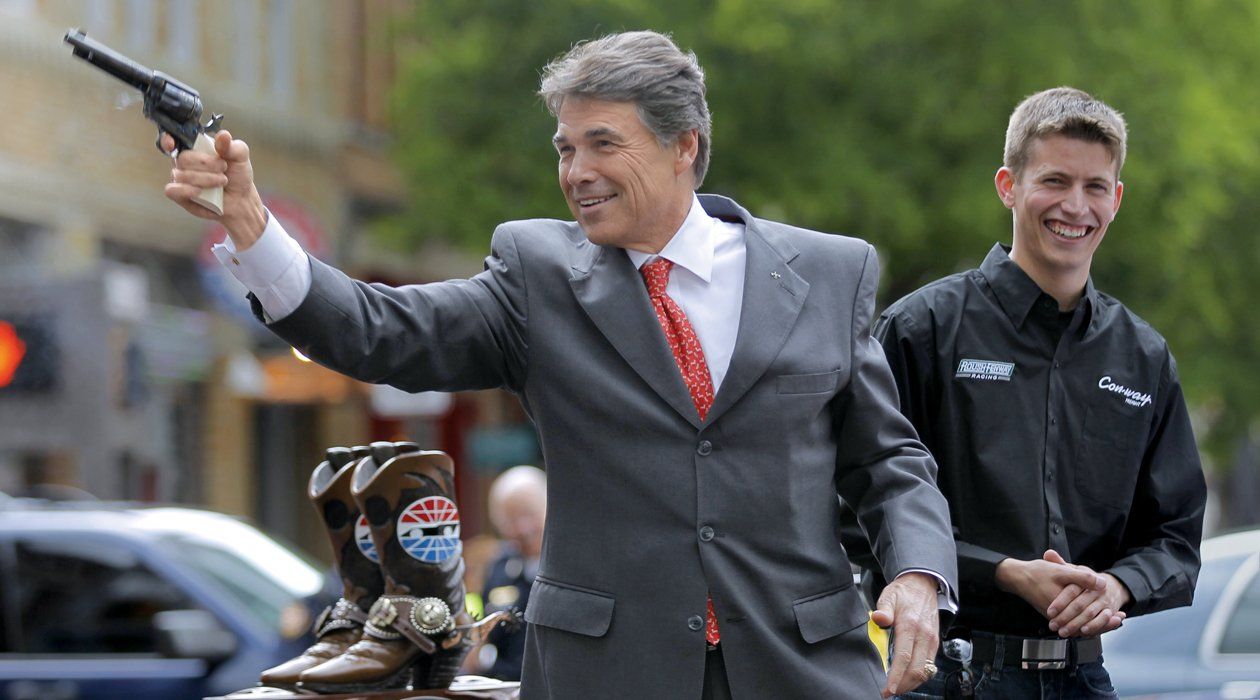 Texas Gov. Rick Perry met with NEWSWEEK for an interview in his office in the capitol last week, but before the first question was asked, he wanted to tell a story. Perry plopped his snakeskin-booted feet on the desk, held an imaginary cigar ("cee-gar") between his fingers, and assumed the persona of his predecessor, George W. Bush. One day in the winter of 2000, Perry recounted, when Bush was still the top dog in Texas, he summoned Perry, then the lieutenant governor, into his office for a chat. Bush was running for president by then, and was fully confident he'd win. " 'Perry,' he said, 'you're gonna love bein' governor. It's the greatest job in the world.' "
One evening 18 months later, Perry was working late in the governor's office when he received a call from the White House. Bush and Perry hadn't been especially close, and on those occasions when Bush telephoned, he usually got right to the point and hung up. But this night, Bush kept talking for half an hour and more, asking Perry all about the latest Austin scuttlebutt. Perry thought the president seemed lonely. "We were wrapping up the conversation, and he said, 'Hey, Perry, you remember that conversation we had in the governor's office about a year and a half ago, and I told you that being the governor of Texas was the greatest job in the world?'?" Perry said he remembered it vividly. "Well," Bush said, "it is."
Perry has had Bush on his mind lately, for a reason. The Republican base, unenthused by the party's field of 2012 presidential contenders, seems to long for a candidate with less baggage than Newt Gingrich, less squish than Mitt Romney, and more magnetism than Tim Pawlenty. Recently, the right's hot crush has been the archconservative governor of Texas, the man with the square jaw, thick mane, and a Ruger he takes with him when he goes for a jog.
After long denying any interest in a presidential run, he opened the door just a crack, telling NEWSWEEK that he'd think about entering the presidential race once the Texas legislative session ends this week. Whether he follows Bush's path to Washington or, heeding 43's wistful advice, decides to stay put, Perry's star turn shows a party still longing for a savior. It may well be that Perry was just playing to Texas, relishing the national attention as he pushed his policy agenda across the finish line in Austin.
This year's legislature, under Perry's cajoling, delivered on some of the right's most cherished ambitions: a law requiring doctors to run a fetal sonogram before performing an abortion, a measure requiring voters to present a photo ID at the polling booth, and a version of loser-pays tort reform. But the action that really has conservatives looking to Texas with longing was a budget deal that covered a revenue shortfall through spending cuts, without raising taxes or touching the state's $9.4 billion rainy-day fund.
The Dallas Morning News editorialized against the "mean Texas budget," noting that the spending cuts came at the expense of education, veterans, and care for the state's neediest. Perry is unmoved. "Texas has made the hard decisions. Twice while I've been the governor, we've had budget shortfalls, once in '03 and this time. We've made the decision: reduce your spending, don't raise taxes. And the recovery that occurs after that is pretty substantial."
Indeed, the Lone Star State's economic success over the last decade has been notable. Since 2001 (roughly the tenure of Perry, the longest-serving Texas governor) the state has gained more than 730,000 jobs. In contrast, California, Texas's antithesis in political culture and a favorite Perry rhetorical foil, has lost more than 600,000 jobs in the same period (and is on course to lose more jobs this year than last).
That gap is why some of Perry's most ardent support emanates from California. Dan Logue, a Republican in Sacramento's state Assembly, says he began worrying when the chief executive officer of Carl's Jr., an iconic California burger chain, told him that he was opening 300 restaurants in Texas this year, none in California, and was considering moving his headquarters to the Lone Star State. Logue asked him why. "He said, 'It takes them two years to get permits in California,'?" Logue recalls. "It takes 45 days in the state of Texas."
In April Logue led a delegation of California political leaders, including Lt. Gov. Gavin Newsom, the Democratic former mayor of San Francisco, to Texas on a learning tour. They met with Perry and with expat California businessmen, and heard the obvious: Texas is a right-to-work state with no income tax, a light regulatory regime, relatively low corporate tax rates, and a steady supply of cheap labor. Newsom, whose political identity is liberal, was struck by the state's insistently business-friendly attitude. He says now, "You can't be for jobs and anti-business"—which happens to be a stock phrase of Rick Perry's.
Logue was even more deeply impressed. He came away from his Texas visit convinced that Perry should be the next president. "I think that Rick Perry is potentially the next Ronald Reagan for the Republican Party," he says. Back in California, Logue launched a draft-Perry drive, with a Web page extolling Perry's conservative virtues and urging a letter-writing campaign to persuade the Texan to run.
The Perry boomlet was fueled in mid-May, when the governor addressed a group of GOP chairmen from around the country at a meeting in Dallas. He took to the microphone and freelanced a soliloquy of red-meat conservatism that wowed the crowd and sparked a Perry-for-president buzz in the banquet hall. The next day Rush Limbaugh read an account of the reaction on his radio broadcast, and proceeded to deliver a 20-minute pro-Perry monologue.
One tenet of the conventional wisdom is that latecomers are penalized in the cutthroat competition for money and top campaign talent. (Indeed, two of Perry's closest political advisers have already signed on with Gingrich.) But money would not likely be a hindrance for Perry, whose state is an ATM for the political right.
A larger question for a potential Perry candidacy is how well his unyielding brand of conservatism would play outside Texas. Michael Mahaffey, former chairman of Iowa's Republican Party, thinks that a job-creating pitch might play well in his state. "He could say, 'Look, you want to look at a place that has been an experiment in how to do things, look at Texas,'?" Mahaffey says. "That would be appealing to people."
But Mahaffey does note that some people outside Texas are put off by Lone Star swagger, and others have suggested that the nation is still nursing a Texas hangover from the Bush years. As one top operative from a declared GOP candidate notes, "Perry is a perfect fit for Texas—that's why he'd have trouble nationally."
Some in Texas, of course, question whether Perry is a perfect fit even there. A poll released last week by the University of Texas/Texas Tribune showed that a plurality of Texans thought the state was on the wrong track, and only 4 percent listed Perry as their choice for president. Perry stiffens when asked about those numbers. "You can make anything you want outta polls," he says.
When asked how he means to respond to the draft-Perry suitors, he said that he has been holding them at bay. "We're really focused on the job at hand," he says. "If I fail at this job, I'm not going to be the sort of person that people will look at and say, 'We wish you would come and do that for America.'?"