Right and Left Come Together in the Senate to Pass Resolution Commending Capitol Police
After Republicans spent months downplaying the January 6 riot, where a mob trying to overturn the 2020 election laid siege to the U.S. Capitol, the Senate quietly approved a resolution Thursday evening calling the event an "insurrection."
As the Senate wrapped up work on Thursday, Majority Leader Chuck Schumer called for a vote on a resolution "recognizing the essential work of the U.S. Capitol personnel on the anniversary of the insurrectionist attack" on January 6, 2021. A roll call vote was not held on the resolution, introduced earlier that day, and was adopted unanimously without debate.
Newsweek has reached out to Schumer's office asking why the resolution was brought up.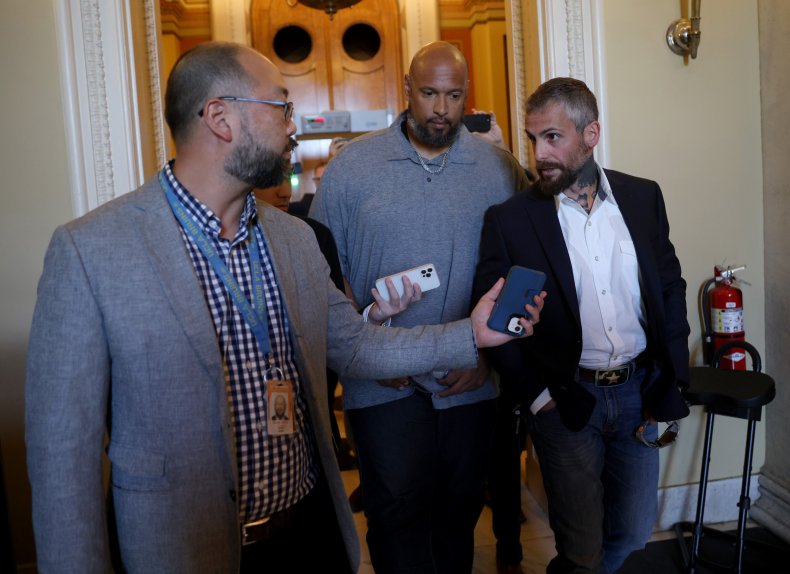 In the lead-up to last week's one-year anniversary of the January 6 insurrection, Republicans downplayed the significance of the event. Notably, Senator Ted Cruz, R-Texas, appeared on Fox News' Tucker Carlson Tonight on the anniversary to apologize for referring to the insurrection as a "terrorist attack."
Cruz said in a tweet sharing a clip of the segment that "I used a dumb choice of words and unfortunately a lot of people are misunderstanding what I meant."
Senator Ron Johnson, R-Wisconsin, said on a Fox News appearance in June that January 6 didn't look like an "armed insurrection" because many people weren't violent and stayed "within the roped lines in the Rotunda."
"I think five police officers met them," said Johnson. "There was no violence from what we could tell but that's about 38 percent of the approximately 800 people that entered the Capitol. No confrontation. They just basically walked through the door."
Newsweek has reached out to Cruz and Johnson's offices for comment on where they stand on the resolution passed Thursday.
Last year, 35 Senate Republicans blocked the creation of a bipartisan commission to look into January 6. Senate Minority Leader Mitch McConnell, R-Kentucky, said at the time the commission wouldn't uncover any additional useful information.
On the anniversary of January 6, Republican House and Senate leaders avoided events commemorating the day. Not one Republican member of the House or Senate gave a floor speech about the incident, according to The New York Times.
Some Republicans said they were unable to attend because of a scheduling conflict and attended the funeral of former Senator Johnny Isakson of Georgia. McConnell issued a statement commemorating the day as "a dark day for Congress and our country," saying that the Capitol was "stormed by criminals who brutalized police officers and used force to try to stop Congress from doing its job."