A Guide to the Many Right-Wing Euphemisms for Roger Ailes' Sexual Harassment Scandal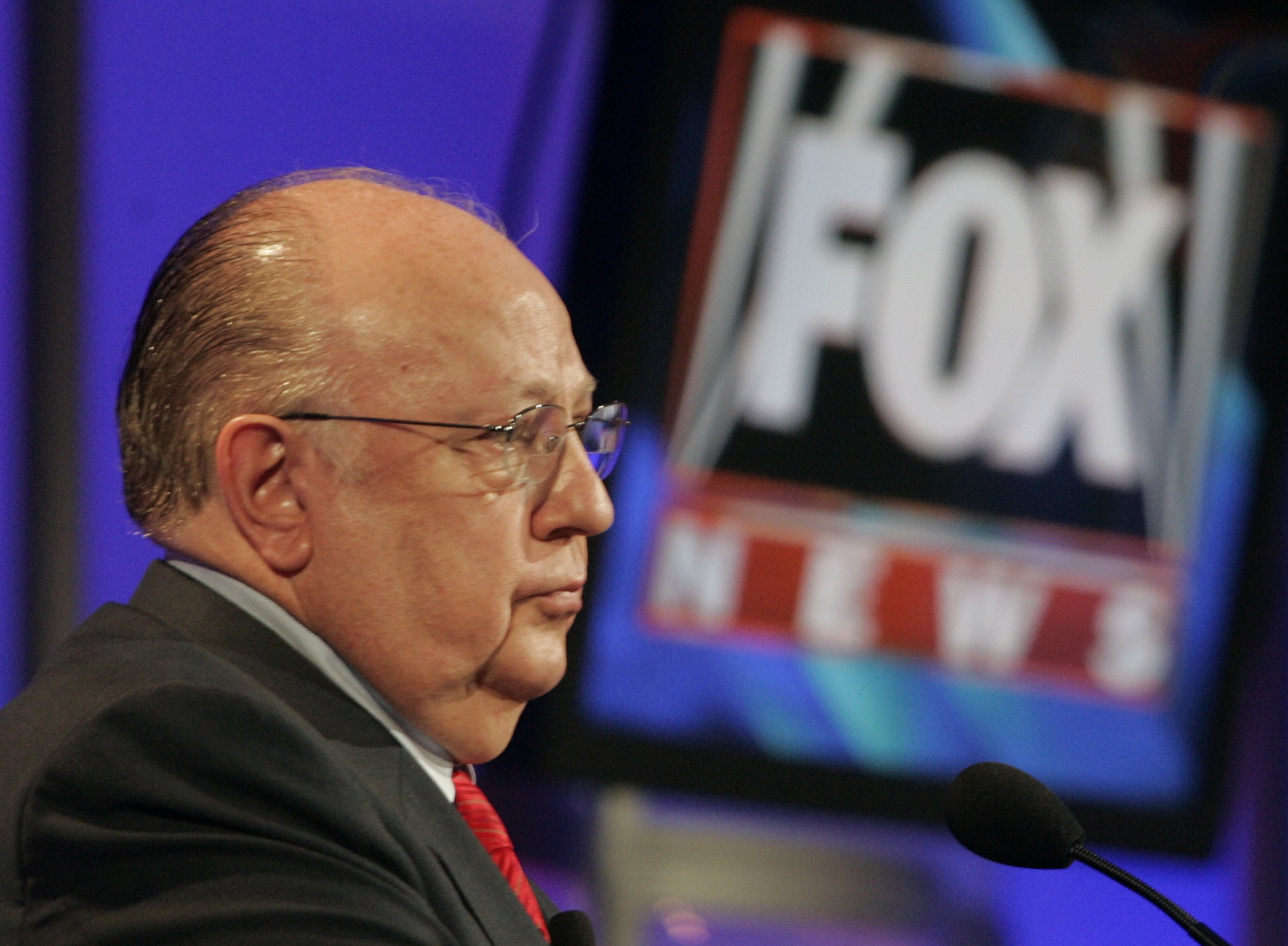 Roger Ailes is gone. Dead. History. The Fox News chairman who either broke America or helped make it great again has passed into the great "fair and balanced" beyond.
Ailes, 77, was not just a political consultant and television pioneer. He also was alleged to be a serial perpetrator of sexual harassment, a man who took advantage of his substantial authority to demand sexual favors or make unwelcome advances. In 2016, Gretchen Carlson filed a sexual harassment lawsuit against Ailes, her former boss. Other stories of Ailes's alleged predatory behavior emerged. Some accused him of unwanted groping; one female employee claimed Ailes offered her a pay bump if she agreed to sleep with him whenever he wanted. (Ailes denied these claims but stepped down from Fox last summer.)
The conservative media apparatus that Ailes helped build is mourning the man's death—while also acknowledging his legacy of sexism as politely and timidly as possible.
Here's a glossary of euphemisms the Right is using to brush aside the accusations of Ailes's disturbing treatment of female employees.
1. He had "sins."
This is the easiest way to brush aside Ailes's indefensible alleged treatment of female employees because, well, we all have sins! As Mike Huckabee notes:
On Fox & Friends on Thursday, co-host Ainsley Earhardt echoed the sentiment: "And, you know, he went out in such a sad way, but who doesn't have sins."
Sean Hannity tweeted a similar plea for understanding:
Indeed. Let he who has not been pushed out of a massive media conglomerate for reportedly making unwelcome sexual advances cast the first stone.
2. He wasn't "perfect."
Here is a tweet from former president George H. W Bush:
The tweet is factually accurate. Ailes was a key campaign advisor for Bush in 1988, and he wasn't perfect. Fact-check: True.
Here is a tweet from Josh Holmes, the former chief of staff for Mitch McConnell, which notes Ailes was "far from perfect":
Back in October, when Donald Trump was caught on tape boasting about grabbing women "by the pussy," he issued a video statement in which he began: "I've never said I'm a perfect person, nor pretended to be someone I'm not."
Anyway, apropos of nothing, here's a blog post from the popular satire site Reductress: "I Never Said I Was Perfect, So You Can't Get Mad at Me."
3. He was "flawed."
This is a close cousin of the "not perfect" trope, because if Ailes wasn't perfect, then what was he?
He was a "flawed human being." (Just like you.) Let Piers Morgan take it away:
Note that this caveat, like all the above examples, makes no reference to the specific nature of Ailes's flaws.
Author Lee Edwards, a fellow in conservative thought at The Heritage Foundation, also used the f-word. "Like every human being, he had deep personal flaws that brought him crashing down, a victim of his own hubris," Edwards said. ("Victim"! OK.)
4. Also, he had "misdeeds."
"Misdeeds" is a great euphemism. Something about it just screams "sexual impropriety" without coming right out and saying it.
Here's a tweet from National Review correspondent Jim Geraghty:
Misdeeds, indeed. As Slate's Christina Cauterucci observed in a great piece on the man's dark legacy, "Ailes' sexual misdeeds were so ghastly and manifold, adultery seemed normal by comparison."
Related: Women journalists share their stories of sexual harassment
5. It's "complicated."
On Thursday, Fox anchor Shepard Smith gave an emotional on-air tribute to Ailes, a man he "so admired."
Smith said, "He left the company and the rest is history. To the true victims, respect and comfort. It's all so complicated. Everything here was, and is, as he was."
This is like the answer you give your child when they ask you where babies come from and it catches you off-guard: "It's all so complicated!" Who can understand why Roger Ailes left the company? It's complicated.
6. He had a bad side.
In the same video tribute, Smith says: "Last year we began to learn of another side of Roger Ailes, another part of his life. I didn't believe it could be true at first."
The implication here seems to be that Ailes' alleged history of abuse was just a "side" of him, that it wasn't the real him. Something like a Jekyll and Hyde situation.
Joe Scarborough also alluded to the "dark sides of his character."
Similarly, Glenn Beck filmed a video remembrance of Ailes. At the end, he says: "I truly believe that I saw the best side of him. In private conversations, I really liked him. The side of him that I saw I really liked. The side of him that I saw come out towards the end, I despised. And couldn't get away from fast enough."
Wonder why Beck didn't see the "side" of Ailes that only women who worked for him saw.
7. He did "bad things."
""I know he's done bad things," MSNBC host Chris Matthews said. "He's been through bad things, but he got me started in cable television back when he was running, of course, CNBC and America's Talking."
This is similar to President Bush's tweet. The subtext is: "Ailes did terrible things to women, but he helped my career, so it evens out."
8. He was brought down by his libido.
In a Los Angeles Times story, Roger L. Simon, the co-founder of the conservative site PJ Media, described Ailes as a "tragic figure" who was brought down by "the male libido."
That darned male libido. Always messing up people's careers.
9. The claims against him are "piling on."
From columnist and radio commentator Cal Thomas:
Ailes remained a "great friend," Thomas said. "The lawsuits aside, and I don't know how many of those [claims] are true, they're piling on … he had enormous work ethic and great vision and determination."
The use of "piling on" as a linguistic choice is intriguing because it's the same phrase Bill Cosby used in a rare radio interview last week. Of the many rape allegations against him, Cosby said: "The piling on, so to speak, is a way, and certainly an impressive, impressive way, to get public opinion to come to the other side."
In both instances, the phrase is employed to depict an alleged abuser as a victim of unfounded accusations.
10. Silence.
This is by far the most popular way to talk about Ailes's sins, flaws, imperfections and/or dark side.