Frustrated Right-Wing Host Says 'Bullsh*t' After Trump-Supporting CBP Agent Refuses to Demand Border Wall
A host from right-wing BlazeTV appeared to grow frustrated during a State of the Union after party when a Customs and Border Patrol (CBP) agent declined to say that the United States needs a wall on its southern border with Mexico.
The man, who identified himself as Joe—and who was also wearing a T-shirt with his name printed on it—sat down with host Eric Bolling to briefly discuss border security. Bolling pressed Joe, who identified himself as a supporter of President Donald Trump, about his work with CBP.
"We're securing the border, we're doing the job that we can do, as the American people have legislated, and it's a wonderful job," Joe told Bolling. "It's a challenge every day, you know, I mean there's challenges."
Apparently wanting Joe to demand a wall, Bolling asked him pointedly: "What do you need? What's the real answer?"
Joe declined to answer directly, saying the decision is "still up to the American people." Bolling then responded by interrupting and saying: "No, no, no, no, no! OK, can I say this on here? Can I say it on here? Bullshit!"
The host then pushed Joe again, specifically asking if the U.S. needs to spend $5 billion for a border wall.
"I love President Trump. And he's doing a great job. Absolutely. But I must say it's still up to the American people," Joe responded.
A crowd gathered around the host and Joe began chanting "wall, wall," but the interviewee insisted that he was a civil servant who serves the American people.
Bolling eventually gave up trying to get Joe to cave to his perspective. "All right, you know what I need? I need you to tell me: 'I need more, I need more funding, I need more border patrol agents, I need drones, I need a wall, I need everything,'" the host said before saying farewell to his guest.
Trump's demand for a border wall has become a contentious issue in Washington, leading to the longest partial government shutdown in U.S. history. Running from December 22 until January 25, the shutdown occurred after Trump refused to sign a bipartisan budget that did not include $5.7 billion for his long touted border wall. The move left 800,000 federal workers without paychecks for more than a month, while many – including CBP agents – were forced to continue working.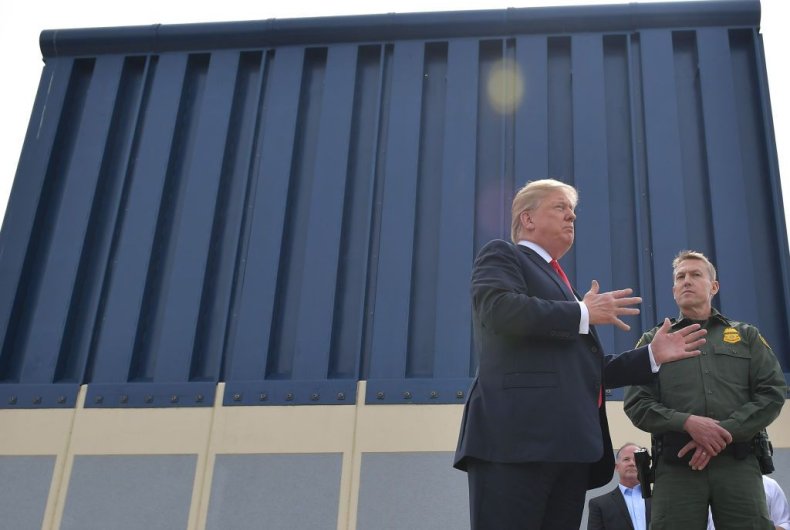 Democrats maintained that they would support border security, but would not fund a wall. Analysts and experts have consistently shot down Trump's reasons for building the structure, pointing out that it would not stop the flow of illicit drugs, which mostly enter the country through legal ports of entry, and would do little to reduce crime.
Regardless, the president returned to his misleading and often blatantly false defense of the border structure during his Tuesday evening State of the Union address.
"Tonight, I am asking you to defend our very dangerous southern border out of love and devotion to our fellow citizens and to our country," Trump told lawmakers gathered for the speech. The president said he was pushing Congress to pass a budget that would included funding for "a new physical barrier, or wall, to secure the vast areas between our ports of entry."