Militia Leader Ammon Bundy Criticizes Donald Trump's Rhetoric on Immigrants: 'It's All Fear-Based'
An anti-government militia leader who has led armed standoffs against the government lashed out at President Donald Trump for his rhetoric about immigrants.
"He has basically called them all criminals and said they're not coming in here. It seems that there's been this group stereotype," Ammon Bundy said in a 17-minute video published on Facebook. "But what about those who have come here for reasons of need?... What about the fathers, the mothers, the children, who have come here and are willing to go through the process to apply for asylum so they can come into this country and benefit from not having to be oppressed continually by criminals?
"It's all fear-based, and frankly it's based upon selfishness—'I'm going to lose something by them coming in,'" he said of anti-immigrant statements. "I think that's incorrect. But also to base your arguments or your motives or your actions upon fear is a very dangerous thing to do."
He said his sentiments were motivated by the duty of citizens in the U.S., which he called a "Christian nation."
"I have been frankly surprised, disappointed and even at times disgusted [by] the amount of people who profess to be Christians but will not truly adhere to what Christ said," he said.
Bundy's statements align with messages from humanitarian and immigration organizations, which have noted that those who seek refuge in the United States are often fleeing persecution, violence, political corruption and economic insecurity.
The Washington Office on Latin America, a research and advocacy organization for human rights, said in February that Central American asylum requests had increased because of rising violence in the Northern Triangle countries of Guatemala, Honduras and El Salvador.
The Trump administration and conservative pundits have pushed fear-mongering rhetoric about the migrants seeking to come into the U.S. The president sought to stoke fear, tweeting, without evidence, that "Many Gang Members and some very bad people are mixed into the Caravan heading to our Southern Border. Please go back, you will not be admitted into the United States unless you go through the legal process. This is an invasion of our Country and our Military is waiting for you!"
Fox News anchors issued similar statements about the migrants. MediaMatters reported that Fox host Jeanine Pirro asked whether the caravan included "pedophiles," "career criminals" and "people who think they can beat their wives" without consequence, while Fox Business host Lou Dobbs pushed a widely debunked claim that "many" undocumented immigrants vote.
Government officials, such as Secretary of State Mike Pompeo, gave false statements about the migrants. Pompeo said, incorrectly, that "a record number of migrants" had arrived at the U.S.-Mexico border in 2018, Politico reported.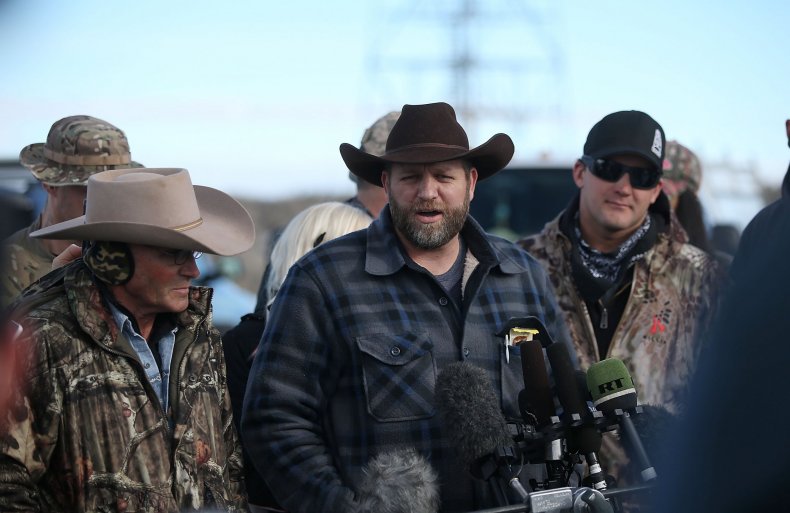 Bundy, his father, Cliven, and his brother Ryan, drew national attention during an armed standoff at the family's Nevada ranch in 2014. The Bundys let their cattle graze on federal land but did not pay fees, according to Vox. When federal personnel went to confiscate the cattle, they were met by hundreds of protesters.
In 2016, Ammon Bundy and supporters came to the defense of Dwight and Steven Hammond, who were imprisoned on arson charges after a dispute with the federal government. Bundy occupied the Malheur National Wildlife Refuge, in Oregon, for 41 days, according to The Washington Post. The president pardoned the Hammonds in July 2018.