Controversial right-wing Pastor Greg Locke's verified Twitter account was permanently banned on Tuesday, following what the platform says was a violation of the Twitter rules.
Locke shared the news Tuesday evening on his Instagram account in a screencap of his notice of permanent suspension, and in an animated six-minute video in which he does not specify precisely what he was banned for. But, he does say that Twitter allegedly told him he was "a danger."
"The account referenced was permanently suspended for repeated violations of our COVID-19 misleading information policy," a Twitter spokesperson said in an email to Newsweek.
Locke, whose Twitter bio identified him as an "Outspoken Pastor that is unashamed of the Gospel of Jesus, who refuses to bow to the politically correct idols of our culture," claimed in the video that he is "the first pastor with a verified platform" to be permanently banned from Twitter, and lamented the loss of "almost 114,000 followers."
Locke announced that in response to Twitter's ban, he has already taken legal action against the social media giant, saying "We've already had our wonderful lawyer for our ministry file, and we have just entered into the class action lawsuit against Twitter and all of these censorship Nazis."
"We just entered in with Candace Owens and Donald Trump and others," Locke said, likely referring to a class action lawsuit former President Donald Trump filed against tech giants Google, Twitter and Facebook in July, alleging he was the victim of censorship.
He also blasted the social media platform for removing an account belonging to a pastor, while the Taliban's account is allowed to remain active, saying: "Twitter, shame on you, you ban a pastor, you ban a sitting president...but you let the Taliban...stay on your platform and keep saying all the wicked evil nonsense that they need to say."
The pastor of Global Vision Bible Church in Mount Juliet, Tennessee, has caused national uproar multiple times for disavowing the existence of COVID-19 and forbidding his congregants to wear masks in his church.
In one sermon last month, Locke called President Joe Biden the "real virus in this country."
"Don't believe this Delta variant nonsense. Stop it! Stop it!" Locke told a cheering crowd in his church in July. "If they go through round two and you start showing up with all these masks and nonsense, I will ask you to leave."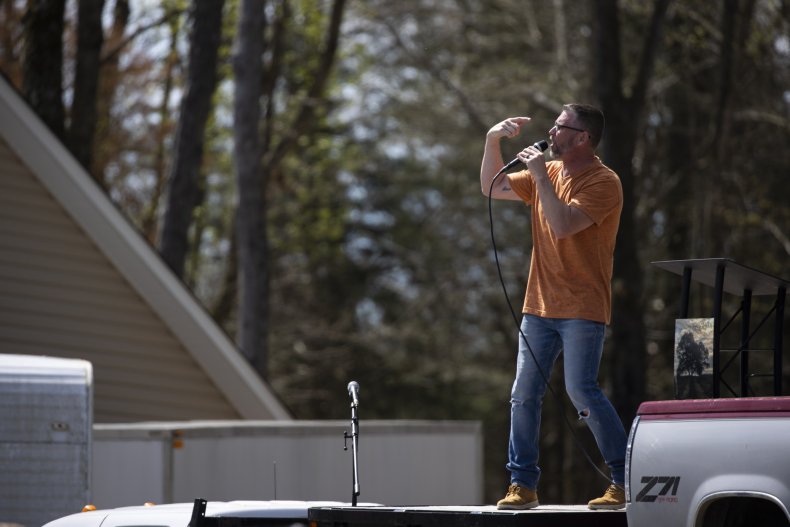 Update (9/14/2021, 11:03 p.m.): This article has been updated to include a comment from a Twitter spokesperson.