Right-Wing Pastor Greg Locke Holds 'Witchcraft' Book Burning
A Tennessee pastor held a "witchcraft" book burning where followers were encouraged to bring Harry Potter and Twilight books to hurl into the flames.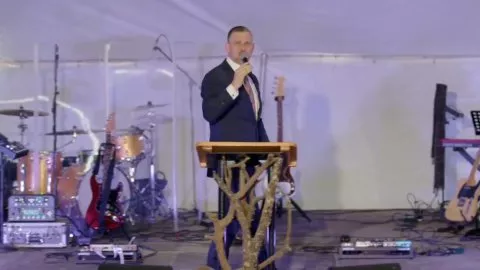 Global Vision Bible Church pastor Greg Locke and his followers carried out the burning in Mt. Juliet, near Nashville, on Wednesday night, where items they associated with witchcraft were thrown into the fire.
In a ranty sermon, Locke took aim at what he deemed were masonic and occult influences in society.
Whipping up his congregation, Locke said: "Your witchcraft has to flee in the name of Jesus."
He later said: "We have a Constitutional right and a Biblical right to do what we're going to do tonight. We have a burn permit, but even without one a church has a religious right to burn occultic materials that they deem are a threat to their religious rights and freedoms and belief system."
In a video shared on Locke's Facebook page late on Wednesday, people could be seen throwing items into a fire outside the church.
Earlier this week Locke encouraged his congregants to bring books, movies and items that he considered to be connected to witchcraft.
In a Monday Facebook post, Locke said: "Bring all your Harry Potter stuff. Laugh all you will haters. I don't care. It's witchcraft 100 percent.
"All your Twilight books and movies. That mess is full of spells, demonism, shape-shifting and occultism. Bring tarot cards, Ouija boards, healing crystals, idol statues, spell books and everything else tied to the occult. It's got to go.
"If you think we're crazy, then scroll on. We're exposing the Kingdom of Darkness for what it is. It's time for people to be delivered."
Newsweek has contacted Global Vision Bible Church for comment.
The book-burning comes after a Tennessee school board moved to ban Art Spiegelman's Pulitzer Prize-winning graphic novel Maus, which depicts Polish Jews' experience after they survived the Holocaust.
On January 10, the McMinn County School Board voted unanimously to ban Maus from its schools over the book's inclusion of words like "God damn" as well as "naked pictures."
Locke has regularly courted controversy over his sermons, including over his stance on the COVID-19 vaccine.
The Tennessee pastor previously branded the pandemic as "fake" and discouraged his supporters from getting inoculated against the virus.
Locke's stance on vaccines led him to criticize Donald Trump, of whom he had been a supporter, after the former president encouraged people to get the jab.
He previously said the former president would lose support over his endorsement of the vaccine.
{{#isDisplay}} {{/isDisplay}}