Right-wing Sites Spread Disinformation About Democrats Blocking GOP Voters in Pennsylvania
Right-wing websites and media figures, including the Philadelphia Republican Party and Trump campaign operative Mike Roman, are spreading disinformation about Democrats trying to "steal" the election in Pennsylvania, a battleground state considered essential to President Donald Trump and Democratic presidential nominee Joe Biden's chances of winning the presidency.
On Twitter, Roman and Will Chamberlain, editor-in-chief of the right-wing site Human Events, both shared video of a Philadelphia poll worker being denied entry to a Philadelphia polling location.
In his post, Chamberlain included the hashtag #StopTheSteal, a hashtag being used by right-wing Twitter users to allege a Democratic plot to rig the election. His post has since been shared over 24,000 times and has been viewed over 2.5 million times by 8 p.m. ET.
However, Kevin Feeley, spokesperson for the Philadelphia City Commissioners, which run the city's elections, told the investigative journalism ProPublica that some poll watchers were erroneously blocked from entering voting sites and subsequently let into the polling place.
In another tweet, Roman accused Democrats of illegally campaigning inside of a polling location, adding, "This is why DEMS are keeping TRUMP WATCHERS OUT. They are STEALING it! This needs to STOP!"
However, the Philadelphia District Attorney's office called Roman's tweet "deliberately deceptive," adding that the incident Roman wrote about was more than 10 feet away from the voting room and this is allowed by state law.
Nevertheless, Roman's tweet about the incident has been shared over 2,500 times.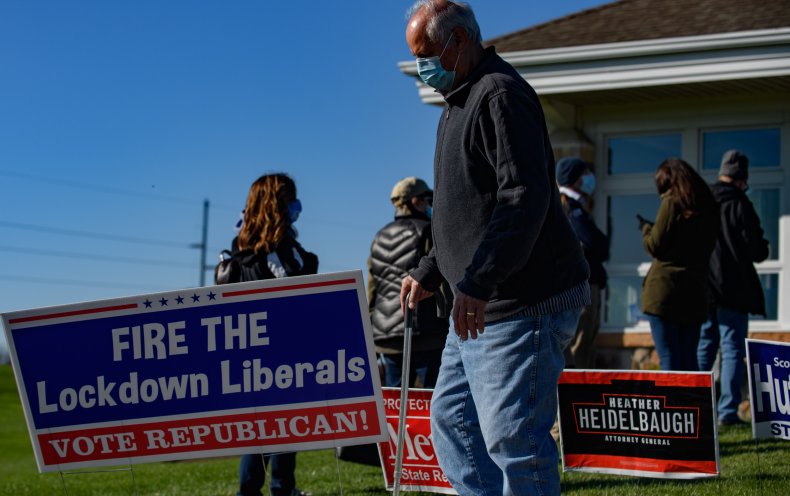 This is a breaking news story and will be updated as more information becomes available.