Right-Wing Smear Attempt Claims Amazon Listed Hillary Clinton Memoir 'What Happened' Under 'Women's Fiction'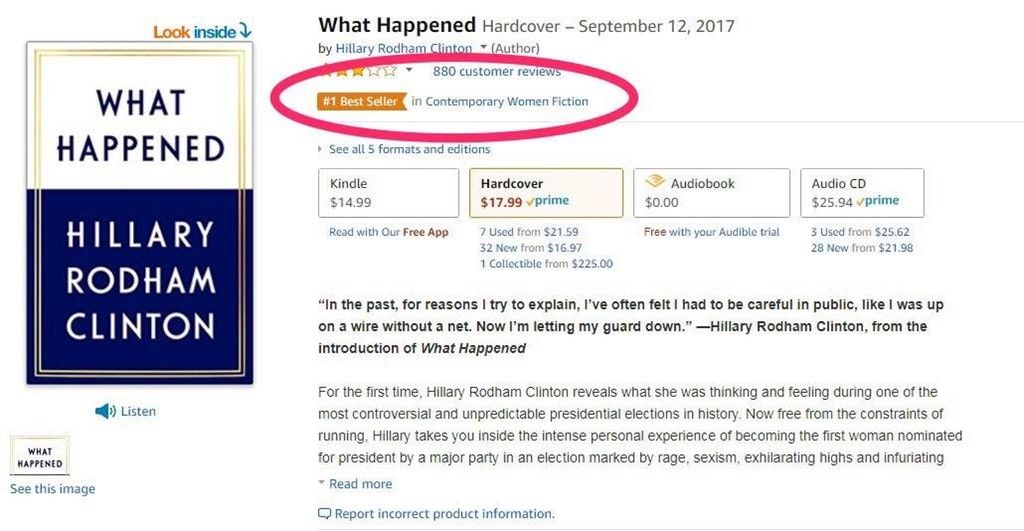 On Tuesday, the same day former presidential candidate Hillary Clinton published her new memoir, What Happened, a screenshot began circulating on Reddit and other social media. It purported to show the book's Amazon product page listing it in the contemporary women's fiction genre.
This is fake news. Real fake news.
A post on the Reddit pro-Trump, right wing forum /r/The_Donald, titled "Well, at least Amazon got the genre right," quickly reached the top of the subreddit's homepage. It has amassed more than 11,000 upvotes and 300 comments.
On Twitter, right-wing users also shared the image gleefully believing it to be authentic. Except it's not.
An Amazon spokesperson tells Newsweek the screenshot that is making the rounds and soliciting cheerful responses from Trump supporters is not a real Amazon product page.
Furthermore, Newsweek understands that it is actually the publishers of books listed on Amazon that dictate which genre is the best fit. In this case, that would be Simon & Schuster, who would probably not categorize their big release as "fiction." It can, however, be found in the biographies and memoirs category.
Here's what isn't fake: Clinton's book is already the No.1 bestseller on Amazon two days after its release.
But the product page has also been flooded with hundreds of one-star reviews, presumably a further attempt to disparage Clinton and her memoir.
On Wednesday, the Associated Press reported that more than 1,500 reviews, either glowing or vicious, were published in a 24-hour period. "It seems highly unlikely that approximately 1,500 people read Hillary Clinton's book overnight and came to the stark conclusion that it is either brilliant or awful," Simon & Schuster publisher Jonathan Karp told the publication. Meanwhile, Quartz reported that only 338 of the 1,500-odd reviews were from people whose purchases were verified by Amazon.
As of Thursday morning, the number of reviews on the page stands at just over 570. Amazon confirmed it has removed around 900 reviews which "violate our community guidelines."
The retailer's guidelines state that "when we find unusually high numbers of reviews for a product posted in a short period of time, we may restrict the number of non-Amazon Verified Purchase reviews on that product."
Amazon told the The Guardian that reviews "must be related to the product and are designed to help … purchase decisions. In the case of a memoir, the subject of the book is the author and their views. It's not our role to decide what a customer would view as helpful or unhelpful in making their decision. We do however have mechanisms in place to ensure that the voices of many do not drown out the voices of a few."