Obama's Return to Public Life: Charming But Flat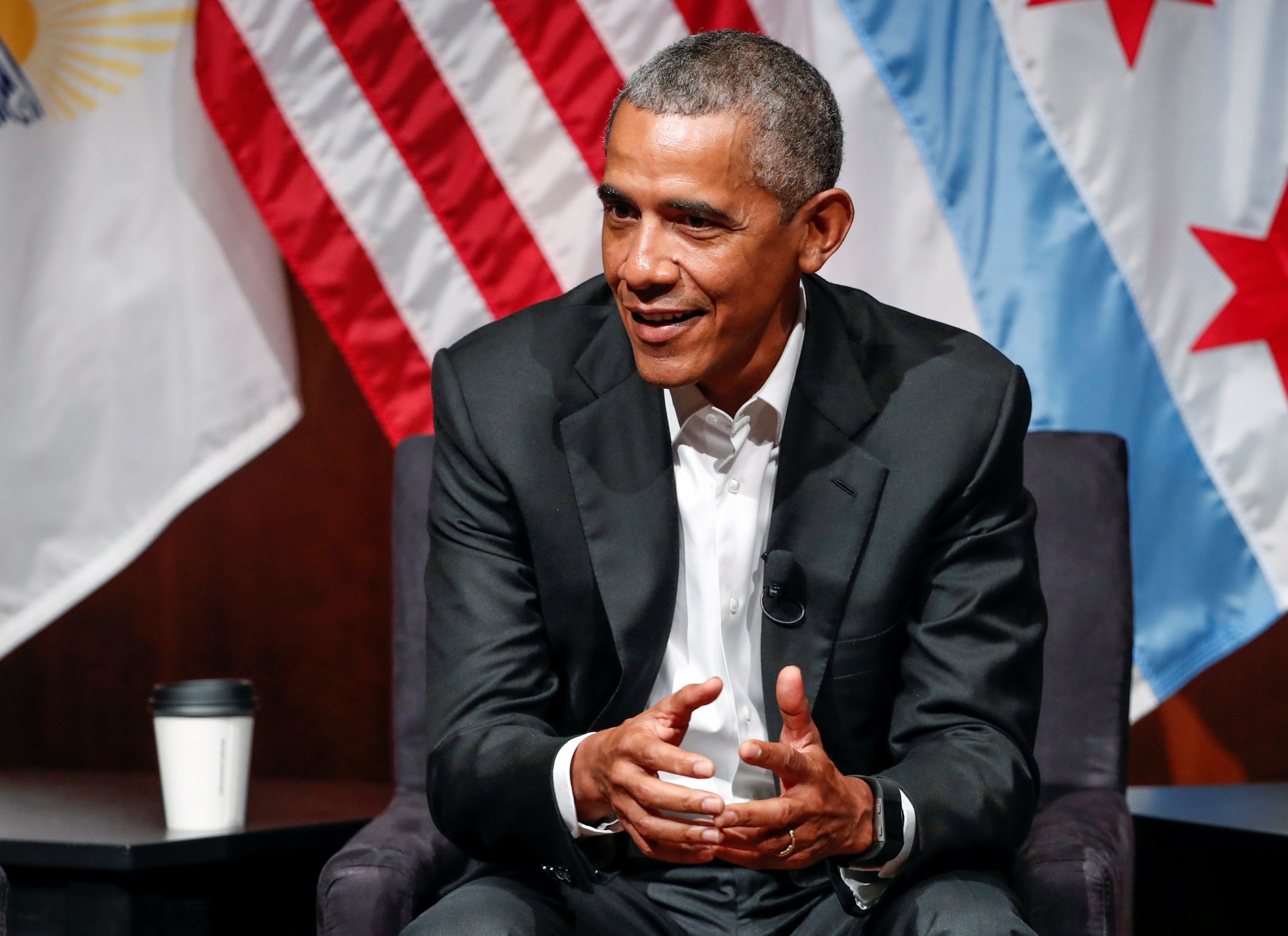 Barack Obama's return to the stage on Monday was a reminder of some of the good qualities he brought to public life—his keen intelligence, broad smile and laid-back charisma—that are not associated with his successor. He was charming while speaking at the University of Chicago about how to get young people more involved in public life. "What's been going on while I've been gone?" he joked when coming on stage. Joshing easily with students about their volunteer and electoral work, he shared stories of his own days as a community organizer. The entire event, with its multihued panel of young activists (including one Republican), felt like a throwback to, well, the days before January 20.
Related: Obama on immigrants: 'It's not like everybody on Ellis Island had their papers straight'
But if the event was inspiring and Obama gracious—avoiding using the word Trump—it was also a sign that the 44th president's post-presidency is still very much a work in progress. He'll be engaging in a variety of activities, including making a lot of money. Obama's event Monday was free, but he'll soon start delivering speeches for a reported $250,000 and more, represented by the Harry Walker Agency. He's also writing a book and raising money—to build a library and presidential center at the University of Chicago, and an institute at Columbia University, his alma mater. This is what modern presidents do. Gerald Ford inaugurated the big buck-raking of sitting on corporate boards, while Jimmy Carter was known for peripatetic do-goodism and volunteer work, George W. Bush the quiet work of issues close to him—like aiding veterans and reducing HIV in Africa—and Bill Clinton the high-flying foundation that leveraged his fame to take on everything from childhood obesity to earthquake relief. Obama is part of this continuum.
But his plan to ease the way for young people to enter politics and volunteerism is a different emphasis, and in some ways curious. He's pushing on an open door: There's nothing blocking students from activism, something that is evident at campuses across the country. Youth voting rates are low, but they do spike at times when politics is exciting—as it was in 2008, when Obama first ran for president and young people propelled his victory over Hillary Clinton in the Democratic primaries and then over John McCain, the Republican nominee, in the general election. If you try to imagine Lyndon Johnson using his short post-presidency period—he died four years after leaving office in 1969—to encourage students to care about the world, it would be tragicomic. The Texan was hated on campuses, pilloried for the Vietnam War. "Hey, Hey, LBJ, How many kids did you kill today?" was a common refrain during his term. Young people were on fire; they didn't need a president to encourage them. The idea that a middle-aged former president is now necessary to get those darn kids to put down their cat videos and get involved is a noble sentiment, but it also misses the point. Young people get involved when they feel that politics matters to them, not when they're encouraged to do it.
To be fair, creating paths to public service, whether it's Americorps, the volunteer program founded by Bill Clinton and continued under Bush and Obama, or the Peace Corps, created by President John F. Kennedy, is a noble thing. JFK had no post-presidency, of course, and so the guardians of his legacy helped create the Kennedy School of Government at Harvard University—a fulcrum of American political life. Institutions that give people a path to pursue civic causes whether as a career or as volunteers make sense. Pleading with them to participate seem less inspiring. The carefully selected group of young people who joined Obama on stage were inspiring—the Hispanic vet who is now a university researcher, the Indian-American seeking office, the young woman from a Chicago low-income neighborhood who now has her doctorate, and so on. But ultimately the familiar rap on American public life—we don't talk to each other enough, young people don't vote enough, the decline of "mediating institutions" like the PTA and the union hall and so on—seemed familiar and not easily ameliorated through exhortation.
It was in his opening comments that Obama mentioned an issue that really may make a difference: political gerrymandering. Redrawing political boundaries to advantage one side is as old as the Republic, but the combination of technological innovations in demography and cartography and an abandonment of unspoken norms now makes it possible for Republicans to dominate state legislatures and Congress in ways that might have been inconceivable 30 years ago. The Supreme Court will hear arguments this spring about political gerrymandering and what should be the limits. The court may decline to issue an important ruling, preferring instead to leave the political process well enough alone, but Obama, along with his former attorney general, Eric Holder, have made it clear that they are going to stay active in the issue. That's commendable; it's an important topic. But it's also more partisan than Obama's above-the-fray tone would suggest.
At 55 and with a rigorous diet and exercise routine, Obama is likely to be an ex-president for 30 or even 40 years, so there's no sense in judging him following one performance three months after leaving office. But this first step, while charming and welcome, wasn't particularly inspiring.