'The Righteous Gemstones' Season 2: Will There Be Another Season?
Season 2 of The Righteous Gemstones is coming soon to HBO after the network renewed the series just weeks into its run. Release date, cast and plot news is beginning to be revealed following the season finale of the Danny McBride comedy. Here's what we know so far about the next season of the HBO show.
Will There Be Another Season of The Righteous Gemstones?
In September, HBO officially renewed the series. In a statement, executive vice president of HBO Programming Amy Gravitt said: "Danny, Jody [Hill] and David [Gordon Green, The Righteous Gemstones executive producers] are among our favorite collaborators and we're thrilled that their take on a family comedy has been met with such enthusiasm. We cannot wait to share the next steps in the Gemstone family's epic journey. Hallelujah!"
When Will The Righteous Gemstones Season 2 Be Out?
The release date for the new season has not been revealed and filming has not begun yet. For the first season, the pilot was filmed in July 2018, with the later episodes filming in March in Charleston, South Carolina in March 2019.
As such, filming is expected to begin is spring 2020 for a release date in summer 2020⁠—Season 1 began to air on HBO in August 2019, and Season 2 is expected to follow suit with a summer release.
Who is in the Cast of The Righteous Gemstones Season 2?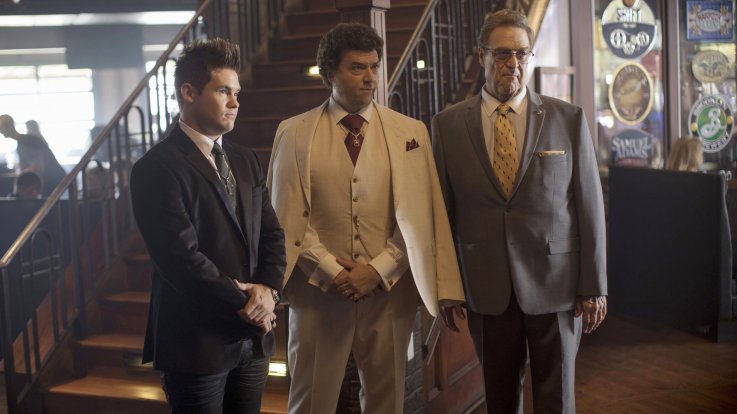 All of the Gemstones themselves are expected to return to the cast, with McBride as Jesse joined by John Goodman, Adam Devine and Edi Patterson as Eli, Kelvin and Judy Gemstone. Other characters likely to be back include Keefe Chambers (Tony Cavalero), BJ (Tim Baltz) and Gideon (Skyler Gisondo), with Reverend Seasons (Dermot Mulroney) back as the rival pastor to the Gemstones.
More casting announcements will be made once the show goes into production next year, as McBride teased in an Entertainment Weekly article, saying "we just started writing Season 2, but we're just excited to be able to dig deeper into this world and introduce you to some new characters," which might include what he called "cousins and great aunts and grandparents
What Will Happen in The Righteous Gemstones Season 2?
Unlike many other shows, The Righteous Gemstones decided not to end its finale with a cliffhanger, so Season 2 will have an entirely new storyline centered around the Gemstones' megachurch.
McBride said of this to EW: "I think it just goes into what I look for when I watch TV. I don't just want to be teased all the time to keep tuning in; I like to see things have a completion ... And so that is how our plan is for these seasons. Obviously, you continue the Gemstone story, but I like the idea of each of these seasons standing alone as their own work and story, so that you're not always baiting the audience with, "What next?" There is some level of giving people closure, and then starting again."
The Righteous Gemstones Season 2 is coming soon to HBO
'The Righteous Gemstones' Season 2: Will There Be Another Season? | Culture