Rights of Military, Overseas Ohio Voters Protected: Justice Department
Ohio is setting an example for upcoming elections by ensuring the voting rights of military service members, their families, and U.S. citizens living overseas are protected by the Department of Justice.
The Department of Justice (DOJ) announced an agreement with the state of Ohio through its Secretary of State to provide a remedy for potential violation of the Uniformed and Overseas Citizens Absentee Voting Act (UOCAVA), which allows specified citizens to register and vote absentee in federal elections. Due to the Ohio Supreme Court rejecting legislative GOP-drawn maps by the Ohio Redistricting Commission this week for the third time, the court's ruling will likely delay the May 3 primary as military and overseas voting is set to begin three days ago.
In a ruling issued Wednesday, the state's Redistricting Commission was ordered back to come up with a fourth plan for the state's Senate and House of Representatives districts, delaying military ballots being sent out.
The agreement provides additional time for election officials in Ohio to receive and count absentee ballots from eligible UOCAVA voters to ensure voters will have enough time to receive and submit their absentee ballots for the May 3 primary election. The ballots will be accepted for an additional 10 days after the election as long as they are mailed by the close of polls on election day.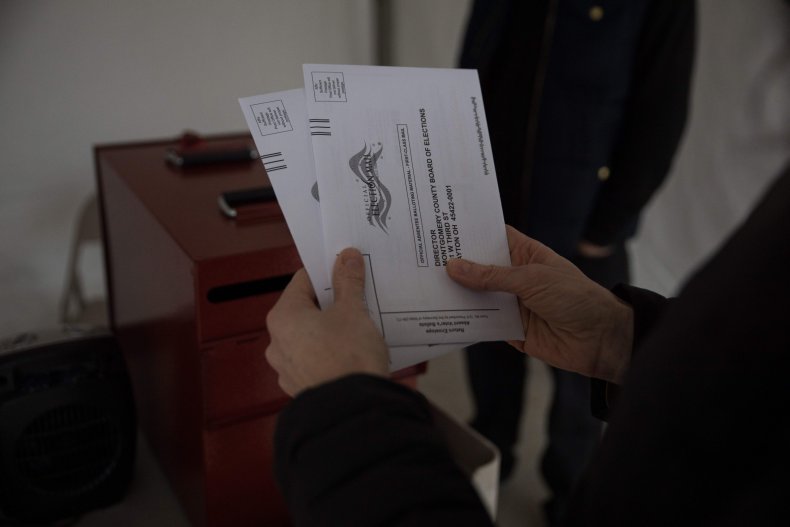 "This agreement reflects the Justice Department's deep commitment to protecting the right to vote for members of our armed forces deployed around the world, their families, and U.S. citizens overseas, and ensuring that these voters are afforded a meaningful opportunity to vote in all federal elections," said Assistant Attorney General Kristen Clarke for the Justice Department's Civil Rights Division.
"I commend Ohio state officials, who worked with the department to achieve a resolution that will safeguard voting rights for the state's military and overseas voters in the upcoming primary election," she continued.
The agreement also requires election officials to send out ballots by "expedited means" no later than April 5. Election officials will be required to send voters their ballots by email—if requested by the voter—or by a form of express mail or another express delivery service if the voter requested that the ballot be sent by mail.
Voters returning their ballots will be expedited for delivery at the state's expense.
Ohio Secretary of State Frank LaRose took to Twitter making the announcement
"Voters should know this: despite every effort by those who put politics over principle, you'll have the opportunity to make your voice heard in a secure, accurate, and accessible primary election," LaRose said. "No one will take that away from you. Not on my watch."
The UOCAVA was enacted by Congress in 1986. Most states have their own laws allowing citizens covered by the act to register and vote absentee in state and local elections as well as federal.
Newsweek reached out to LaRose's office for comment.