The Rights of Women and Girls are Not Negotiable | Opinion
In March 2016, a baby girl was born to Khoulod Ahmad and her husband Mohammed Salameh at the maternity hospital of Jordan's Zaatari refugee camp. Nurses swaddled baby Rima in a blanket and placed her in a bassinet with an American flag sticker.
Rima was the 5,000th consecutive baby born safely at the hospital run by the UNFPA, the United Nations sexual and reproductive health agency, which was a product of collaboration between the U.S. government and our organization.
The sticker on Rima's bassinet was symbolic of the U.S. government's financial and political commitment to the health and safety of millions of refugees like Kholoud, Ahmad and Rima. UNFPA was the preferred partner of the U.S. government because it has over 50 years of expertise helping refugee women and girls with their reproductive health.
Unfortunately, before Rima's second birthday, the political winds shifted and the U.S. government eliminated its funding for the hospital, along with UNFPA as a whole. In Zaatari, we were left scrambling to maintain services for thousands of pregnant refugee women who still needed help and had nowhere else to turn.
For decades, UNFPA has worked with the U.S. government to nurture shared feminist values—gender equality, bodily autonomy and women's empowerment—around the world. We have worked together to promote voluntary family planning, condemn coercive population policies, help women give birth safely and combat gender-based violence.
Yet time and again since the 1980s, ending funding to UNFPA has become a political football, far removed from the tragic reality it leads to on the ground—a decision often shrouded in willful misinformation about the life-saving work we do to ensure universal access to sexual and reproductive health and rights, including the non-negotiable right of every individual to make informed choices over their body and their future.
Now the winds have shifted again.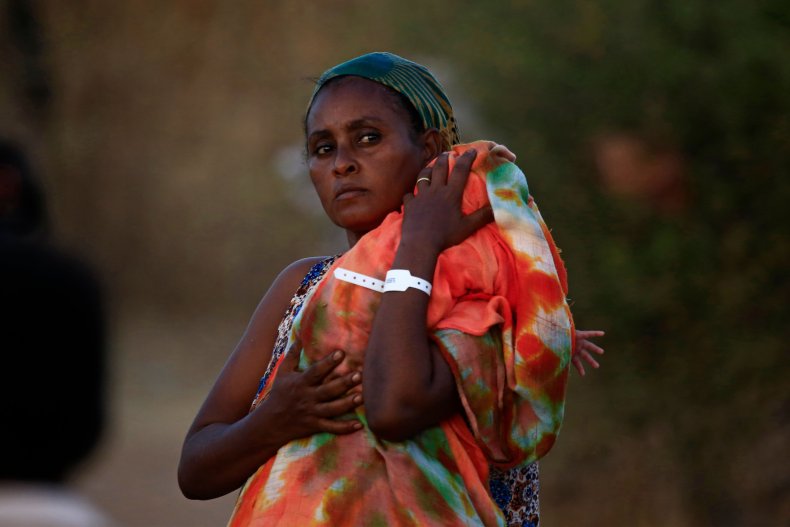 On January 28, President Joe Biden announced that he would reinstate funding for UNFPA. Congress has approved funding for UNFPA's core work and we hope that more funding will be made available to alleviate the suffering of women, girls and families in many of the world's greatest crises, like the devastating war in Yemen, the ongoing economic crisis in Venezuela, the growing needs of migrants and refugees in Eastern Europe and the COVID-19 crisis everywhere.
At this moment of tremendous need around the world, we welcome a renewed partnership with the U.S. and new resources to do our work. But we also think, "How can we end this unproductive cycle? Why can't the most fundamental needs of women and girls be seen as what they really are, rather than a political bargaining chip?" Surely, their right to plan their pregnancies, give birth safely and live free from violence should be something we can all agree on.
The United States and the UNFPA have a shared mission, shared values, shared goals and shared history. The U.S. was instrumental in creating UNFPA in 1969 and has served on its executive board for 52 consecutive years, although it has only funded UNFPA in 33 of those years.
Human rights, global health, gender equality and human security underpin both of our work across the globe. In these areas, we are two sides of the same coin—one, the largest and most active funder of such programs, and the other, the largest and most experienced global implementer of life-saving reproductive health programs.
On an average day, UNFPA staff around the world make modern contraceptives available to poor rural women in India who do not want to have any more children and convince parents in Nigeria not to perform female genital mutilation on their daughters. They advocate and educate to prevent adolescent pregnancy in Honduras, safely deliver the babies of women fleeing violence in Myanmar, ensure that displaced women and girls in South Sudan are not victims of gender-based violence, keep girls in school in Afghanistan and promote repair of obstetric fistula in West Africa.
Each of these programs help advance existing U.S. foreign policy goals. But for the past four years the U.S. was not partnering in any of them. We, and the women and girls we serve, have felt this absence, and we will be so much stronger together.
We want the United States to remain a committed partner with us and our global donors to achieve these goals. This is the promise of the multilateralism that President Biden is extolling and that is clearly represented by the United Nations. More than 50 years since its creation, the UNFPA mandate has never been more relevant specifically because it aligns so closely with the goals of the U.S. and other member nations and the needs of the most vulnerable.
Let 2021 be the year when we agree, once and for all, that we will hold fast to our mutual bedrock belief in human rights, equality and justice.
Let us agree that these truths are self-evident, that all men and women are created equal, with inalienable rights to which we commit ourselves wholly—and together.
Dr. Natalia Kanem is the executive director of the UNFPA, the United Nations sexual and reproductive health agency.
The views expressed in this article are the writer's own.