Rihanna Bombarded With 'Free Palestine' Messages After Israel Remarks
Rihanna has been told to "get [her] facts right" on the Israeli-Palestinian conflict after she released a statement saying she "stands with humanity."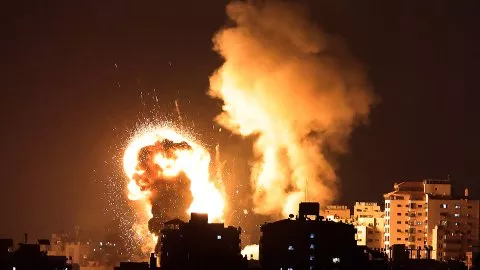 The "Work" singer added that she was mourning the loss of innocent lives after violence broke out on Monday.
The fighting follows weeks of tension in East Jerusalem over the proposed evictions of Palestinians from their homes in the Sheikh Jarrah neighborhood to make room for Israeli settlers. Violent clashes erupted at a holy site revered by Muslims and Jews.
As of Thursday morning, Israel is continuing an air offensive on Gaza, while rockets are being launched towards Israel from Gaza. More than 70 people have been killed since Monday.
Rihanna's statement prompted dozens of "Free Palestine" responses on Instagram as social media users urged the performer to learn more about the conflict.
"My heart is breaking with the violence I'm seeing displayed between Israel and Palestine! Rihanna began in her statement. "I can't bear to see it! Innocent Israeli and Palestinian children are hiding in bomb shelters, over 40 lives lost in Gaza alone, at least 13 of whom were also innocent children!"
She also elaborated on the need for action to save innocent lives and criticized "government and extremists."
"There needs to be some kind of resolve!" she wrote. "We are sadly watching innocent people fall victim to notions perpetrated by government and extremists, and this cycle needs to be broken!"
Her Instagram post has been flooded with comments displaying the Palestinian flag emoji.
"Get your facts right Riri," one comment read. "Do you research boo boo."
Another added: "There are no bomb shelters in palestine."
The singer's statement is also being scrutinized on Twitter.
"Rihanna is giving such 'all lives matter energy.' I'm disappointed," said one post. "It's not a conflict!! It's one sided."
Another added: "I changed my mind, rihanna can keep her damn album. #FreePalestine."
Many people have been circulating a now-deleted "Free Palestine" tweet that the singer posted in July 2014, shortly after war had broken out in Gaza.
"Rihanna going from #FreePalestine to being neutral, SICK," reads one tweet.
Another tweet read: "this celebrities choosing to be neutral and refusing to see the truth I'm disappointed on u Rihanna but not surprised."
Another Twitter user highlighted the singer's remark about bomb shelters, writing: "Hey @rihanna Palestinians don't have bomb shelters—we don't have any protection. There is no shelter.
"Palestinians in Gaza have nowhere to hide and nowhere to go. Palestinians have no military, no nuclear weapons, we're not bankrolled by billions of US dollars. Happy to discuss."
Popular in the Community
{{#values}}
ad choises
{{#isDisplay}} {{/isDisplay}}{{#isAniviewVideo}} {{/isAniviewVideo}}{{#isSRVideo}} {{/isSRVideo}}