How to Get New Fenty Beauty Products: Rihanna to Release STUNNA Lip Paint on Thanksgiving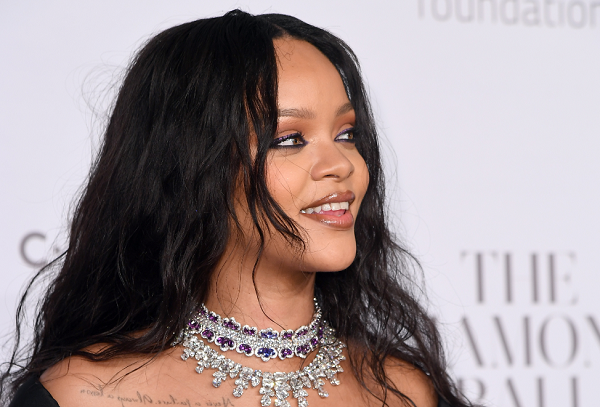 Rihanna is giving makeup lovers something to be thankful for this holiday season. The pop star, who infiltrated the beauty industry and completely took over with the launch of her Fenty Beauty brand in September, is adding to a new lipstick to her makeup line.
Rihanna has been touting the vivacious new addition—STUNNA Lip Paint—on her social media for weeks. It comes in a vibrant and tantalizing shade of "Uncensored" red and will finally debut on the Fenty Beauty website just ahead of the Black Friday madness on Thanksgiving Day at 12 a.m. ET sharp. It will also be available at retail locations selling Fenty Beauty products.
Unlike other red lipsticks and glosses, STUNNA is liquid based and creamy. But when it's applied it settles like a matte lipstick. Even better: The stark red color, created with every skin tone in mind (like every other Fenty Beauty product), is long lasting. Which means there's no limit to the holiday kissing.
The STUNNA Lip Paint collection is Fenty Beauty's latest expansion. When the brand first launched, there was only one lip gloss—the Gloss Bomb Universal Lip Luminizer—available for purchase—that was along with makeup tools and 40 different shades of concealers, foundations and highlighters. Just weeks after Fenty Beauty's launch, the company released its holiday line, including a variety of lip shades under the Starlit Hyper-Glitz Lipstick and Cosmic Gloss Lip Glitter collections.
The new lipstick is $24 at Sephora. While it's unclear if Fenty Beauty will host any holiday sales or discounts on products, it's possible the retailers selling the line might offer deals.
We'll have to wait and see if RiRi is feeling extra generous on Black Friday. In the meantime, the Twitterverse is swirling with rumors of more new products dropping after Thanksgiving.