Rihanna Is a Rapper for N.E.R.D.—But 'Lemon' Isn't the First Time the Singer Has Dropped Rhymes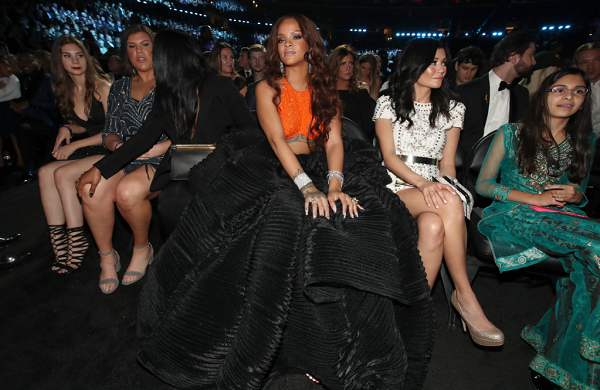 It's no secret that Rihanna is a woman of many talents. Although initially known as a singer, the 29-year-old has since added other titles to her resume: songwriter, actress, designer, creative director, chart-topper and, most recently, beauty brand creator. Recently, she reminded fans of another skill, when she dropped a few bars in N.E.R.D.'s newest single, "Lemon."
The song premiered on Beats 1 radio on Wednesday followed by a video for the track moments later. The bouncy track is already gaining steam among fans excited for the group's reunion.
The collaboration with Rihanna is the latest reunion tease from N.E.R.D.—the slogan No_One Ever Really Dies was spotted on billboards in random spots around the globe this summer. Although Pharrell Williams's group appeared on three tracks on The Spongebob Squarepants Movie: Sponge out of Water soundtrack, N.E.R.D. hasn't produced a complete project of its own since the Nothing album in 2010.
Rihanna is only seen in the video once—at the beginning, shaving a woman's head in a hotel room—but her catchy flow pretty much dominates the song.
Rihanna has spit lyrics before. Earlier this year, she appeared on Kendrick Lamar's "Loyalty," off his chart-topping album Damn. She rapped on 2007's "Lemme Get That," a track from her Good Girl Gone Bad album, and on 2009's Rated R.
Her 2012 album, Unapologetic, featured one of Rihanna's most popular rapping moments, on the single "Pour It Up," and she delivered trappy verses on another cut, "Phresh out the Runway." That particular album, which was her seventh studio project, seemed to launch an annual trend, with raps on 2015's "Bitch Better Have My Money," 2016's "Pose" and "Nothing is Promised." Maybe nothing is promised, but with Rihanna, pretty much everything is delivered in one package.