How to Buy Rihanna's Sexy Savage X Fenty Lingerie Line Before It Sells Out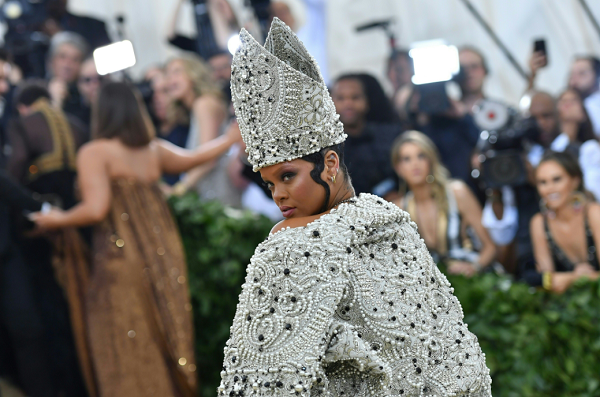 Rihanna knows sexy, and on Friday, she blessed women of all shapes and sizes with the chance to embody her sex appeal by debuting her lingerie line, Savage X Fenty.
The collection of intimates includes a variety of bras, underwear, robes, rompers, bodysuits, corsets, teddies and, of course, matching sleep sets. All are made in an assortment of bright colors, nude hues, and traditional black-and-white shades.
Looking for lace? Savage has it. Mesh and fishnet? Rihanna's new line has you covered. The collection is composed of 90 pieces of undergarments, accessories, lingerie and sleepwear, all of which range in price and start as low as $14.50 for panties.
And perhaps the most admirable aspect of the Barbados-born singer's latest venture: The products come in a range of sizes for women of various body types. Bras sizes extend from 32A to 44DD while panties and sleepwear come in XS up to 3XL.
How can you get in on the size-inclusive Savage X Fenty?
Rihanna's new line is exclusively sold on the brand's website, and products can be shipped internationally to 210 countries. Some shoppers, however, have already complained online about the waiting time to actually browse and purchase items following the site's launch in the early hours of Friday morning. Some visitors were placed in an online queue and met with a black screen that read: "We're holding your spot."
Shoppers in New York, however, can purchase items in person at Savage's pop-up shop in Brooklyn on Friday and Saturday.
Savage is the latest company in Rihanna's continuously growing empire. Just last September, the Anti singer launched an extensive line of makeup, Fenty Beauty, composed of 91 products and including 40 different shades of foundation to accommodate a number of skin tones and complexions.
Similar to Rihanna's crusade to empower women with Fenty Beauty, the 30-year-old hopes Savage will help women embrace their own sexiness. "Women should be wearing lingerie for their damn selves," Rihanna told Vogue in an interview released Wednesday.
"I can only hope to encourage confidence and strength by showing lingerie in another light. You don't have to stick to one personality with lingerie; it's fun to play around. You can be cute and playful one week and a black widow next week," she said. "You can take risks with lingerie. I want people to wear Savage X Fenty and think, 'I'm a bad bitch.' I want women to own their beauty."