Rihanna's Pregnancy Confirmed After Super Bowl Performance Fuels Rumors
Rihanna's representative has confirmed she is pregnant, after the appearance of her baby bump set social media alight with pregnancy rumors.
The Barbados-born singer's pregnancy became a trending topic online after her dynamic performance at the Super Bowl LVII halftime show. Social media users speculated over whether she was expecting her second child, but her representatives have confirmed to Newsweek that the viewers were right: Rihanna is pregnant.
Rihanna sang a medley of her hits during the impressive halftime show, wearing an all red outfit. She stood out against the backdrop of backup dancers who were wearing all white, but Twitter users thought her possible baby bump stood out more.
When contacted for confirmation of the pregnancy rumors, Rihanna's representative, Amanda Silverman, confirmed to Newsweek that her client is pregnant. It will be the singer's second child after she and partner A$AP Rocky welcomed their son in May.
Fox Sports reporter Carmen Vitali wrote in all caps as soon as the performance began, "Rihanna is doing this halftime show pregnant."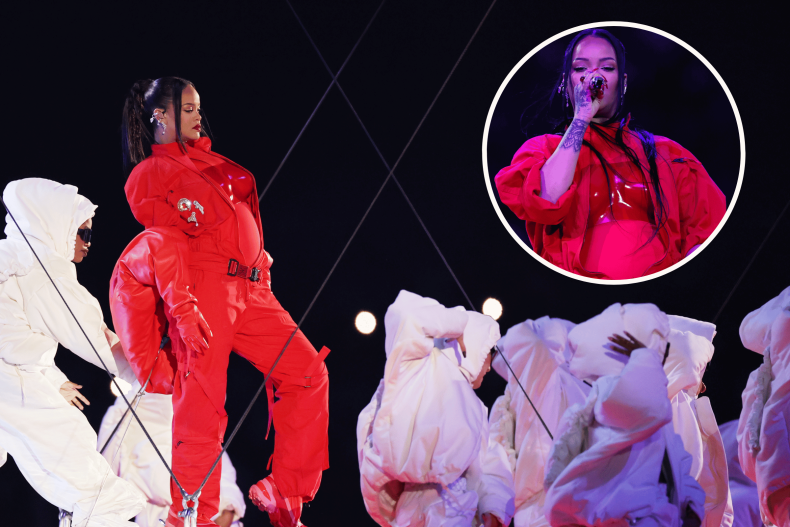 While speculation started circulating about Rihanna, the actual content of her performance was resoundingly praised by thousands online.
"Pregnant and proud. Black and unapologetic. And bringing that stadium DOWN," tweeted author and podcast host the Reverend Dr. Jacqui Lewis. "Just a virtuoso performance. Audacious. Choreographed to a tee. In control every damn second. And that *voice,*" she added.
"Yo!!! Rihanna pregnant again?" @AquarianGodd wrote while @onnaelise10 said, "Wait is Rihanna pregnant or am I seeing [things?]." Tweets relating to Rihanna's prospective pregnancy received tens of thousands of likes, comments and retweets.
Rihanna hasn't confirmed she's expecting her second child, and there's been no official statement from her representatives. Newsweek has reached out to her team for further comment.
Her appearance at the halftime show had everyone online asking the same question, according to journalist David Mack. "Ok so everyone just google 'Rihanna pregnant' right," he wrote before also praising her performance.
"How many seconds into the half time show did someone at your Super Bowl party politely ask if Rihanna is pregnant," wrote journalist Dave Jorgenson.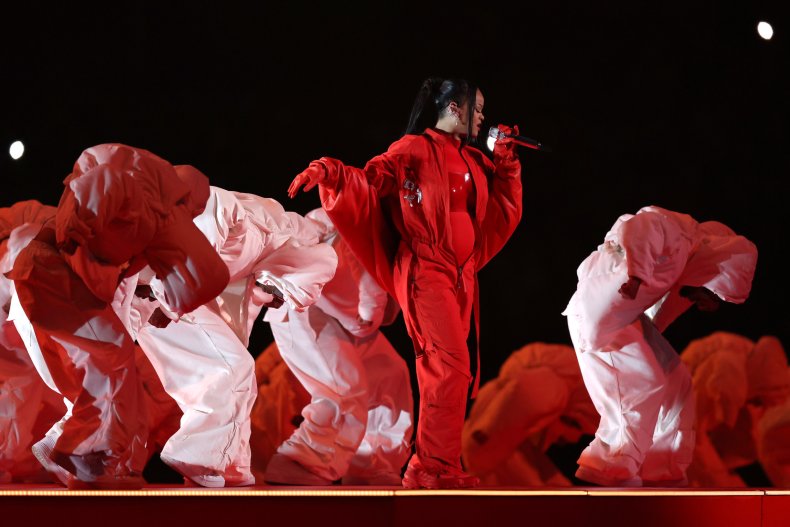 While congratulations may be in order for Rihanna, YouTuber and makeup artist PatrickStarrr thinks it spells bad news for her passionate fanbase. "So, Rihanna is pregnant which means we'll never get new music," he wrote alongside a Kris Jenner meme, adding, "We're never getting new music again are we."
Podcast host Kate Casey stated she'd "forever worship" Rihanna if she was in fact performing a halftime show whilst pregnant. Former Disney Channel actress Laura Marano also voiced her amazement that Rihanna may have performed while carrying.
Also complimenting the quality of the performance, comedian Hannah Berner suggested "Rihanna won't be the only one expecting," she joked.
Updated: This article was updated at 11:30 p.m. 02/12/2023 ET with confirmation that Rihanna is pregnant.