Rikers Island Ends Crisis-Ridden Year With Soaring COVID Positivity Rate Amid Omicron Wave
Notorious New York City jail Rikers Island is ending the year with a soaring coronavirus positivity rate amid an Omicron wave.
The city's Department of Correction commissioner, Vincent Schiraldi, sounded the alarm about the escalating situation on Tuesday, writing that the facility's positivity rate for the past several months had been 1 percent.
But by Monday the positivity rate was at 9.5 percent, and the next day it had nearly doubled to 17 percent.
Only 38 percent of the jail population is fully vaccinated against the virus, the commissioner noted, while 45 percent have received at least one dose of a vaccine.
"The combination of these data indicates that the risks to the human beings in our custody are at a crisis level," Schiraldi wrote in a letter to public defenders.
"As you are aware, considerable efforts were made at the beginning of the pandemic to reduce the jail population immediately in order to avert a major humanitarian catastrophe. All indications suggest that our jail population faces an equal or greater level of risk from COVID now as it did at the start of the pandemic," he said.
Public defender organizations responded to Schiraldi's statement that their "fears that the virus would ravage the City's jails have been realized." The groups called on New York judges, district attorneys and officials to release inmates and halt new admissions.
During the pandemic, advocates and lawmakers have been decrying the conditions at Rikers Island and other jails in the state.
Corrections officers and families of inmates described a chaotic scene in March 2020, saying the virus was spreading like wildfire inside prison sites, with officials too slow to respond to the threat.
One inmate told The New York Times, "We're left for dead. We're just stuck here."
Nearly 8,000 inmates and 7,831 corrections staffers have gotten sick with COVID-19 but recovered, according to New York state's Department of Corrections and Community Supervision. Fifteen staff members have died from the virus, as well as 39 inmates and nine parolees.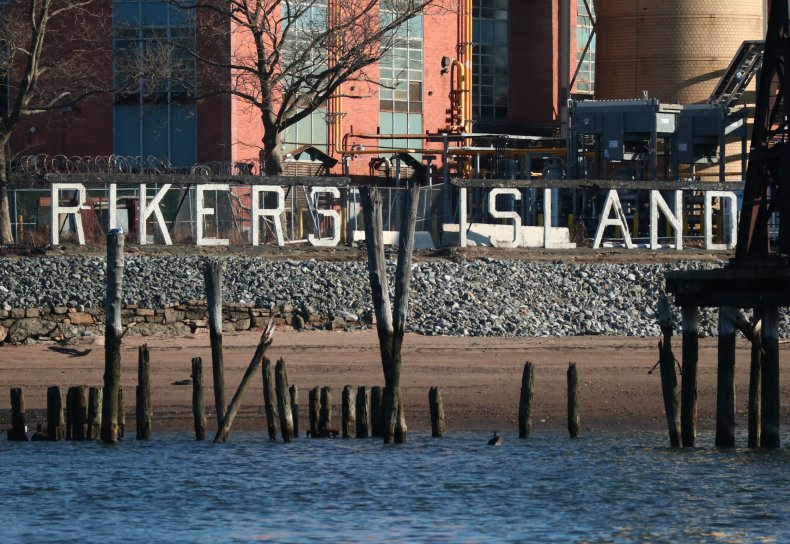 The issues at Rikers mounted after lawmakers toured the facility in September, during which they witnessed an inmate's attempted suicide. State Assemblyman Kenny Burgos described the jail as a "horror island."
Sixteen people have died in custody at Rikers this year.
The site—which houses nearly 6,000 detainees and employs thousands of people—has also been plagued by staffing shortages. The city's Correction Officers' Benevolent Association has said unsafe conditions are prompting officers to call in sick.
Hundreds of detainees have been released from Rikers since the "horror island" visit. Visits and congregate programs have recently been suspended as a response to the Omicron wave.
"These measures will have considerable negative effects on a jail population that is still reeling from two years of COVID and a staffing crisis that has contributed to unprecedented levels of tension, anxiety, and violence within the jails," Schiraldi said.
Newsweek contacted Mayor Bill de Blasio and the Correction Officers' Benevolent Association for comment on the rising positivity rate but did not hear back before publication.