Riled-Up Bison Nearly Charges at Tourists in Nail-Biting Footage
Footage has captured the moment a riled-up bison nearly charged tourists at Yellowstone National Park in Wyoming.
Video taken by Cindy Shaffer while on a snow coach tour through the park shows the tense moment the bison turns to face the vehicle head on.
Bison have injured more people than any other animal at Yellowstone, according to the National Parks Service.
They are large animals and can weigh up to 2,000 pounds. A 2018 study showed that on average, bison injure one or two people in Yellowstone every year.
They usually injure people by charging, however only do this when they feel threatened. Most attacks happen when somebody gets too close to the animal to take a photo, the study said.
The footage begins with a pair of bison running at speed across the group's vehicle.
"We're going to get a flat tire," Shaffer can be heard saying, as the bison begin running faster.
"They got mad at us," Shaffer says
People in the car can be heard laughing as they continue to run in front of the vehicle. However, one of the bison suddenly faces the vehicle head on.
"Oh no," Shaffer says. For a moment, the bison appears as if it might begin to charge. It then jumps up and down, and turns away, in a moment of relief.
"That's what you call a bluff charge... I thought he was gonna come at us," Shaffer says,
Shaffer told Newsweek that the bison were running alongside the vehicle for about 10 minutes.
"I live here so I'm familiar with bison behavior, so I wasn't scared but some others on the snowcoach were nervous. They were just playing with us. They do sometimes pop tires and out debts in vehicles though, you never know," she said.
When relaxed, a bison would not usually look at a human. If they turn and make eye contact with a person, it's clear they are becoming irritated. Raising their tails is also another sign they might charge.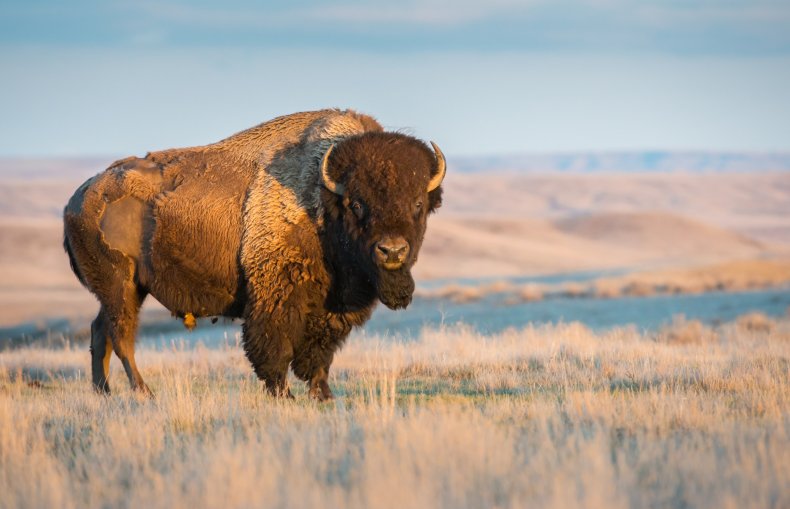 The National Park Service recommends that if this happens, humans should back away and retreat. Yellowstone asks visitors to stay at least 25 yards away from bison and other large animals.
In May 2020, shortly after the Yellowstone National Park reopened to tourists following the first COVID lockdown, a visitor was knocked to the ground by a bison after getting too close.
There are currently believed to be more than 5,000 bison roaming the park.