It Won't Make Sense to Own or Drive Cars in the Future, Says Top Supercar Maker
The founder of electric supercar maker Rimac Automobili has said it won't make sense for people to own or drive their own cars in the coming decades.
Mate Rimac, 31, is the mastermind behind the creation of two hypercars that are among the fastest-accelerating electric vehicles in the world: The Concept One and C-Two. He says the industry is on the cusp of radical change—and it will be bad news for petrolheads.
According to Rimac, most people will no longer own or operate their own cars in the future. Instead, vehicles will be shared, self-driving and electric. These changes are already starting, he said.
"There will be people who still want to own their cars and drive their cars and I am happy for that because that is our business," Rimac said, speaking to Newsweek in London this week while laying out his vision for the future of the industry. "Long term, I think 20 years down the road, it will be totally changed and people will not own or drive their cars anymore."
From a base in Croatia, Rimac Automobili specializes in futuristic performance cars while also creating high-tech parts for clients including Aston Martin, Porsche and Hyundai. It is on the bleeding-edge of motoring tech, and is now turning its attention toward electric bikes.
Rimac's most recent car, the C-Two, comes off the production line next year. It will have a top speed of 258 miles per hour and speed from 0-60 mph in just 1.85 seconds.
The Concept One was able to glean high-praise from The Grand Tour host Jeremy Clarkson back in 2017, who said he had "never seen anything move as quickly as that, not with number plates."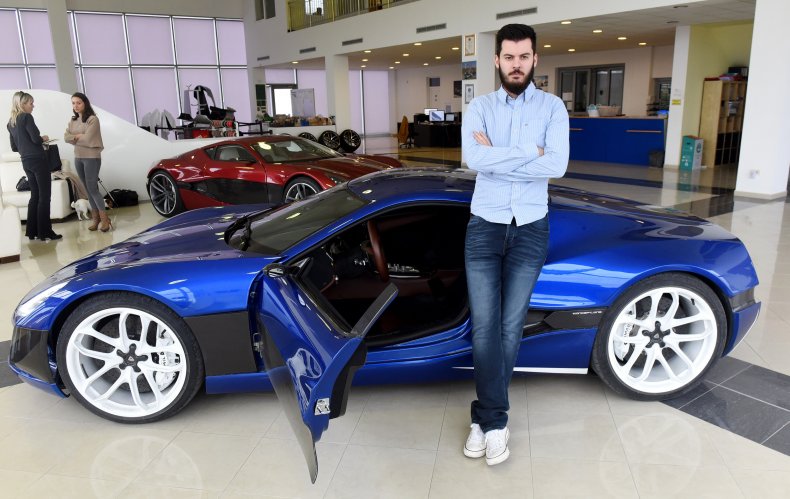 Rimac is well aware the industry is changing quickly due to the rise of self-driving vehicles and electric batteries, and says in the next 20 years driving as we know it may exist mainly as a hobby.
"I really believe that humanity goes for things that make sense," he told Newsweek. "If you look at 1.3 million people dying every year on the roads, if you look at the impact it has on economies based on traffic jams and time lost, it's so much of a negative impact to society, that people drive, that I think such a huge benefit can be gained if people stop driving.
"If machines drive, and we can make them good at doing that, in the long term it just doesn't make sense that we drive," Rimac continued. "It's all fun and games until somebody gets hurt or you lose somebody you are close with. In the long term I don't think it makes sense to own and drive cars. It will make sense for a few people who still care about it, and that will be less and less people [over time.] I think it's inevitable because it just makes sense."
The entrepreneur, who founded Rimac Automobili in 2009 when he was 21, acknowledged car lovers would likely be "horrified" at the prospect, but told Newsweek be believed new forms of transport, such as self-driving cars on-demand, may prove to be irresistible.
"Maybe I am naive, not always the most sensible solution wins, but in this case I think the upsides of the new paradigm of mobility are so huge that it will just happen," he said.
"Let's look into the future. You are standing in front of the choice of either investing a huge chunk of your money in buying a hunk of metal and plastic for 30, 40, 50 thousand dollars, or you have the convenient option of paying as you go, the car picks you up in a few minutes, it's a nice environment and you spend a few dollars per day on your transport.
"When you take the driver out of the loop, transport can be much cheaper and you can use the time to do other things, instead of sitting behind a steering wheel and not doing anything else. So I think the choice for the vast majority of people will be the obvious one."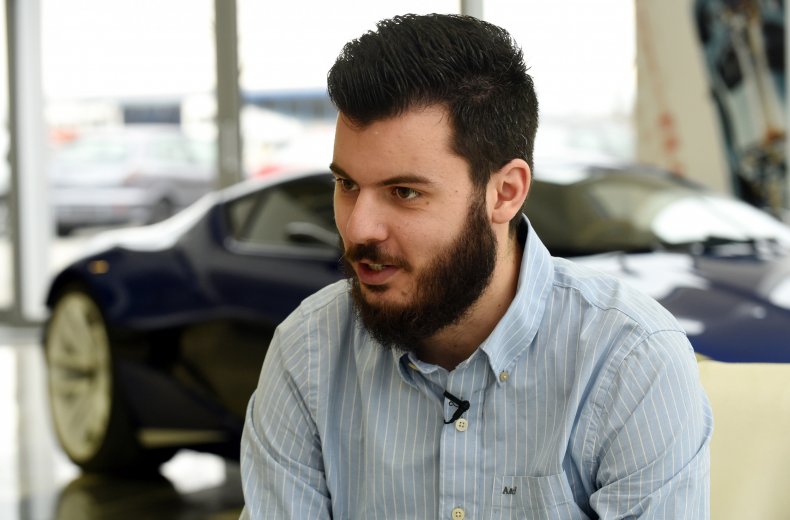 He conceded the changes will impact not only Rimac Automobili, but every car company and manufacturer. New questions will arise, including who provides the artificial intelligence (AI) powering the vehicles, who actually owns the fleets of cars and who will insure them.
"The industry is going to completely change," Rimac predicted. "There will be completely new players and the big car companies will lose their relevance, in some cases. This opens the window, again, for small companies and for newcomers that are totally not on the radar of the car industry. Things are shifting and it opens opportunities."
Alongside his focus on sustainable supercars, Rimac is also turning his attention to electric bikes. He is currently the chief executive of a company called Greyp that is set to conduct a Series B investment round offering of $5 million to retail investors who want equity in the company.
The funds will be used to build a "connected mobility platform" that will allow riders to automate toll payments and better monitor their performance. The open public sale, known as an equity token offering, starts in late October and is scheduled to last for a month.
Hundreds of people registered for the pre-sale, pledging to invest more than €1 million. "In the past we had huge companies investing in us, like Hyundai and Porsche and so on, now anybody who shares this passion can invest," Rimac said. "It feels like this is the way it should be done."