Rimac Nevera is the World's Fastest EV and Owners Can Hit the Top Speed
Testing a vehicle for such a high speed is only possible on a few closed circuit facilities in the world. Automotive Testing Paperburg's track in Germany, an oval with straight stretches, was the site of the record-breaking feat, which saw the car hit a top speed of 258 miles per hour (mph).
To achieve the record, Rimac's team set the car into its top speed mode, which focuses the aerodynamic profile to balance drag and downforce. This ensures that the car is stable at high speeds. They also overrode the model's electronically limited top speed. Rimac says the Nevera can do two full laps of the famous Nurburgring racetrack with negligible loss in power. That track is more than 12 miles long.
Road legal Michelin Cup 2R tires were wrapped around the wheels of the cars and a Michelin team was on site during the test to inspect the tires to ensure their good condition.
Miro Zrnčević, Rimac's chief test and development driver was behind the wheel of the Nevera during its record-setting run.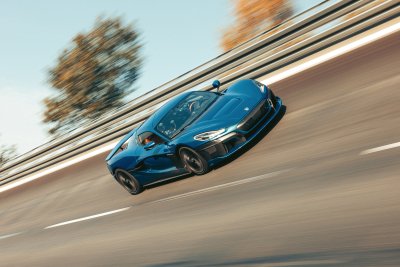 "To travel at 412 kph, or 258 mph, means travelling at a third of the speed of sound. Simply achieving that alone in a road car is incredibly complex, but in Nevera we have created a car that can travel long distances on a single charge, can tackle tight and twisting race tracks and can drift as well as break straight-line speed records, both for acceleration and V-MAX. I've driven Nevera since it first turned a wheel and to see the perfectly honed car that is today is a really emotional moment," Zrnčević said.
The top speed was measured by a Racelogic V-Box, a GPS-based measurement device.
Rimac unveiled the Nevera at the 2018 Geneva Motor Show. After 1.6 million hours of development, the Nevera is being shipped to customers. Fomula One World Champion Nico Rosberg was the first person to take delivery of a production version of the car.
Nevera's all-electric four-motor setup produces 1,914 horsepower, which move the car from zero to 60 mph in 1.85 seconds. That's paired with 2,360 pound-feet of torque. It can hit 100 mph in 4.3 seconds.
Customer copies of the car have an electronically limited top speed of 219 mph. Customers can, however, experience the car's top speed at special consumer events that are supported by the Rimac team under controlled conditions.
Rimac builds the Nevera at its plant in Zagreb, Croatia and the super EV starts at $2.1 million.