Ring of Honor (ROH) heads to Toronto for its Summer Supercard show this Friday. There are nine confirmed matches with four titles on the line, but just one championship match wrestling fans should keep an eye on.
Women of Honor World Champion Kelly Klein heads to Canada to defend her title against Tasha Steelz, a fiery up-and-comer who is determined to prove she belongs at the top of the division.
However, the Cincinnati native doesn't plan to take Steelz lightly. After spending years cutting her teeth on the independent circuit, Klein arrived in Ring of Honor four years ago to be on the ground floor of the formation of the Women of Honor division.
In that short time, Klein has become the promotion's first-ever two-time WOH champion at the G1 Supercard in MSG in April, and now "The Gatekeeper" looks to bring the division to the next level of wrestling with her as the face.
Newsweek caught up with Kelly Klein ahead of her big match to discuss her journey, matching up against Tasha Steelz and the state of women's wrestling.
Note: This interview has been lightly edited for clarity and length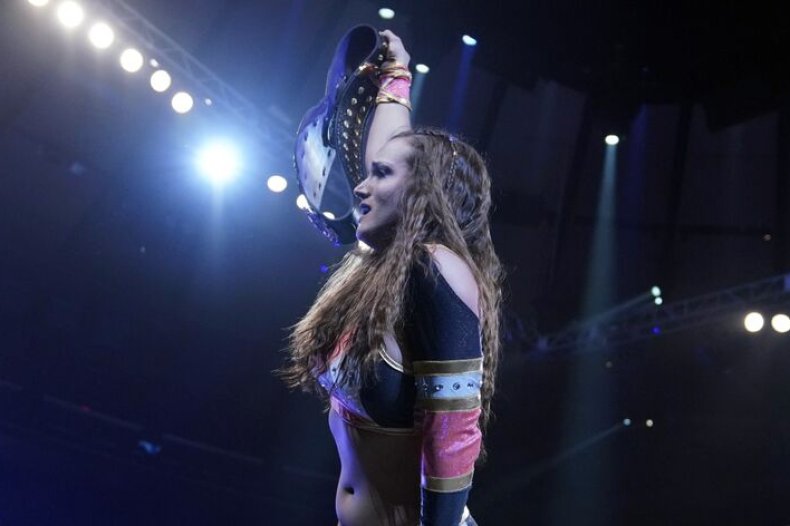 You're the foundation of Women of Honor, is that something that you thought would be possible?
It was a surprise for me in a lot of ways. I had been in wrestling for 10 years in a way and kind of plateaued. I was making progress, but just baby steps for such a long time. When I started, the common knowledge everyone would pass around was that if you didn't make it by the time you were 30, particularly for women, that was it. You missed your window.
For me to have my opportunity come the way it did when I was in my late 20s and "miss my window," that was something I never would have expected. As it was a new venture for ROH in my early wrestling career, it wasn't even on my radar. It was something that didn't exist yet. It was something that I didn't have as a goal.
ROH was mostly male talent and every now and then there would be female talent, so it wasn't somewhere I would have a lot of opportunities. So I put it as "something I didn't know to dream of."
Now that you're the champion of this division is its surreal?
It's definitely surreal. Especially when I started wrestling there were some women that I looked up to in the independent circuit, and I admired and make connections with. Sadly there were some women back then who weren't really supportive or welcoming of other women. Now that's changed a lot and there's a community of women in wrestling that's so supportive of each other and a lot of us now are spurning each other on in WOH. The women are working hard to build something bigger than each one of us.
[We're] supporting women's wrestling as a whole and each other. And to be in a position where I can be a part of that change and represent a lot of that change and to offer that support and encouragement to other women is really special to me.
Is that support driving this boon in women's wrestling?
I think in some ways it's reciprocal. In order to continue this boon we have to support each other so we have people to work with. And if we want the fans, the audience, and even as far as the advertisers, we have to seek value and bring value. We have to make sure there are a lot of women who are not only successful, but challenging each other to step up our game. And we can't do that if there's only a couple of people who are really successful and holding everyone else down, because then who do they work with? Who do we have to offer that product and content to the fans and get fans excited for everything?
It's kind of the chicken or the egg in a way. It's a little bit of both and feed off of each other. I think that boon and opportunity help women see and grow opportunities in doing that. But helping and supporting each other, we're empowering each other and ourselves. That will continue this growth and explosion of women in wrestling.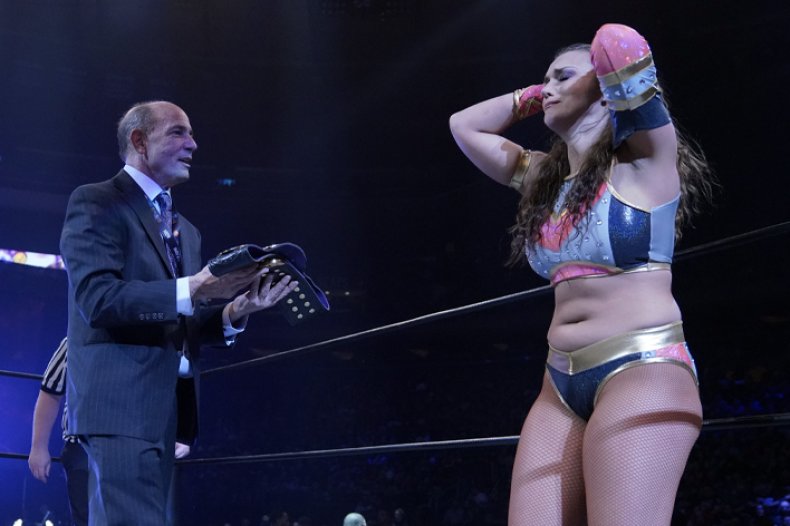 Being the top of WOH, does that giving of support fall on your shoulders or is everyone working to do that?
It's a lot of both. I love to just cheer on and support women that are doing well and helping move all of this forward. As far as women in wrestling goes, you're right. My friends and colleagues across the board, because there are so many opportunities for women now that are in these different companies and all of that help build what we're trying to do. For me, one of the reasons I love ROH is the focus has always been the wrestling, and honor is in the name. And how we present and conduct ourselves. As much as there is and building right now, I'm really honored and happy to be a part of this division and that company that emphasizes the wrestling and storytelling the way that they do. To be among people that are the top women in wrestling and the faces in the women in wrestling. It is pressure, but I welcome it and thrive in it. At the same time it's not any one person. It's everyone. I'm so proud to be the face of the women in ROH because it's such a great group of women and over time there have been so many women who have come through ROH that I'm really proud to be a part of that.
Your opponent on Friday, Tasha Steelz. You both have clashing styles and different experiences. Tell me about her.
Tasha Steelz is someone who had a different journey than I did in wrestling. And I think a lot of times people will look at someone's years in wrestling and think that equates with their experience and I don't think that's always true. So I don't really rely on that. The way that Tasha has trained and the people she's worked with I think she has a lot more years of experience in the short time she's been in wrestling than a lot of people do.
So she's a little newer to wrestling and she's new in ROH, but she has so much to offer and she really represents what ROH is about. And the type of woman that fits well and represents well for ROH. That's the type of person that I'll look at as part of the makeup of ROH and someone I'm excited to work with because she's a clash of style.
She's got a totally different approach to wrestling than I do and the way she may approach it and I have to answer that and vice versa. I'm going to come with a different approach and it's going to be how she's going to answer that. And me assimilate to her style or her have to contend with mine.
I'm not planning to assimilate to her style, spoiler alert, so it's going to be me trying to get her into the position that I want and go with my tried-and-true approach. It's going to be a very exciting contest, it's going to be an exciting event all around in Toronto. But to see somebody who is so young and hungry but with the experience that she has and the personality and determination that she has against somebody in myself, there's a lot riding on every match and performance. Because it's important to continue to elevate the women of ROH. I always have a lot riding on every contest. To have somebody like Tasha it gives me an opportunity to challenge myself and reinvent myself a little bit. That's going to bring something to our audience that they haven't seen before.
Whenever I step into the ring with someone with different skill sets, different backgrounds and goals and motives, there is going to be this unique dynamic to that moment and match that is going to tell a special story.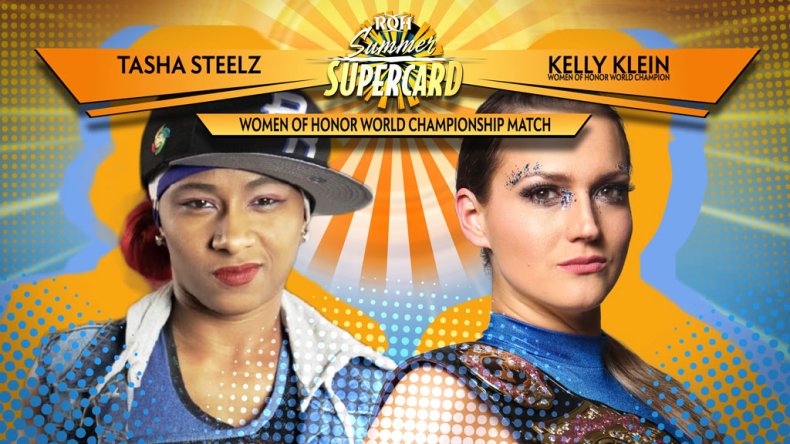 Being "The Gatekeeper" you want this opportunity to not only raise your game but see where Tasha is at ?
Absolutely. Ever since I went by the moniker "The Gatekeeper" that is what that meant. It's who is going to add value and help elevate the women of Ring of Honor. To me anybody who didn't have the right mindset or attitude to add and benefit the WOH, that's someone there's no room for. Now that I know the type of person and competitor Tasha is, it's to see where she is but after the match to see what she does with that. Do they just leave? We've seen that in the past where people don't get what they wanted and they leave and reevaluate and come back with a different approach with more training under their belt. Or they figure out what they need to do.
That's the question. Where is everyone and what can everyone do to elevate everyone as a whole.
Women of Honor is still growing. Are you satisfied with where it's at or how it's progressing? And what do you want to see next in women's wrestling?
I guess you can say it's at its peak so far, but I wouldn't say it's at its peak. I don't see any reason to stop or slow down.
As far as women in ROH, I won't say I'm happy with where we are, that's not an attitude that I take with anything. I'm never satisfied because wherever we are, in my opinion, there's something we can do or consider. That's why, over the last four years, we've been able to progress the way we've had. But I am very happy with where we're going and how we're doing it.
We have the Ring of Honor dojo where I'm constantly scouting. I'm watching the women on the independent circuit and keeping an eye on the upcoming talent and looking for people that are going to add to professional wrestling and have a lot of potential.
And one thing I would like to see and I don't think it's far off, I don't want to talk about "women's wrestling" I want to talk about women in wrestling. And I think a lot of the women I've worked with who I respect would agree that it's just wrestling and we're just women who are also doing professional wrestling. To start to lose the division between wrestling and women's wrestling is something I'm seeing in places, and I would like to continue to see that. And to also give young women who are maybe considering wrestling hope to show them that there is an opportunity to continue to grow and go as far as they want in wrestling and not to put a cap or division on that. I think that's what we've been working toward in Ring of Honor and we're going to continue to do that.
Ring of Honor Summer Supercard will stream live from Honor Club Friday, August 9 starting at 7:30 p.m. EDT.
About the writer
Phillip Martinez is a game and culture reporter for Newsweek. Prior to joining Newsweek in 2018, he was a reporter and editor for iDigitalTimes and Player.One. A Bronx native, he graduated with his Bachelor's degree in Journalism from St. John's University in 2010. An avid Nintendo fan and wrestling mark, he's always looking to become a Pokémon Master while fantasy booking this year's WrestleMania. You can contact him at p.martinez@newsweek.com