'RINOs Stole Election, We Steal Lives': Pennsylvania GOP Commissioner Details Death Threats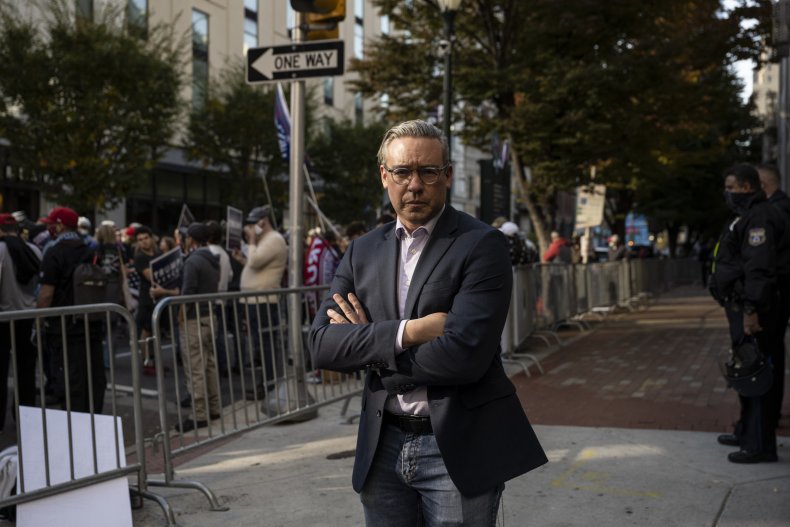 A Republican Pennsylvania election official has detailed death threats he received from supporters of former President Donald Trump after refusing to back the ex-president's false claims about massive election fraud.
Philadelphia City Commissioner Al Schmidt, the official responsible for overseeing the 2020 election in Pennsylvania's biggest city, made the remarks while testifying at a Senate Rules and Administration Committee hearing on Tuesday. He said that supporters of the former president labeled him a "traitor" and a RINO, short for "Republican in name only," for correctly counting the votes.
"I am a Republican and I believe that counting votes in our democracy is a sacred responsibility," Schmidt told the committee. "For doing my job, counting votes, I'd like to quickly share with you some of the messages sent to me and my family."
Schmidt then read a message that demanded he "tell the truth or your three kids will be fatally shot." The threatening message also contained Schmidt's home address, the names of each of his children and a picture of his house.
Other threats included the phrases "heads on spikes, treasonous Schmidts," "perhaps cuts and bullets will soon arrive at [Schmidt's address]" and "RINOs stole election, we steal lives." The alleged threats admonished Schmidt for supposedly having "betrayed" the country by not backing Trump's false claims and warned that "cops can't help you."
"There are additional threats that my family asked me not to share today because they are so graphic and disturbing," said Schmidt. "I have three little kids, my youngest is 7 years old. No matter what our party affiliation, this is not OK."
"Let's be clear, this is domestic terrorism," he added. "The whole point is to terrorize, to intimidate, to coerce and to prevent our democracy from functioning as it should."
Schmidt went on to note that threats over the election were not just "empty promises." He cited an incident involving two men who drove from Virginia to Philadelphia and were arrested outside the Pennsylvania Convention Center, where votes were being counted in 2020. Schmidt said the men hoped to "intercept a truckload of imaginary ballots headed to the convention center."
"They were arrested with guns and ammunition and lock-pick tools," Schmidt said. "They, like many others, were lied to, deceived and deranged by those lies. And for what? To discredit an election that wasn't even close."
President Joe Biden defeated Trump by over 80,000 votes in Pennsylvania. The former president has continued to maintain that he was re-elected "in a landslide" but the presidency was "stolen" from him, despite there being no evidence to substantiate his claims. In reality, Biden defeated Trump nationally by over 7 million votes and by 306 to 232 votes in the Electoral College.
Before Trump's Twitter account was permanently suspended over concerns about potentially inciting violence, the former president targeted Schmidt in a tweet that complained he had been "used by the Fake News Media to explain how honest things were with respect to the Election in Philadelphia."
Newsweek reached out to the office of Trump for comment.