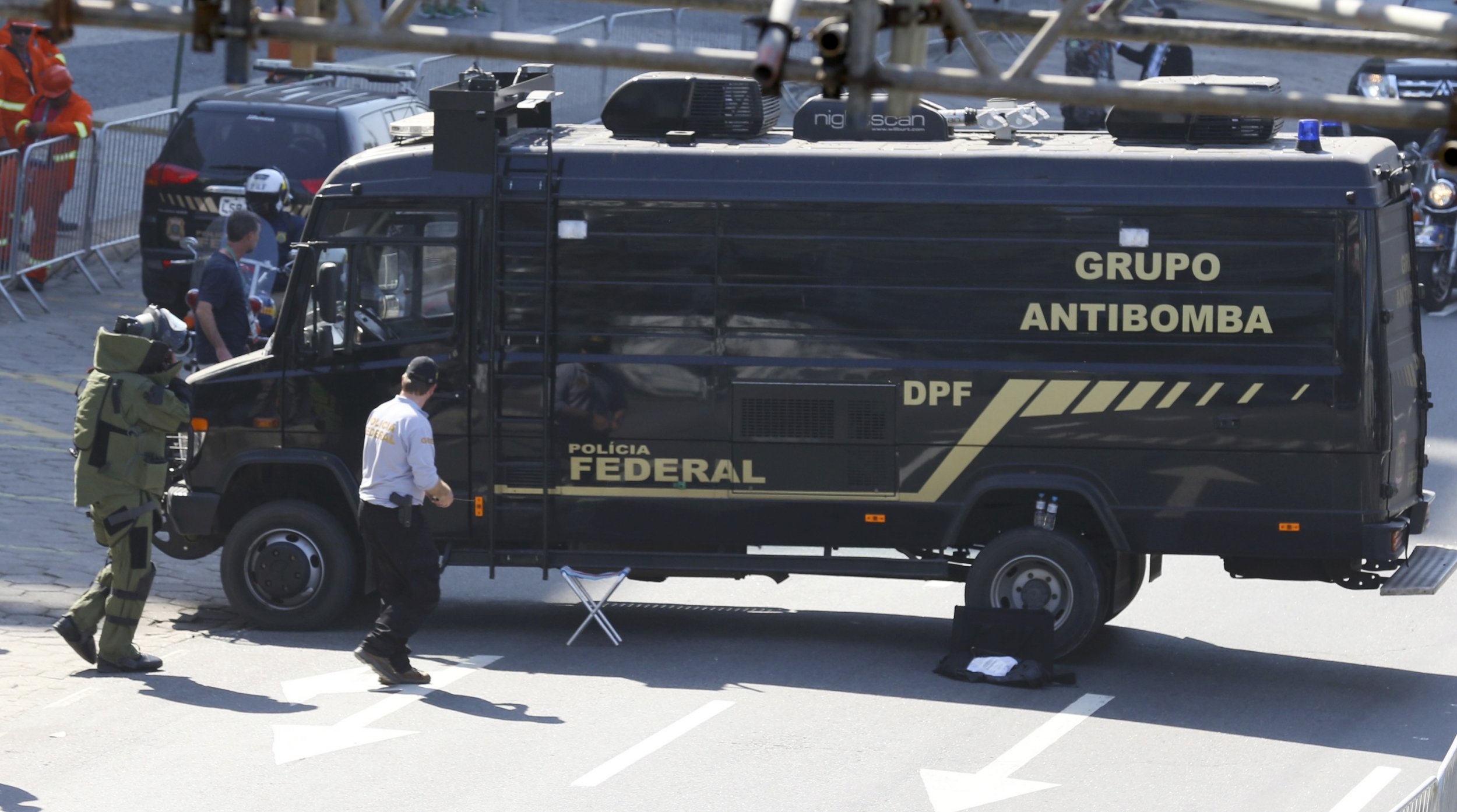 The Rio Olympic Games got off to a shambolic and nervous start on Saturday, with organizers apologizing to angry fans kept waiting for hours at security checkpoints to enter venues while, outside, shootings and bomb scares kept visitors on edge.
Athletes competed in front of empty stands early on the first day of full competition as spectators complained of missing their events while queueing for security clearance.
The morning after a dazzling opening ceremony, organizers admitted to dropping the ball, with only a few hundred spectators making their way into venues such as the gymnastics arena and the beach volleyball on iconic Copacabana beach.
Outside, lines stretched for several blocks as fans stood in full sun and security staff struggled. Organizers blamed a lack of coordination between security personnel, including the police, Games staff and private security firms.
Gymnasts performed in front of swathes of empty seats in an arena that can seat 13,500 people. The boxing venue also had many empty seats as the first professionals in Olympics history entered the ring.
"I don't believe it. It's absurd, ridiculous," said Rio resident Natalia Carvalho, 28, who missed seeing Brazilian gymnast and medal hopeful Arthur Zanetti compete on the rings as she waited with thousands of others to enter the Olympic park.
"It's a lack of respect for the fan that bought tickets. It's a shame," she said.
What should have been a celebration of the start of South America's first Olympics turned into a damage-control operation, with Games spokesman Mario Andrada vowing an immediate improvement.
"We apologize for everybody standing in line outside the venues," he told reporters. "Within the next hours we will be in much better shape."
At the tennis center, where former world number one Ana Ivanovic played in front of virtually empty stands in the first round, fans had to wait more than 20 minutes to buy water.
Spectators encountered similar situations at the rowing and the rugby venues as temperatures hit 32 degrees Celsius (90 degrees Fahrenheit).
SECURITY JITTERS
Security has emerged as a top concern after a string of killings, kidnappings and robberies in recent days.
Spectators leaving the Olympics opening ceremony at the famed Maracana stadium on Friday night were confronted by the body of a 22-year-old man shot dead by police in the street.
Police said the man had robbed several people in the area, but did not give further details.
A 51-year-old Brazilian woman was also shot dead during a robbery on Friday in the renovated "Marvelous Port" area meant to be a main attraction for Olympic tourists.
That came a day after police confirmed that a man sitting in a car had killed a suspect who tried to carjack his luxury automobile in the main Olympic area of Barra. The Russian consul denied media reports that the man was a consulate employee.
On Saturday, a bomb squad carried out a controlled explosion of an unattended bag, believed to belong to a homeless man, near the finish line of the men's cycling road race on Copacabana's sweeping boulevard.
There have been several controlled blasts in recent days as organizers have tightened security around venues, amid concerns the Games could be a target for militants.
Brazil detained 12 people for suspected links to Islamic State last month. It says the risk of an attack is minimal, with authorities having deployed 85,000 police and military to guard the Games, roughly twice the number at the 2012 London Olympics .
Lorie Schmetterling, who traveled from Moorestown, New Jersey with her husband Eric to cheer on their daughter Laura, a U.S. rower, was disturbed to learn about the bomb scare a few hundred meters from where she was staying.
"You hear all these terrible things about how it is going to be and then you get here and it seems fine," she said. "Then this happens and you feel it, you go on high alert again."
Journalists covering equestrian events in the Deodoro Olympic zone got a fright on Saturday when a stray bullet cut through the plastic roof of the equestrian media center. The bullet flew above the head of the New Zealand team's media attache, according to the team's chef de mission, Rob Waddell.
No one was injured in the incident. The equestrian venue is sited next to a military complex, though police are still trying to discover who fired the bullet and from where, a spokesman for the Rio 2016 organizing committee said.
Other robberies and thefts have targeted tourists and media in Rio. Some 500,000 foreigners are expected to pass through the city during the Games that run until Aug. 21.
Three Swedish tourists were briefly kidnapped on Wednesday by an armed man as they pulled off on a highway near a slum to take photos. They were quickly released unharmed after the gunman checked the photos they took.
Drug gangs in Rio do not allow anyone to take photos or video of the areas where they operate, for fear of having their faces seen by police.
Uncommon Knowledge
Newsweek is committed to challenging conventional wisdom and finding connections in the search for common ground.
Newsweek is committed to challenging conventional wisdom and finding connections in the search for common ground.