Rio 2016 Paralympics: Third Time Lucky for South Africa's Top Female Sprinter?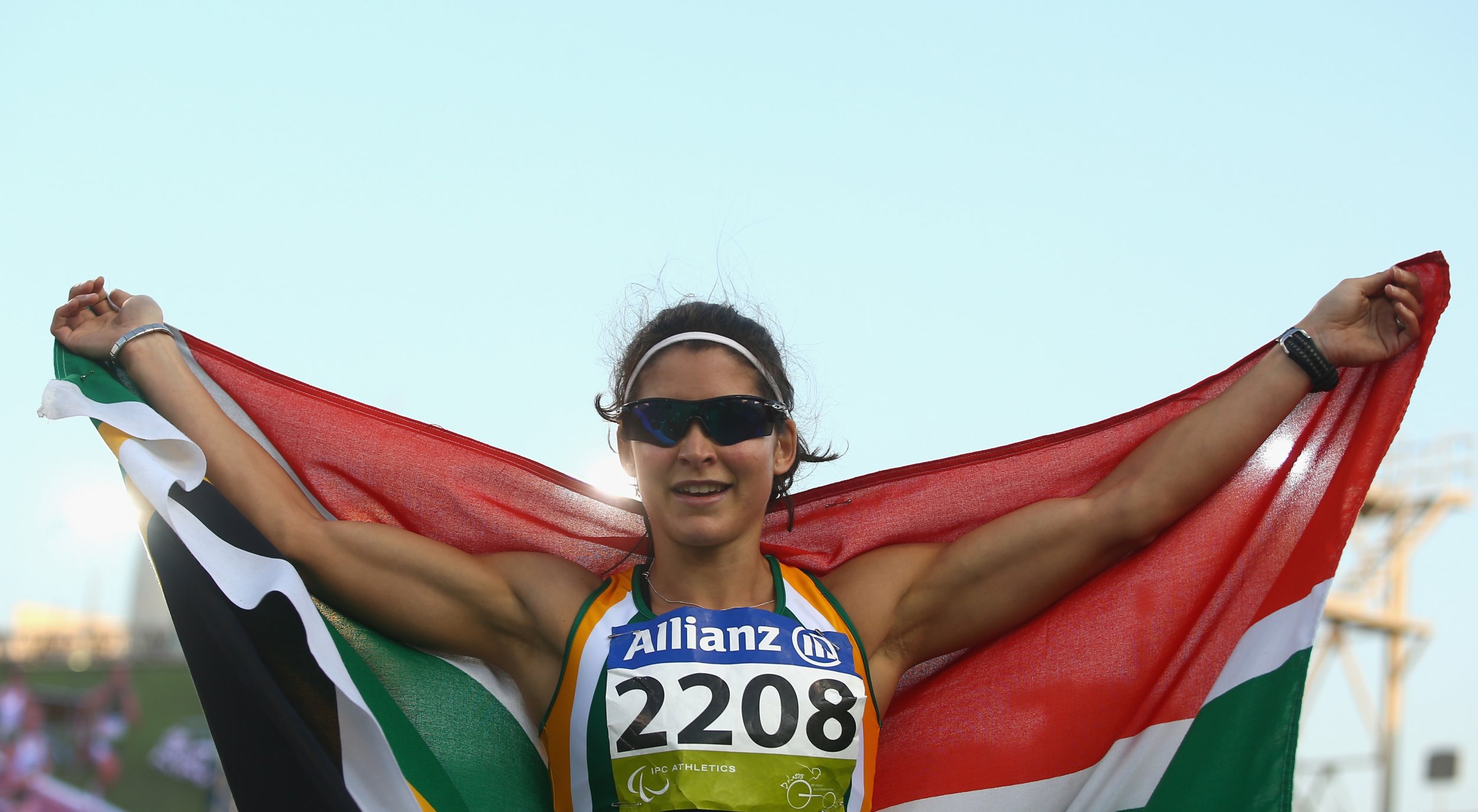 Ilse Hayes already has two Paralympic gold medals to her name.
The South African sprinter, 31, triumphed in her class's long jump at both Beijing 2008 and London 2012. But at both of those competitions, the gold medal she really craves—in the 100 meters—has just eluded Hayes, with the Stellenbosch athlete getting silver on both occasions.
As she prepares for the 2016 Paralympics in Rio de Janeiro, Brazil, Hayes is preparing to face off against Ukrainian rival Leilia Adzhametova. Hayes was the world record holder for women's 100 meters in her class—T13, which refers to athletes with a visual impairment but who can still run without a guide—as of April 2015, when she clocked 11.89 seconds in São Paulo. But this was smashed by the Ukrainian in May 2015, who shaved 0.7 seconds off Hayes's time with a run of 11.82 seconds in Switzerland.
Adzhametova cemented her stake for gold in Rio at the International Paralympic Committee (IPC) Grand Prix in Berlin in July, where she bested Hayes in both the 100 meters and 200 meters in the T13 class. But the South African and current world champion is confident heading into what she says will likely be her final Paralympics—she wants to start a family soon and concentrate on other interests, including a furniture restoration business.
"Records are there to be broken, so it was never mine," Hayes tells Newsweek from her Stellenbosch training camp, before departing for Rio Wednesday. "We will definitely meet again now, so I'm really excited to hopefully take that record back."
Hayes, who will also compete in the 400 meters in the T13 class in Rio, has been competing professionally in disabled sport for some 14 years now. She suffers from Stargardt disease—an inherited condition that damages a person's central vision, leaving them unable to focus when looking directly at something but able to navigate using their peripheral vision. So when she is lining up in the starting blocks, Hayes is able to see the lane lines around her but cannot focus on the finish line in the distance.
The athlete, who was diagnosed with the condition when she was 11 years old, says she first noticed problems with her sight when playing tennis. "I knew the guy was hitting the ball from the other side, but then it goes out of my sight. Then all of a sudden when it bounced, I was like: 'Oh shucks, there it is!' and I was too far away from it," Hayes explains. "So when I approach something, it goes out of my sight and then all of a sudden, when I'm a meter or so away [from it], it reappears and then I get a fright."
As the South African Paralympic team leaves for Rio, it has got quite an example to follow. The country's Olympic counterparts reached their pre-games target of 10 medals, with several athletes registering remarkable performances. Wayde van Niekerk smashed a 17-year-old world record in the men's 400 meters to scoop gold, while 800 meter runner Caster Semenya continued to defy her critics by winning the women's race.
But Hayes says she was particularly inspired by her fellow sprinter Akani Simbine, who became the first South African to reach the men's 100 meter final at an Olympics for more than 80 years and finished fifth behind top sprinters including including Usain Bolt, Justin Gatlin and Yohan Blake. "Akani was massive for me, getting fifth position in the 100 against a really strong field in his first Olympics...That was really inspiring," says Hayes.
South African's Paralympians will have to strive to meet their medal target—which Hayes says is in the 40s—without two of their most reliable performers of recent years. Natalie du Toit, the country's most successful Paralympian ever, brought home a total of 13 gold medals, plus two silvers across three competitions, concluding in London 2012.
The other high-profile absentee is Oscar Pistorius. For almost a decade, the Blade Runner was one of the defining images of Paralympic sport, winning a total of eight Paralympic medals and becoming the first amputee runner to cross over into the Olympics at London 2012. Since then, Pistorius's decline has been well-documented—the athlete is currently serving a six-year sentence for the murder of his girlfriend Reeva Steenkamp in February 2013.
Hayes admits that the South African team will miss the two notable absentees. Both du Toit and Pistorius were considered certainties for medals: "If Natalie did five events, she brought back five medals and if Oscar did two events, he brought back two medals."
Hayes is confident, however, that the Paralympics in Rio will offer an opportunity for other South Africans to write their place in Paralympic history. "We can definitely show the world and South Africa what we are made of," she says. "We've got big shoes to fill but I think we're definitely capable of doing that."